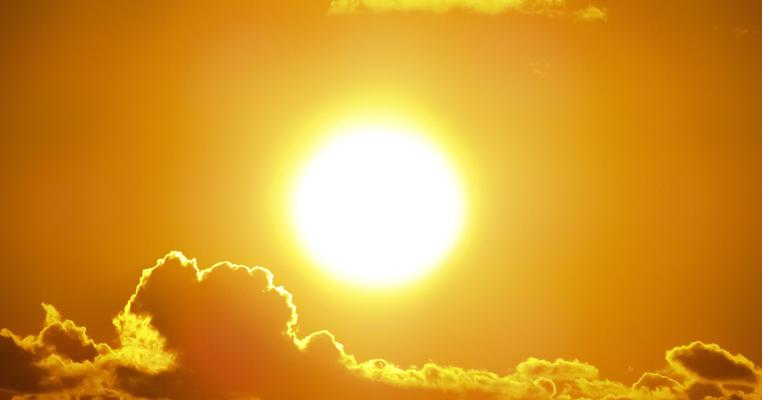 WE®: 2020 Was One for the Record Books – In a Few Very Bad Ways
Check out – and share with your social networks – these graphics about the devastating heat and extreme weather records set last year to let your friends and family know what's at stake.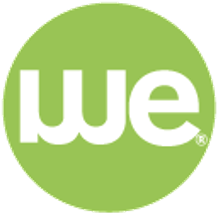 Every new year seems to arrive on the heels of yet another unfortunate climate record or two being set. It's a refrain repeated so often that maybe some of us have even grown a bit desensitized to the headlines.
But the records that fell in 2020 are among the most startling ever – and now is not the time to tune them out. Not at all. Not in the slightest.
Now is the time to act urgently against them.
With a new president and a new Congress, we have the chance to think big and act boldly. And if we are going to beat the climate crisis, that's exactly what we need to do. Now. While there's still time.
And frankly, after the year that was, time does not seem to be on our side.
You don't have to be a scientist to know what's on the horizon if politicians and business leaders keep denying reality and refusing to act boldly. We're seeing it already.
Extreme Heat
As you might expect, extreme heat is one of the most direct and easiest to understand effects of man-made climate change. Carbon pollution from burning fossil fuels like coal, oil, and natural gas is warming our planet – and it just keeps getting hotter.
And last year was a hot one: 2020 is essentially tied with 2016 as the hottest year on record. Not only that, it saw a temperature reading in excess of 100 degrees Fahrenheit north of the Arctic Circle, and pushed us ever-closer to the 1.5 degree Celsius danger line for global warming.
Check out – and share with your social networks – the graphics below that detail just a few of the devastating heat records set.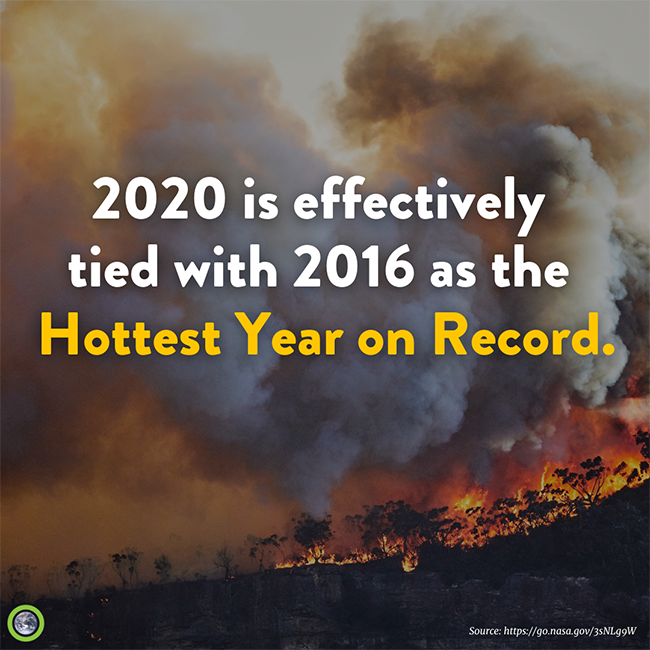 [Share on Twitter, Facebook, and/or Instagram.]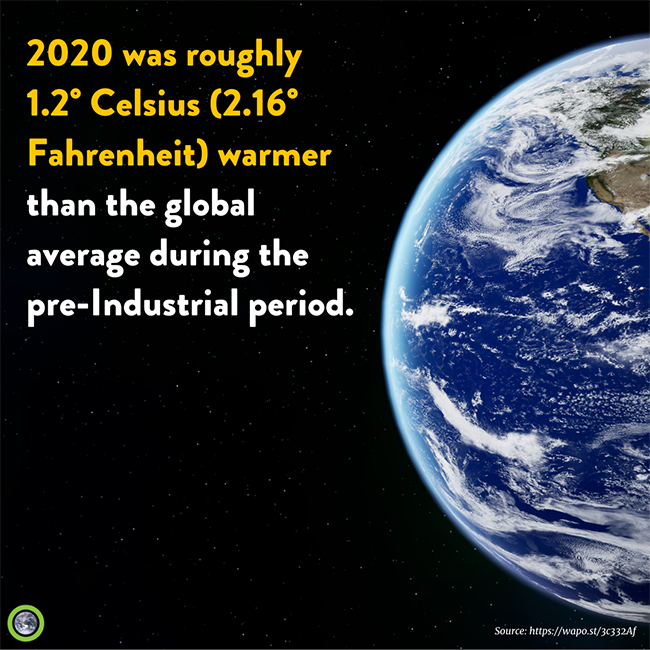 [Share on Twitter, Facebook, and/or Instagram.]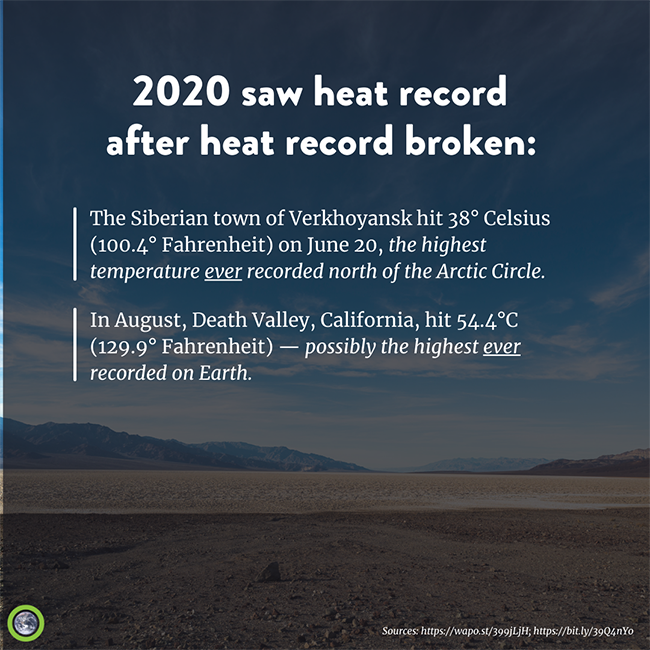 [Share on Twitter, Facebook, and/or Instagram.]
Wildfires
When it gets hot, it often gets dry. And when it is both hot and dry, the risk of wildfires increases. When it's hot and dry for a long time, it increases even more.
From Australia and South America to the American West and Arctic, our planet is learning this lesson the very hard, and frankly deadly, way (but it doesn't have to be like this):
[Share on Twitter, Facebook, and/or Instagram.]
Hurricanes
"For a long time, we've understood, based on pretty simple physics, that as you warm the ocean's surface, you're going to get more intense hurricanes," Dr. Michael Mann, distinguished professor of atmospheric science at Penn State University and author of The Hockey Stick and The Climate Wars and, more recently, The New Climate War: The Fight to Take Back Our Planet, told Climate Reality in 2017. "Whether you get more hurricanes or fewer hurricanes, the strongest storms will tend to become stronger."
Three years later, we got both – more named storms than ever before in the Atlantic and a tie for the most tropical cyclones ever seen globally, and some of the strongest storms to ever make landfall.
Share the startling graphics below with your social networks to let them know just how bad things are getting – just be sure to remind them that we really can fix this through big, bold climate action now.
(And if any deniers show up in the comments, shut them down with the truth about hurricanes and the climate crisis, which can be found right here.)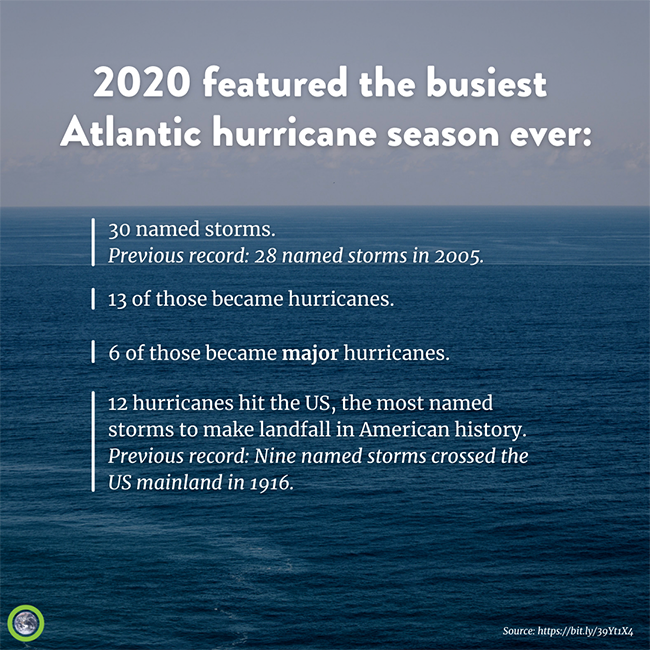 [Share on Twitter, Facebook, and/or Instagram.]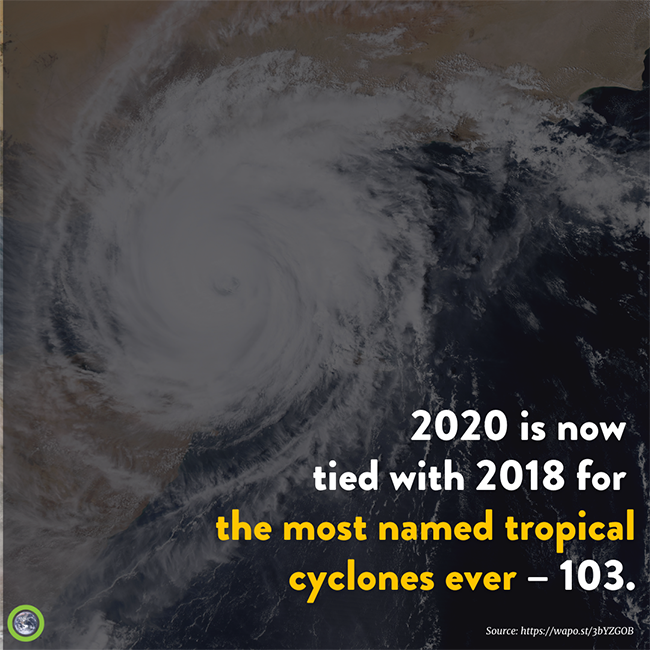 [Share on Twitter, Facebook, and/or Instagram.]
What You Can Do
At the end of the day, this is the point: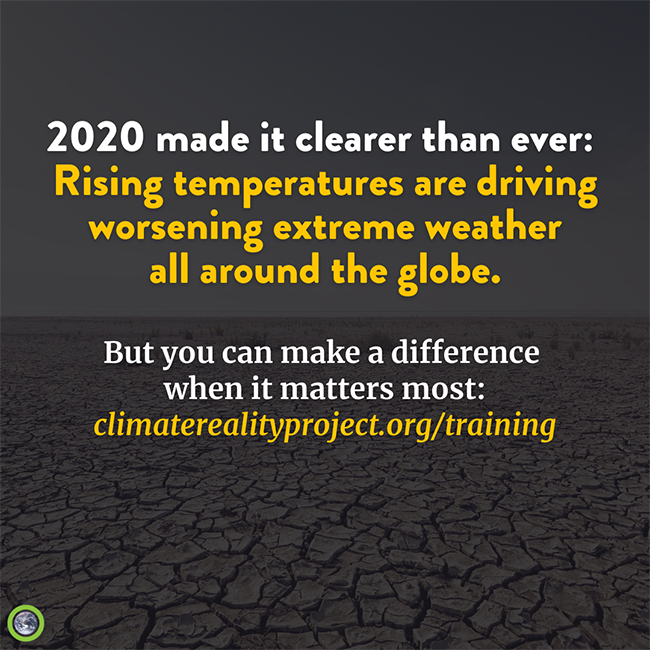 [Share on Twitter, Facebook, and/or Instagram.]
So things aren't exactly going great. And they could get much worse.
They also could get a whole lot better – for generations and generations to come. But it's not going to happen on its own.
It's going to take all of us, raising our voices together in support of urgent climate action.
This is our moment. We can't afford to waste it.
That's why we're calling on President Joe Biden and Congress to make the first 100 days of this new administration historic for climate action. Action to solve the climate crisis, put millions to work in good green jobs, and rebuild our nation with a just, green recovery.
President Biden is off to a good start, there's no doubt. But there is so much work to be done.