The Big 4-0: Climate Reality Trainings Hit a Milestone
You know what they say about turning 40? You finally have the energy, knowledge, and experience to change the world.
Forget pop culture's youth obsession for a minute. We're here to tell you that turning 40 is not a bad thing – quite the opposite. Turning 40 gives you an opportunity to combine energy, knowledge, and experience to create something fabulous.
We know what we're talking about. We're about to host our 40th Climate Reality activist training in Atlanta, Georgia. And we're going to do it like a boss.
>> There's still time – apply today for our upcoming training in Atlanta <<
It's hard to believe it, but our very first activist training took place way back in 2006.
The documentary An Inconvenient Truth had just hit the theaters and struck a chord with a global audience. The film highlighted the fact that our planet's getting warmer due to our dependency on fossil fuels. And that the we needed to switch to cleaner sources of energy to avoid the worst-case scenario of climate change.
The harsh (and rather inconvenient) truth got people talking about the climate crisis in a way we'd never seen before. People were talking to their friends, their family members, and everyone they knew about what was happening, all asking the same question: "What can I do?"
>> What's happening at the Atlanta training? <<
And the man at the heart of the film, former Vice President Al Gore, decided to give them an answer. He knew that anyone could become a powerful messenger on climate, believing that when more people heard about the crisis from the voices they knew and spoke to every day, that's how real change begins. All it would take was a little training.
The plan was set into motion on a bright sunny day in 2006, when 50 climate activists were invited to Vice President Gore's farm in Carthage, Tennessee. Inside a barn, attendees watched and learned how to present his famous climate change slide deck – in the company of ladders and shovels.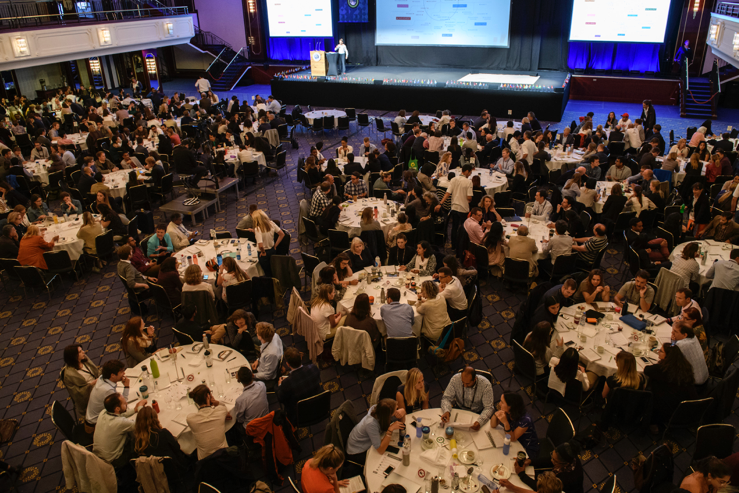 In 2018 we hosted a total of three trainings in Mexico City, Berlin (above), and Los Angeles.
Since that first meeting, our trainings have changed significantly. But they continue to be real barn burners.
We now host multi-day trainings around the world with a star lineup of local speakers – including top scientists, elected officials, award-winning activists, and even celebrities. At our latest event in Los Angeles, we trained more than 2,000 Climate Reality Leaders at the same time. (We still value all types of trainings, though, big and small.)
And we're happy to say that some things never change.
Our trainings are still free to participants (yes, you read that right). Former Vice President Al Gore still presents his slide show with the latest climate change data. And the energy in the room remains the same as it was on that sultry day in the barn – a strong feeling that we're a part of something big, something important, that can change the trajectory of the human race for the better.
We're proud to say that in our 39 trainings so far, we've trained over 17,000 Climate Reality Leaders from over 152 countries. The result is a group of activists now approaching a critical mass and successfully pushing for climate solutions around the globe.
Are we ready the big 4-0, you ask? You bet. Now, are you ready to join us?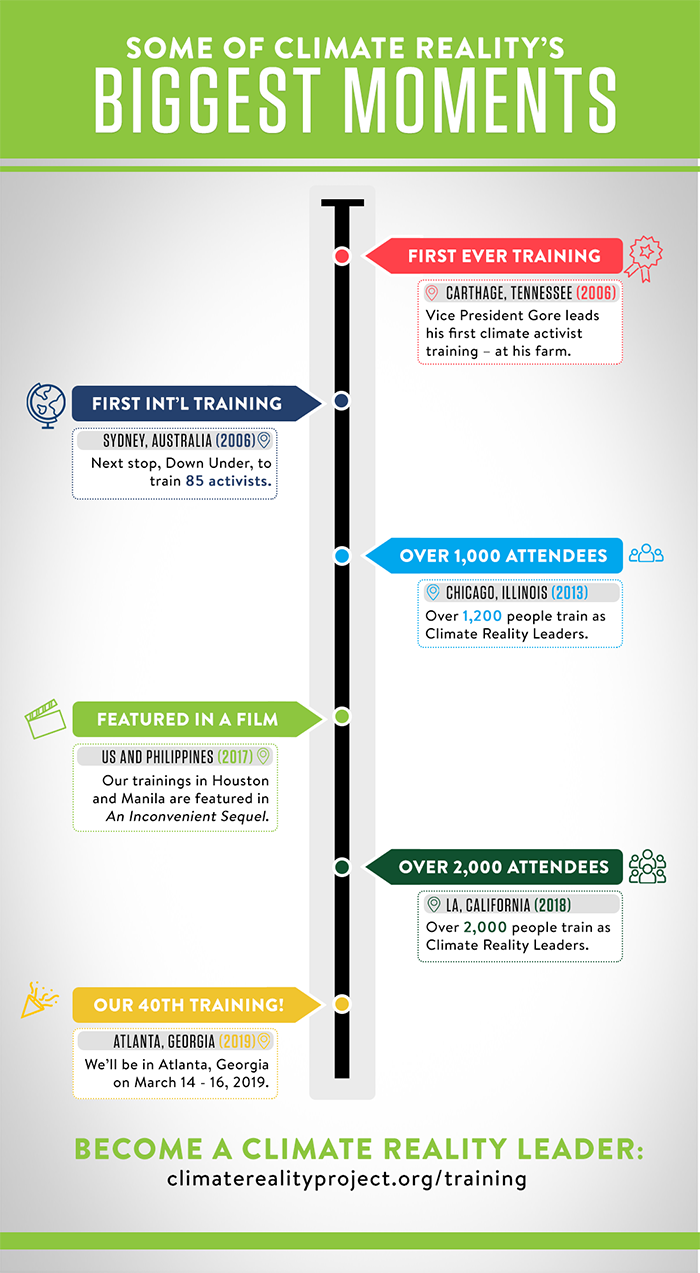 Check out some highlights from our past trainings:
Global Issue, Local Lens
India, Germany, Mexico, China – if it's a critical country in the fight for climate solutions, we've probably hosted a training there. But while our reach is global, each event is unique. We tailor every individual training to speak to specific local needs and how climate change is affecting the host region. For instance, at our 2014 training in Johannesburg, we delved into the issue of limited access to electricity and the opportunities stemming from alternative energy sources such as wind and solar.
More Than Words
Climate Reality Leaders don't just learn about climate science at our trainings – they learn how to take climate action. At our 2015 training in Miami, activists learned about Florida's pro-solar Amendment 4, a ballot initiative that would facilitate the installation of solar panels in the Sunshine State. Our trainees got organized and pushed the initiative, which was approved and went on to become a state law.
Green Events
Our events may have become bigger, but we're proud to say they've remained sustainable. We work hard to make our events carbon-neutral, from the site selection to the food in the buffet. We've become an exemplar for big green events and have even inspired some of our venues to adopt green practices long after we leave. As just one example, we implemented a compost pilot program to minimize waste during our training in Mexico City, and the venue continues to use it to this day.