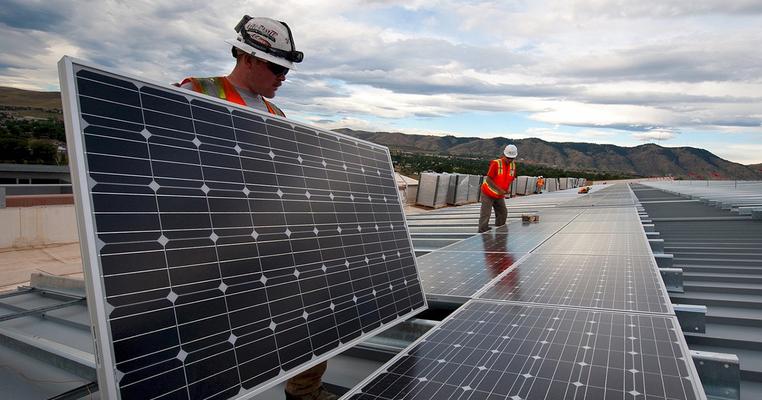 Booming Business: How Three Countries Are Putting Renewable Energy to Work
Clean energy employs an incredible 9.8 million people worldwide. Here's how three countries – the US, China, and Germany – are making clean energy work at home. 
THE UNITED STATES
Even with the White House's vocal support for all things fossil fuels, clean energy is powering more and more of the US economy every year. And it's not just happening in California and New York – thanks to the power of market trends, the clean energy revolution is taking hold even in states like Texas and Iowa. Here's the scoop:
The American renewable industry is growing – and hiring – rapidly. According to the US Bureau of Labor Statistics, wind and solar technicians top the list for fastest-growing jobs in America over the next decade. Between 2012 and 2017, solar employment grew about 16 percent annually. That's about nine times faster than the overall US economy!
Clean energy jobs tend to pay well. Not only is the industry rapidly expanding, it's giving Americans steady, reliable, and well-paying jobs with a future. Wind turbine technicians and solar panel installers are making a median of $52,260 and $39,240 per year, respectively, while other jobs such as electrical engineer in the field of renewable energy are making even more—up to $88.50 dollars an hour.
Renewable energy industry is booming in states that many may not expect. States are investing in clean energy because it makes good economic sense and reduces emissions. Midwestern states are leading the clean energy revolution: Iowa's largest utility plans to generate 85 percent of its electricity from wind while Kansas's utilities are on track to supply over half of the state's power with wind by 2019. And Texas, alone, hosts more than a quarter of the country's wind capacity.

China
China is already a renewable powerhouse—and the country is really putting its money where its mouth is. Check it out:
China invests big in clean energy. Yes, China is the world's biggest country by population – but you might be surprised to learn that it's also leading the world in the renewable energy investment. That's right! China is investing more in renewable energy than any other nation on Earth: In 2017, the country invested more than $44 billion in clean energy projects. China also accounts for about 60 percent of global solar cell production, and is the largest wind turbine manufacturer in the world.
Renewable energy is creating jobs in China, too. Thanks to massive investments in renewables and energy efficiency, China has become the world leader in clean energy jobs, with nearly four million employed in 2016. The country aims at creating 13 million clean energy jobs by 2020.
Germany
Ever heard of the Energiewende? It's Germany's revolutionary plan to secure "a reliable, economically viable, and environmentally sound energy supply." The country is aggressively moving away from nuclear energy and fossil fuels in favor of clean power. It's right there in the name – the word literally means "energy turn." Some highlights:
Germany is a renewable energy leader. Not only has Germany been replacing fossil fuels with wind and solar energy, it's also the fifth-largest clean energy employer in the world. An incredible 334,000 Germans work in the renewable energy sector, making the country the largest clean energy employer in the European Union.
Renewable energy is shaping new businesses and transforming the job market in Germany. With nearly two million jobs belonging to environmentally related fields, the German Federal Environmental Agency estimates that at least half of those jobs are tied to the Energiewende.
Help Build a Clean Energy Future
Here in the US, we started our own energy turn with the Environmental Protection Agency (EPA)'s Clean Power Plan to reduce emissions from dirty power plants.
This wasn't just the government acting alone. EPA created the Clean Power Plan with input from millions of Americans, reflecting a reality where over 70 percent of Americans want the federal government to emphasize clean energy over fossil fuels.
Now, with a new administration in charge, EPA Administrator Scott Pruitt is working to turn back the clock and repeal the Clean Power Plan, allowing the power sector to keep polluting our air and driving climate change.
We know a clean energy economy is good for our planet, our families, and our health. Add your name to support America's Clean Power Plan that protects our planet, our wallets, and our health.