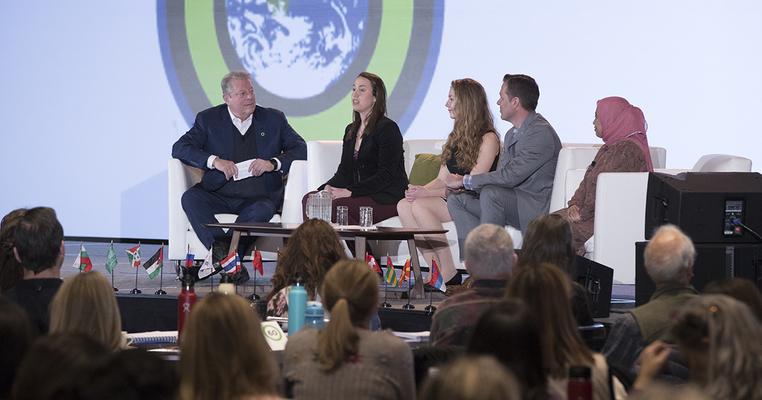 Change Starts With Me: Six Dos and Don'ts for Climate Activism
Confronting the climate crisis is quite a challenge. So when you're taking action, follow these tips from successful climate activists.
You know the climate crisis is happening – and you understand we need to take action. But how? How do you know what actions you should do – and what will really make an impact?

Former US Vice President Al Gore and four experienced activists took to the stage at our recent Climate Reality Leadership Corps training in Denver, Colorado to share how they've turned their drive to solve the crisis into action. Because this was such an important topic, we streamed their insights on Facebook Live so that everyone can watch and learn how to get involved. (By the way, Change Starts with Me is a monthly Facebook Live series hosted by the United Nations Foundation! Follow the UN Foundation on Facebook to see more videos featuring people around the world who are taking climate action into their own hands.)
These four Climate Reality Leaders – Nana Firman, David Ellenberger, Maddie Atkins, and Lucia Whalen – have accomplished a lot in a short amount of time. What ties them all together? These six tips will help you move from wallflower to budding climate activist to a bloomin' superstar.
Do: Set a goal and work towards it methodically
Don't: Try to do it all
Tackling the climate crisis can be overwhelming. Particularly when you're just getting started. Climate Reality Leader Maddie Atkins had a realization during a crafting session at her sustainability club in high school: "The ice caps are melting and this is what we're doing?"
But instead of giving up, she focused her effort on making a bigger impact in her community. She dove into public policy and set a goal: carbon neutrality in her Indiana town. Then she got to work influencing her city council to unanimously pass a bill to reduce its carbon emissions as much as possible and offset as much carbon pollution as it emits.
Learn more about cities taking action to fight the climate crisis. Download the Cities100 guide now.
The lesson? Set a goal you can accomplish in your own community that impacts people around you. From organizing 35 simultaneous climate presentations across an entire country to passing a resolution to make a town carbon neutral to educating others about the smart grid – each goal the leaders chose was achievable and going to make a difference.
As Maddie describes it, you don't have to already know what you're doing. "It's like walking on a path in a really dark place. You have a flashlight. You don't know what's out there, in the darkness. All you can see clearly is the very next step. That's all you have to focus on – taking the very next step."
DO: Join (or Create) a Community
DON'T: Think You've Got to Solve the Climate Crisis By Yourself
Even if you've set a goal, it's still easy to get lost – or discouraged. Fortunately, we all have networks of friends, business contacts, classmates, faith organizations, and other formal or informal groups we're a part of.
In many cases, you're not going to accomplish your goal alone – and the more allies you have, the greater your impact will be. So tap into your existing network, and create a new one focused on accomplishing your goal.
At a Climate Reality Leadership training, you'll tap into a network of thousands of passionate activists from all walks of life – plus a unique online platform to stay in touch and connect with other Leaders after the training is over.
After attending a training, for example, David Ellenberger partnered up fellow Leaders with complementary areas of expertise to educate community members at a local university. As another example, Nana Firman and fellow Indonesian Climate Reality Leaders worked with their ministry of education to organize 35 simultaneous presentations across the country.
By connecting with other people who share your values and commitment, you'll gain useful insights and diverse perspectives to help you accomplish your goal, as well as the motivation and inspiration to continue on when the going gets tough.
DO: Tailor Your Presentation to Your Audience
DON'T: Parrot the Same Elevator Pitch to Everyone
Along your journey, you're sure to talk to a lot of people about what you're trying to do. A common mistake is to treat every audience the same – come up with a standard "elevator pitch" and repeat it over and over until everyone just "gets it."
Although that's the easy way, it's certainly not the most effective way. It's critical to know your audience to be able to talk to them effectively. Start by talking about what matters to them or the values they share. By approaching your audience respectfully in this way, you tell people that you understand where they're coming from and that you're on the same team. Right away, you start building a genuine connection – and that goes a long way.
Here's how to put this tip into practice. Before you set out to pitch your idea or goal, put yourself in your audience's shoes. Ask yourself who your audience is, where they're from, what they do, and what they want to learn about.
If you don't have a formal presentation or speech – you can still think about your audience. Who are you trying to convince? Who would be for this idea – or against it?
Prepare several ways to communicate your idea that appeal to the different groups of people you'll encounter along the way. For example – if you're trying to get solar panels installed on a school, you're not going to talk about it to your fellow parents in the same way as the school district administrator or the city council. Understand your audience's needs, and your idea will land with a splash every time.
DO: Make it personal
DON'T: Inundate Your Audience With Statistics
So you've done your research and you think you know about your audience. Time to wow them with all the amazing climate change facts you know, right?
Not quite. Before you launch into the numbers, strengthen the connection with your audience by talking about your personal story. And if you can, connect your story with what you know your audience cares about.
For example, as Climate Reality Leader David Ellenberger shares, he's passionate about wildlife and the outdoors – so he focuses his story on the disappearance of sockeye salmon from the lake he visited as a kid. "It humanizes you in front of your audience. There's nobody that can object to your emotion or your passion."
Free e-book: The 12 Questions Every Climate Activist Hears and What to Say
What's more, people are hardwired to remember stories – not facts. As David remarks, "They may not remember all the stats and the science, but they remember your story. People connect with stories."
DO: Persist and Try Different Tactics
DON'T: Think You're Defeated After One Try
Want to know a secret to success? Just keep trying. "Take each step with the most undeniable persistence that anyone has ever had," says Maddie. One thing she learned was to be persistent and keep trying in different ways - start with an email. Follow up with a phone call. Show up in person. When it comes to your goal, you have to be determined if you're going to accomplish something big. "If you do everything with undeniable persistence, you will be unstoppable."
The hard truth is that you're going to make mistakes. Everyone has those learning moments – a technical glitch freezes your computer, a difficult question that you can't answer, your goal suffers a setback. But when you continue on, you learn from your mistakes and strengthen your skills, making success more likely the next time around.
Do: Get started now
Don't: Wait for someone else to solve the climate crisis
TY for putting on such a wonderful training, @ClimateReality! I'm leaving inspired, encouraged, & ready to make a difference! #LeadOnClimate https://t.co/wdRxJCdEEd

— Mark Fitzgerald (@MarkFitz819) March 5, 2017
The climate crisis isn't some far-off hypothetical situation. It's happening right here, right now. And that means we need to take urgent action, right now.
So to get started, ask yourself this: What can you do today? Experienced activists say to focus on what you can do now, today, and what you do have influence over. Then build from there.
What's more - you don't have to already know what you're doing. As David puts it, "Professional environmentalists aren't going to win this battle. We need everyone, from every constituency."
Taking action is a learning process, and no matter your background or skills, you can make a real difference. To put it another way, "To change everything, we need everyone."
Here's the best part: there's never been an easier time to start changing the world little by little. Here are five things you can do online, right now, to get the ball rolling:
1. Attend a presentation from a trained Climate Reality Leader like Lucia, Maddie, David, and Nana. You'll receive customized information about the climate crisis and an expert speaker can help facilitate a discussion in your community.
2. Subscribe to email alerts to be notified when the next Climate Reality Leadership Corps training will take place. You'll be the first to know when and where you can attend our next dynamic event with hundreds of other committed citizens.
3. Join the People's Climate March. The People's Climate Movement is mobilizing thousands of climate champions on April 29 for a massive march in Washington, DC and across the country.
4. Pledge to Stand with Reality. With renewable technologies like wind and solar in our hands today, we can solve the climate crisis. But only if our leaders insist on truth, accept reality, and listen to science.
5. Learn about climate change basics. Download our free e-book: The 12 Questions Every Climate Activist Hears and What to Say for FAQs about climate change and short, easy-to-understand answers.