September 27, 2019 | 11:16 AM
Climate Action Beyond Borders
Are rising temperatures affecting just the United States? Are melting glaciers affecting just Greenland? Do changing weather patterns and strengthening storms affect just the Caribbean? Does biodiversity loss due to deforestation affect just the Amazon?
The answer to all these questions is a resounding no! (We hope that was obvious.)
The climate crisis is affecting every corner of the globe. That's why we're committed to bringing our Leadership Corps training events to communities around the world. And it's also why we're committed to leaving a positive climate legacy in every city we visit.
Wherever we are in the world – whether we're in Los Angeles, Mexico City, Brisbane, Berlin, Toronto, Manilla, or our next stop, Tokyo – we work with local partners to establish event sustainability strategies that leave our venues and communities better than when we arrived.
(If you're curious what key impact areas our green event strategy focuses on, check out this blog post.)
What don't we do? Relax our sustainability standards. No matter what country, language, existing infrastructure, or local customs we're working in, we always maintain our green event criteria. While our sustainability systems may look different in different communities, we always work to ensure our events put the planet first.
Wondering how we do it? Read on to see some of the steps we're taking ahead of our Tokyo training to guarantee that our sustainability standards are in place.
LEARNING FROM THE LOCALS
The first step we take when creating a sustainability strategy for a training is to get the lay of the land. We talk with local partners, including venue managers, caterers, waste haulers, printers, and others, to learn about their existing infrastructure and practices. Often enough, communities and venues have systems already in place to reduce their environmental footprints. If that's the case, we work with our local partners to ensure our event management activities conform to these systems.
Sometimes, we find ourselves in places that do not have many existing sustainability systems in place. That's when the fun begins!
In these cases, we get creative to make sure our events live up to our sustainability standards. No matter the situation, we are always able to work with local partners to find sustainable solutions – whether it means taking compost to local worm farms, rethinking standard menus to feature locally grown delicacies, or working with local printers to stock 100 percent recyclable Falconboard for the first time.
Ahead of our Tokyo training, we partnered with a local Green Printing JPFI-certified printer to find a sustainable, locally-sourced solution to poster board printing. While printers typically use foamcore (made from Styrofoam) to print posters, our local printer was excited to take on our challenge to source an eco-friendly alternative. As a result, for the first time, the printer is sourcing a local version of Falconboard, which is made from 100 percent recyclable cardboard and can be recycled after use.
(NOT GETTING) LOST IN TRANSLATION
Working across the globe also means working in a variety of different languages – and when getting wonky about sustainability, it's easy to get lost in translation.
Getting the lingo right is critical to the success of any sustainability program. Think about it, we would have some major issues if we featured waste diversion signage that listed "noodles" as recyclable when we really meant to say "notebooks"!
For all of the materials for our Tokyo training, we worked with a professional translation company and also asked our local partners to review the translations before finalizing them. Additionally, we met with the translators to explain our sustainability systems and ensure that they had a firm understanding of what we were trying to communicate before they finalized the translations.
Don't forget, in-person communications are just as vital as written ones. We always hold briefings with the venue and production teams ahead of the event to brief them on the training's sustainability initiatives. When everyone is on the same page, we reduce the risk of incorrect information being communicated to participants onsite.
INSPIRING CLIMATE ACTION
One language we know is universal is the language of climate action! No matter where we go, we are amazed by the passion people have to protect the planet. Through our event sustainability initiatives, we hope to inspire our Climate Reality Leaders Corps members and our local partners to turn that passion into actionable daily steps to reduce their environmental footprints.
Tell us how you're taking action at your green events by using the hashtags #LeadOnClimate and #GreenEvent!
And to learn more about how you can join a sustainable Climate Reality Leadership Corps event, visit our upcoming trainings page.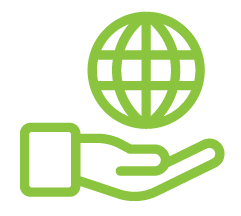 Before You Go
At Climate Reality, we work hard to create high-quality educational content like blogs, e-books, videos, and more to empower people all over the world to fight for climate solutions and stand together to drive the change we need. We are a nonprofit organization that believes there is hope in unity, and that together, we can build a safe, sustainable future.
But we can't do it without your help.
If you enjoyed what you've just read and would like to see more, please consider making a generous gift to support our ongoing work to fight climate denial and support solutions.