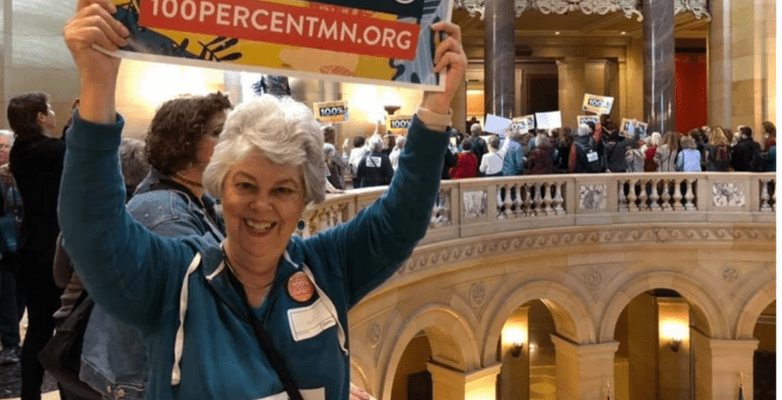 Climate Reality Central Minnesota Chapter Helps Pass Green Bank Legislation
Spurring clean energy transition in Minnesota.
In late May, the Minnesota state legislature passed legislation establishing the state's very own green bank, providing $45 million in initial funding for clean energy projects throughout the state.
Dubbed the Minnesota Climate Innovation Finance Authority (MNCIFA), the bank could unlock substantial federal funding through the Greenhouse Gas Reduction Fund as part of the historic Inflation Reduction Act passed by Congress last year. Critically, the bill isn't just a win for clean energy but a win for equity, with the MNCIFA aligning with the Biden Administration's Justice40 Initiative, ensuring labor and justice standards in funded projects, promoting equitable outcomes, and benefiting marginalized communities.
To help get the bill across the line, Climate Reality's Central Minnesota chapter supported the legislative advocacy work of a strong coalition of environmental groups, spearheaded by Minnesota Interfaith Power and Light (MNIPL). The group published newsletter articles on the contents of the legislation in addition to encouraging constituents to contact their state legislators and attend House hearings on the bill.
"The passage of the MNCIFA was possible because of the sustained, committed efforts of a large coalition of environmental and climate groups from all over the state of Minnesota, combined with the right political climate that made passage of this kind of legislation possible," says chapter co-chair Jason Torgerson. "You never know what combination of factors will lead to real policy implementation – you can try for years to enact change without much result, only to see a sudden surge of progress. It's important to celebrate your victories when they happen…to carry you through the times when they don't."
Co-chair Tim Fremouw explained that 2023 has been a banner year for climate legislation in Minnesota. The MNCIFA follows Minnesota's 100% clean electricity by 2040 bill, which offered a comprehensive roadmap for achieving the state's goal of providing 100% carbon-free electricity by 2040. Fremouw also noted that there were many other climate friendly provisions passed alongside the MNCIFA. These included additional rebates on EVs, heat pumps, solar panels, and more, creating new opportunities for electrification across the state.
The MNCIFA sets a new standard for green banks in the US, as one of the most ambitious models to date. Studying the factors that went into the passage of this legislation- especially MNIPL's organization efforts and assembly of coalition partner groups- could provide an effective blueprint for passage in other states. A big thank you to the Climate Reality Leaders in Minnesota who helped push their lawmakers to take advantage of historic laws to combat climate change by advancing sustainable and equitable development!
Ready to make a difference in your community? Connect with the Climate Reality chapter close to you.