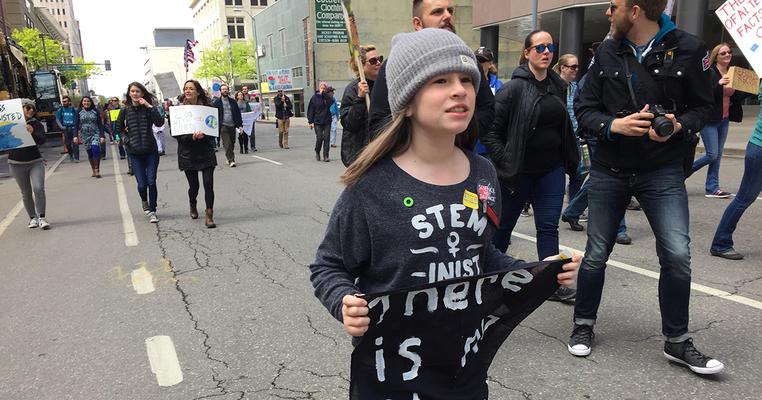 Climate Reality Leader Haven Coleman Talks Today's Youth Climate Strike
We talked to a student – and longtime climate champion – who is ready to strike to demand action on the climate crisis. Here's what she had to say.
Haven Coleman, a Climate Reality Leader from Colorado, is a young woman working for a brighter world for her generation – and generations to follow.
She may be young, but she and a growing movement of other young people are teaching adults a valuable lesson: Global leaders need to take the climate crisis seriously – and they need to start now.
And on Friday, March 15 (that's today!), their movement will have its biggest day yet.
Thousands of students in over 1,600 locations in 105 countries – including 41 US states – are set to walk out from school, striking to demand real action to solve the climate crisis while we still have time.
We talked to Haven about the strike, the response she's seen leading up to today, and what they hope to achieve with their walkout.
Read our interview below.
Climate Reality: How did you get involved in the school strike movement?
Haven Coleman: I got involved in the school strike movement by simply just starting to strike outside buildings in Denver at the beginning of January. I had seen Greta Thunberg and the kids in Europe and Australia striking this past fall semester and decided it was time for me to start helping out too.
>> Read more: Why Are Students Walking Out of School On Friday? <<
Why school strike?
I school strike because this is my future, my life. Climate change is and will affect me and my generation for our whole lives. Climate change will be affecting every generation now starting with ours. I fight for not only myself but for millions across the world who need a livable world.
What do you want to achieve with the March 15 event?
I want adults to start acting to the extent we need them to and I want them to enact the political changes needed for the system changes that are needed. Basically, I just want them to fight climate change and stop the worst effects of it so I can go back to being a kid, like now.
What role do youth have in this movement?
One of the only things us kids have that is powerful is our voices. Our role is to use our words and large numbers to influence politicians and other leading adults to make the changes needed.


What kind of response have you seen so far?
The response has been surprisingly positive. My school has accommodated my absences and my missed school work because they understand the importance of what I am doing. The responses on the street while striking weekly have been more positive than negative, and people stop to talk with me about climate change, which is cool. The media are very eager to talk about climate change now too because of the climate strikes. Overall school striking and organizing nationally has been a really great and really positive experience.
How can students get involved? How can older generations support them and the event?
Students can get involved with the movement by going to an organized strike, or making a sign and striking outside of their city or state government building. Parents can help by supporting their kids, getting us to our strikes or calling in our absences. Adults of all kinds can support the youth fighting by posting about it on social media, wearing green, or attending a strike near them.
At Climate Reality, we're beyond inspired by what's happening. We want to show these young world-changers that people young and old are with them every step of the way.
Join us today – Friday, March 15 – in tweeting to show your support for the school strike and young activists fight for a safe and sustainable future for all of us.