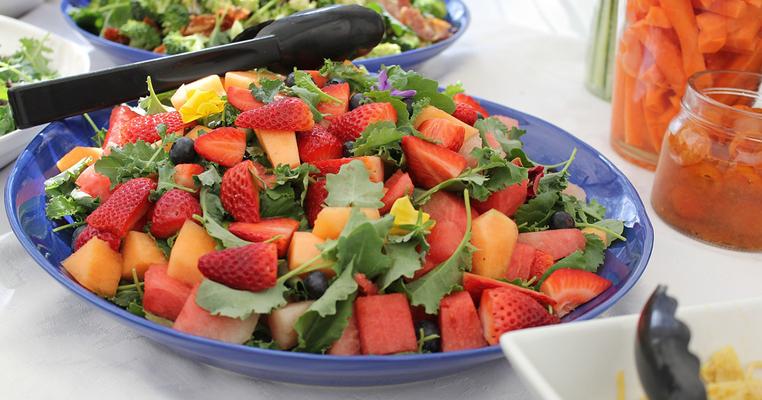 Dishing Up a Plate of Impact
With the right plan, event catering can produce a wave of social and environmental benefits.
They say that the way to someone's heart is through their stomach. We don't disagree! At The Climate Reality Project, there's nothing we love more than serving delicious, local, and climate-friendly food at our Leadership Corps training events.
We're committed to offering environmentally conscious menus whenever we bring our community together. Whether we're gathering a group of 20 for dinner or planning a 2,000-person Climate Reality Leadership Corps training, menu sustainability is always top-of-mind for us.
But as you can probably guess, creating climate-friendly menus for 2,000 people takes a lot of effort! Curious how we do it? Read on to see what steps we take to ensure the menus for our trainings have as small a carbon footprint as possible.
MENU DESIGN: KEEP IT LOCAL
We have hosted Climate Reality Leadership Corps trainings all over the world, from Los Angeles and Manila to Johannesburg and New Delhi. Wherever we go, we work hard to make sure our trainings reflect the local community. We tailor our programs to focus on regional issues, feature speakers from the area, and hold our trainings in venues that are easily accessible to the local community.
We also craft menus that showcase local foods. For each training, we work with chefs and catering companies to develop dishes made with ingredients sourced from local farmers and purveyors. Not only does this bring the flavor of our host communities to our trainings, but it also helps drastically decrease the transportation footprint of the meals we serve.
>> If You Build It Green, Climate Reality Leaders Will Come <<
SHRINK YOUR WASTE: RIGHT-SIZE YOUR MENU
Here, we're talking about reducing the amount of leftovers by not over-ordering food.
We see it time and time again – event organizers (with the best of intentions) order food for exactly the number of people registered. Yet, at the end of the day a large portion of that food ends up being tossed out due to "no shows" or attendees who are not able to make the event due to illness or other circumstance.
Instead, at Climate Reality, we use a formula to order just the right amount of food, based both on the number of people registered and historic attrition rates.
Another waste minimization strategy we use is to serve food on plates that are slightly smaller than average.
Think about it – how many times have you filled your plate to the brim and ended up being too full to finish? By providing slightly smaller plates, we encourage attendees to take less food for their first serving. If it fills them up, great! If not, there are always seconds to be had.
By ordering as close to the right amount of food as possible and encouraging attendees to take only what they'll actually eat, we're able to keep our trainees full while minimizing leftovers.


TECH FOR GOOD: GOODR
The rise of new technologies, combined with a shift in focus from creating purely bottom-line-driven businesses to social enterprises, has given way to a new crop of entrepreneurs tackling some of the oldest environmental challenges in new ways.
One such entrepreneur is Jasmine Crowe, founder of the Atlanta-based Goodr. Goodr is a food-waste management company that redirects surplus food from businesses to nonprofits that can share it with the homeless and families who are food insecure. By using the Goodr app, companies (including Turner Broadcasting Systems, Georgia World Congress Center, and Hartsfield-Jackson Atlanta International Airport) can signal that they have extra food ready to be collected and dispersed. Goodr provides the packaging and blockchain technology to process the transaction.
Goodr is one of the key reasons we selected the Georgia World Congress Center as our venue for the Atlanta Climate Reality Leadership Corps training.
Capturing excess food and implementing a food recovery effort is part of our sustainable event management plan. The Georgia World Congress Center has been working with Goodr as their food donation partner and they shared their impressive results from the fourth quarter of last year: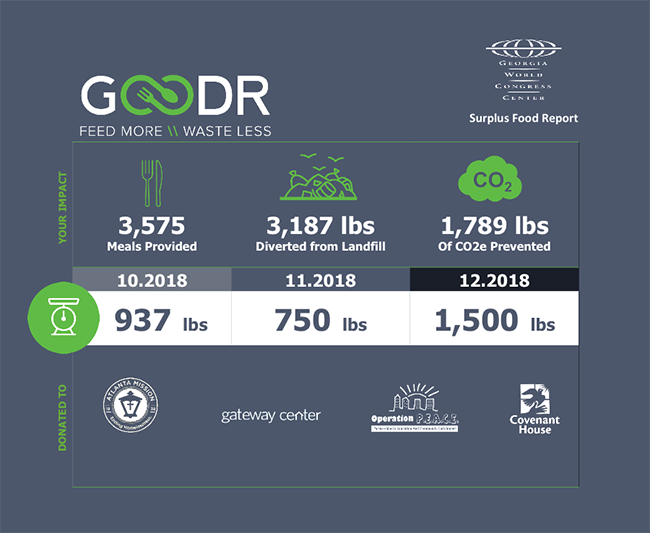 STICK TO FOOD: REDUCE YOUR PACKAGING
There's nothing we dislike more than getting ready to dig into a delicious meal…and seeing that it comes with a side of plastic packaging. That's why we work with our caterers to remove packaging from the catering plan and keep the focus on the food.
One of our favorite meals to serve at trainings is an (un)boxed lunch. In these meals, we serve all the staples of a typical boxed lunch – salads, sandwiches, fruit, sides, and desserts – without the box!
While many caterers are used to serving these items wrapped in plastic and packaged in a disposable box, we work with our caterers to serve them on a buffet platter with reusable dishware and silverware.
And we can't forget about the extras that help spice up our meals. We serve all condiments – from ketchup and mustard to salad dressing – in bulk, so our attendees can take as much as they want while avoiding individual packaging. Similarly, for all coffee and tea services we provide, the condiments come in bulk.
With an easy change in style of service, we're able to provide the same delicious meal options while eliminating unnecessary waste.
EAT YOUR VEGGIES: DITCH THE MEAT
We've got a beef…with beef. There's no question about it – a vegetarian diet has a much lower carbon footprint than a diet that includes meat. If everyone in the US cut meat out of their diet for just one day, it would prevent GHG emissions equal to 1.2 million tons of CO2.
At our trainings, attendees are fueled by hearty meals that are entirely vegetarian, with vegan options available. These meals are delicious and keep our attendees energized for three days of learning, skill building, and networking around climate action.
READY FOR ACTION?
So there you have it – a quick guide to how we create sustainable food plans for our events.
Tell us how you're taking action at your green events by using the hashtags #LeadOnClimate and #GreenEvent!
And to learn more about how you can join a sustainable Climate Reality Leadership Corps event, visit our upcoming trainings page.