June 02, 2021 | 11:00 AM
Engaging and Empowering Communities to Fight for Climate Justice
The climate crisis is no longer a future or far-away threat that is hard to visualize. No, we see the reality of global warming virtually every day now – in everything from floods and hurricanes that have grown more frequent to droughts and heat waves that have grown more intense.
Yet, some of us see and suffer from these consequences far more than others.
Across the United States – and around the world – low-income and BIPOC communities have found themselves more squarely in the path of the climate crisis. Of course, geography alone is not the cause. Rather, we are witnessing a cycle of injustice: Initial and structural inequalities mean that marginalized groups suffer more from the effects of climate change and exposure to environmental pollution, manifesting in everything from exacerbated health problems to property destruction. This then leads to further inequity, including increased costs both financial and emotional.
By definition, these marginalized communities historically have not had agency, having been left out of the decision-making processes that led to their homes and families being put in harm's way. But climate justice demands that these places and people become an active part of the climate conversation.
Today, we're looking at two organizations that are working to build capacity in these communities and elevate BIPOC voices in order to engage, advocate, and organize. We are proud to support these grassroots partners in the fight for environmental justice.
One Love Global

One Love Global is a youth-led organization that works alongside local, state, national, and global leaders in the Black liberation movement, seeking to help BIPOC youth "creatively dream into the future, and carry on the work of transformative organizing for racial equity."
"The people most impacted by injustice – BIPOC youth – must lead and inform mass movements so this transformation centers their humanity, their connection to the earth, and reflects what they need to survive and thrive," states One Love Global, which will hold its second Freedom Summer Youth Organizing School this summer.
In the program, BIPOC youth in historically disenfranchised communities throughout Michigan learn about history, systemic inequities, civic engagement, and community organizing.
The organization points out that that current systems are not designed for equity, healing or reparations, and therefore transformative change is required. The objective is for participants to develop the skills, confidence, and connections to influence decisions affecting their lives and to move transformative change at the intersections of environmental, educational, and economic justice.
Río Grande International Study Center

Río Grande International Study Center (RGISC) also sees youth as being essential to transforming current inequities. Since 1994, RGISC has educated and organized in the community, challenging powerful interests in order to stop oil and gas projects that would harm low-income communities near the Rio Grande.
 
"In Laredo, we live directly on the US-Mexico border deep in the heart of oil and gas country where fossil fuels, environmental injustice, border militarization and racism collide," explains the organization in a statement about its Climate Leaders on the Border project. "Income inequality prevails with more than 30% of our population living in poverty, and the Rio Grande, source of all life here, is constantly under threat."
In recognition of the new generation of youth demanding to be heard, RGISC is working to cultivate a new generation of climate justice organizers on the US-Mexico border by helping them to establish climate justice chapters at the high school and college levels.
With the Laredo region suffering from drought and rising temperatures and an economy closely tied to the fossil fuel industry, the RGISC aims to inject essential new energy and voices into the decision-making process, ultimately calling for a just transition to renewables. 
Want to learn more about the exciting campaigns, training programs, educational content, and climate advocacy happening at The Climate Reality Project? Sign up for our email list and be the first to know the latest climate science as well as when powerful opportunities to stand up for a better, more sustainable tomorrow arise!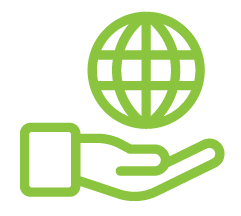 Before You Go
At Climate Reality, we work hard to create high-quality educational content like blogs, e-books, videos, and more to empower people all over the world to fight for climate solutions and stand together to drive the change we need. We are a nonprofit organization that believes there is hope in unity, and that together, we can build a safe, sustainable future.
But we can't do it without your help.
If you enjoyed what you've just read and would like to see more, please consider making a generous gift to support our ongoing work to fight climate denial and support solutions.