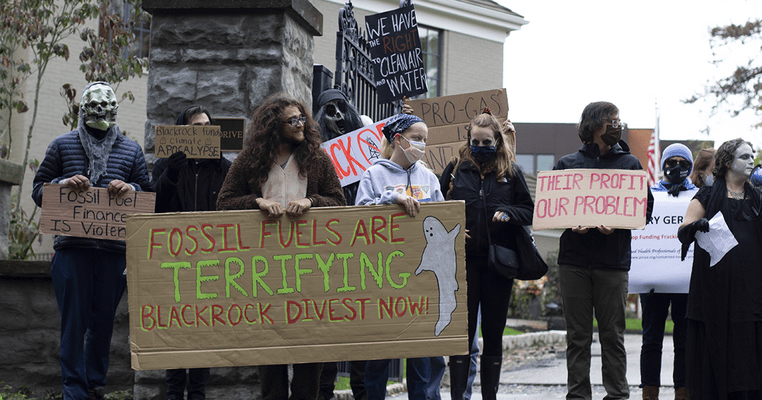 Following the Money: Holding Financial Institutions Accountable
The fight for climate justice will be long and hard, but we will continue to fight the expansion of the fossil fuel industry and hold financial institutions accountable together.
As the climate crisis worsens in magnitude and urgency, climate advocates are emerging with new targets and tactics to save our world. We do so because we no longer have a choice – business as usual is not working. The battle for climate justice must be approached from multiple angles.
When we think of those most responsible for perpetuating the climate crisis, many automatically think of the C-suite executives at fossil fuel companies. Corporate greed within the fossil fuel industry is indeed an enormous problem, but blaming the climate crisis on the actions of a few corporations alone fails to tell the whole story.
The construction, transportation, refining, manufacturing, and more that support the fossil fuel industry requires financial backing via loans, insurance, and financial planning. Financial institutions provide these services to corporations that drive the maintenance and buildout of fossil fuel and petrochemical infrastructure. In doing so, they are largely responsible in perpetuating the climate crisis.
In this case, the "power of the purse" rests with numerous major banks and investment firms.
Activists Are Taking A Stand
Around the world, activists are recognizing the complacency and harm coming from the financial sector amid climate chaos, and they are taking a stand.
Youth climate justice advocates have taken an unapologetic lead in much of this work, recently landing an op-ed in Teen Vogue calling attention to the issue and calling for action. Targets included financial institutions with ties to the fossil fuel and petrochemical industry, including Chase Bank, JP Morgan Chase, Blackrock, the Federal Reserve, and many more.
Indeed, it would perhaps be easier to name the major financial institutions that are not passive or active supporters of industries that fuel the climate crisis than it would be the other way around.
Climate Reality is among the ranks of those calling for financial institutions to promote climate justice. Former Vice President Al Gore, our founder and chairman, is tackling this issue head-on, and has been doing so for years as chairman of Generation Investment Management, a sustainable investment fund.
Vice President Gore recently shared his thoughts with the Financial Times about the need for an "overhaul" of our current financial system to increase regulations and transparency in the financial sector and to force financial institutions to stop backing climate-destructive industries and projects.
Climate Reality chapters are also becoming active in the fight against fossil fuel finance.
The Climate Reality-Chicago Metro Chapter signed onto this petition, joining climate justice advocates around the world calling for an end to fossil fuel finance, using the activities of COP 26 as a launching point. The Climate Reality New Orleans Chapter has also stood in solidarity with their Gulf south community, calling on Bank of America and other financial institutions to defund the proposed Formosa Plastics facility in St. James Parish, a project rife with environmental racism and climate injustice.
Climate Reality's Dallas Fort-Worth chapter has also joined global cries for climate justice and an end to fossil fuel finance, participating in the worldwide Fossil Free Future day of action, an initiative spearheaded by youth climate activists with Future Coalition to target financial institutions for their role in perpetuating the climate crisis. Dallas Fort-Worth chapter members protested and targeted the Federal Reserve for its complacency in fossil fuel finance, calling on them to hold banks like Chase and Wells Fargo accountable.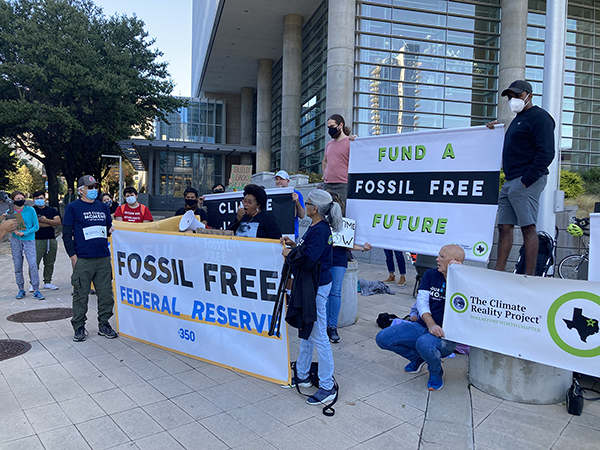 Climate Reality organizers in the Ohio River Valley were also eager to participate in this day of action as another way to tackle the proposed petrochemical buildout of the region.
The Ohio River Valley Has Had Enough
Climate Reality has been a long-time voice in the Ohio River Valley to halt the expansion of fossil fuels and petrochemicals.
In this fight, we have also joined the movement to hold financial institutions accountable. Two of our regional organizers joined forces with activists from the People Over Petro Coalition and other regional partners to also participate in the aforementioned Fossil Free Future day of action. Taking place just days before Halloween, the action tapped into the creative and theatrical spirit of the season, with participants dawning scary and gruesome costumes and holding signs and banners saying that fossil fuel finance "haunts" their region.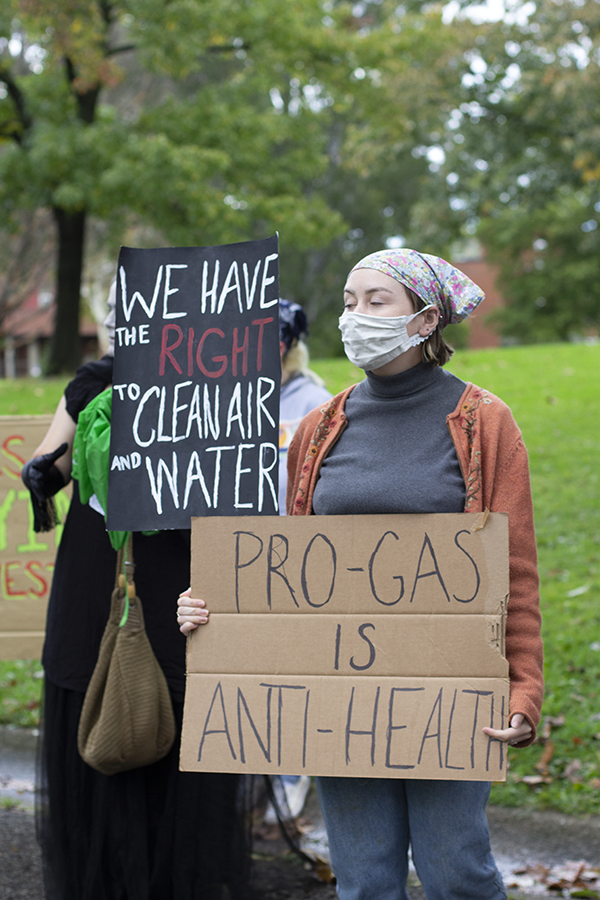 What You Can Do
The fight for climate justice will be a long, hard road, but our movement is demonstrating incredible adaptiveness and resiliency. We will continue to fight the expansion of the fossil fuel industry and hold financial institutions accountable. We are led by the guidance of incredible youth, BIPOC, and frontline organizers demanding environmental and climate justice.
We need your support to make fossil fuel finance a thing of the past. Here are some ways you can get involved:
Join a Climate Reality chapter.
Attend one of our upcoming activist trainings.
Support calls to actions from Climate Reality and partner groups to tackle fossil fuel finance by joining our email list here.
Talk to your friends and family about fossil fuel finance.
Research your personal banks ties to the fossil fuel industry and consider making a complaint or switching financial institutions, if you are able.