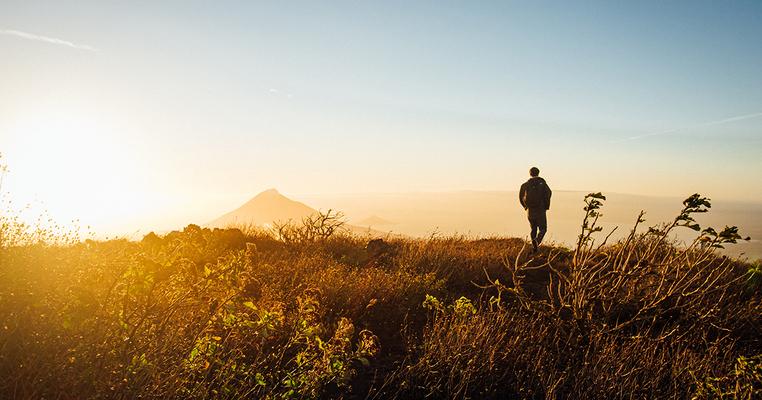 How the Climate Crisis is Affecting Central America
In Central America, major climate-related migration isn't a future concern – it's already happening as families buckle under the weight of soaring heat, powerful storms, changing precipitation patterns, and agricultural worries.
Carbon pollution from burning fossil fuels like coal, oil, and natural gas is warming our planet and driving climate change. It's throwing natural systems out of balance – to often devastating effect.
So devastating, in fact, that without action to limit emissions and bring the climate crisis to an end, more than 140 million people across three regions of the world – Sub-Saharan Africa, South Asia, and Latin America – could be displaced by 2050 due to foreseeable climate impacts like sea-level rise, extreme heat, drought, and crop failures caused by changing farming conditions. (We're not even talking about displacement from unexpected disasters like hurricanes or floods here.)
If you just had a terrifying flashback to the phrase "migrant caravan," you're a true climate champion – because you remember that many of the men, women, and children who left their homes across Central America to travel north through Mexico to the United States in late 2018 were fleeing drought and related lost agricultural employment in rural areas where residents already faced elevated levels of food insecurity.
More recently, many of the same countries that have been experiencing historic drought in their western regions were hit from the east by the back-to-back punch of two historically strong hurricanes, killing hundreds, forcing many, many more from their homes, and causing billions in damages across countries already struggling with widespread poverty.
The bottom line: In at least one region of Latin America, major climate-related displacement isn't coming – it's already started. Central Americans are buckling under the weight of soaring heat, powerful storms, changing precipitation patterns, and agricultural worries.
With the historically important COP26, where most of the world's nations will come together to review emissions reduction commitments and strengthen ambitions, coming up in November in Glasgow, Scotland, there's never been a better time to see what's on the line for Belize, Costa Rica, El Salvador, Guatemala, Honduras, Nicaragua, and Panama – as well as what people across the region can do right now to fight for a better future for Central America.
Hurricanes
Warm water is the lifeblood for tropical storm systems. How strong a storm gets and how fast it strengthens depends largely on how warm the waters are along its path. And as our planet continues to warm, so do our oceans and seas.
These warmer-than-normal waters increase the probability of rapidly strengthening and generally stronger storms – as many up and down Central America's Caribbean Sea coastline learned all too well in 2020.
Hurricane Eta, a devastating Category 4 hurricane when it made landfall near Puerto Cabezas, Nicaragua on November 3, 2020, caused extensive damage across Nicaragua, Honduras, Guatemala, and Panama, and took over 200 lives across the region.
Just two weeks later, Hurricane Iota – which briefly became a Category 5 storm; just the second on record in the month of November – took aim at these same countries (the storms made landfall just 15 miles apart!). In Honduras and Nicaragua, torrential rains pounded already saturated soil, causing deadly landslides.
Sustained winds in both storms increased about 80 miles per hour in just 24 hours.
And the number of rapidly intensifying storms is increasing.
>> Free download: Extreme Weather and the Climate Crisis <<
The Dry Corridor
While powerful hurricanes are bringing strong winds and punishing rainfall to Central America's Caribbean coastline, an ecological region that runs along its Pacific coast is experiencing more and more drought as climbing global temperatures continue to change precipitation patterns.
The Dry Corridor runs from southern Mexico through Guatemala, El Salvador, Honduras, Nicaragua, Costa Rica, and Panama. This region earned its name long ago, but in the last few decades, the droughts have become longer and more severe. And when the rain does come, it's heavier than ever, but runs right off of the hard, parched soil – creating a vicious cycle of extremes that threaten the physical, financial, and mental well-being of the people who live there.
The western coast of Central America has long been susceptible to weather extremes because of changing nearby atmosphere-ocean circulation patterns over the Pacific Ocean – like the El Niño Southern Oscillation, which makes the region vulnerable to irregular rainfall.
But unluckily for many Central Americans, the climate crisis is rewriting the definition of "irregular rainfall."
When you're a location like the Dry Corridor, already prone to periods of extended drought and heavy rain, and you see the notch on either dialed up even a little bit – a little bit longer, and longer the next time yet, with no rain – it can be truly devastating. More than 30 percent of jobs in El Salvador, Guatemala, and Honduras are in agriculture; these workers' entire ways of life revolve around fairly stable climate systems doing what they're expected to do most of the time.
But climate change is flipping the script on them – not by creating truly new weather patterns, but by amplifying existing ones. In the case of precipitation, rainfall is becoming either increasingly abundant or in desperately short supply, relative to longtime averages. It's a classic case of feast or famine – and right now, rural farmers across Central America are quite literally starving.
Some are even taking their families and leaving their homes. Not because they want to. Because to survive, they have to.
Migration
Climate migration is defined as, "The movement of a person or groups of persons who, predominantly for reasons of sudden or progressive change in the environment due to climate change, are obliged to leave their habitual place of residence, or choose to do so, either temporarily or permanently, within a state or across an international border."
Climate migration typically occurs due to one of two kinds of disaster: sudden-onset or slow-onset.
Sudden-onset disasters include events like wildfires, major floods, and hurricanes like Eta and Iota. Things that occur, if you can believe it, suddenly, and can force people out of their homes. Typically, though not always, sudden-onset disasters lead to internal migration (migration within one's country) that is temporary.
Slow-onset disasters refer to things like sea-level rise, and the drought and unfavorable agricultural conditions discussed above. These disasters develop more gradually and do not emerge from a single, distinct event.
Typically, slow-onset disasters lead to cross-border movement that is permanent.
Changes in the climate in the Dry Corridor and elsewhere, as well as a lack of alternative economic prospects in rural areas, are forcing people are leave their communities and head for more-populous areas they hope are more economically prosperous.
Within their own countries, many arrive in cities and encounter systemic issues from corruption to violence, including especially high rates of gender-based violence. The migrants then leave these urban areas too, and begin to migrate internationally, hoping for a better life.
In the case of much of the so-called "migrant caravan" and many, many more who've made that harrowing journey before and since, their hope brought them to the doorstep of the United States – where they've long been met with chaos and cruelty.
What You Can Do
The climate crisis is making life even harder for residents of Central America, particularly along the Caribbean coast and throughout the Dry Corridor, forcing farmers and other rural and coastal residents to leave their homes and livelihoods.
It's a situation becoming more and more common all around the world.
You know we can do better. You want to be part of making it happen.
Make a difference in 2021 and beyond by becoming part of the Climate Reality Leadership Corps, a global community of world-changers leading the fight for just climate solutions across Central and South America – and around the world.
In July, we will host a virtual Latin America training that will connect learners, activists, and leaders from around the region.
The training will explore the climate challenges people across Latin America face, as well as the exciting success stories that you can be a part of through our regional branch. The event will be held primarily in Spanish with some additional sessions also taking place in English.
Click here to be the first to know when registration opens for the Climate Reality Leadership Corps Virtual Latin America Training.
If you are a climate advocate located outside of Latin America, we will host a virtual global training this October that will feature speakers from around the world and sessions that give you actionable skills to take into communities everywhere. Come network and meet climate activists from all over looking to make meaningful change and fight the climate crisis. Together. We look forward to seeing you there!