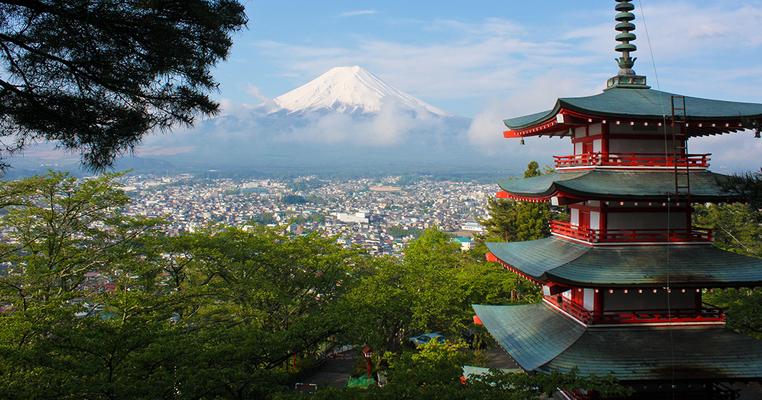 How the Climate Crisis Impacts Japan
Island nations around the globe face some of the most severe impacts of our changing climate — and Japan is no exception.
Longstanding traditions combined with constant innovation make Japan a place like no other. But now the country is making history and headlines for reasons that go far beyond technological breakthroughs. Over the past decade, Japan has experienced a variety of record-breaking extreme weather events that only confirm what we know: that the climate crisis is not some far-away event, but a threat that endangers us today.
COASTAL THREATS
When it comes to the climate crisis, melting ice and rising sea levels get a lot of attention — and for good reason too. More than 600 million people around the world live in coastal regions less than 10 meters above sea level. As a result, many countries are constantly threated by sea-level rise, and in some extreme cases are even headed entirely underwater.
Although Japan doesn't face quite this level of threat, rising seas and related impacts are already doing real damage to coastal regions. For example, in September of 2018, Typhoon Jebi flooded Kansai International Airport: a popular gateway to the cities of Kyoto, Osaka, and Kobe. Thousands of passengers were left stranded as ocean water submerged a runway built to be flood-proof. That was just one headline-grabbing scene, but overall the typhoon caused over $3 billion in damages spread over hundreds of miles. As others have noted, the event was an unmistakable display of the climate crisis unfolding before us.
The city of Osaka, which is home to over 2.5 million people, faces similar threats. According to the Union of Concerned Scientists, this economic powerhouse currently has over $200 billion worth of assets threatened by sea-level rise. The cost of these damages could reach a staggering $1 trillion by 2070, according to fairly conservative predictions. And that's before considering the irreplaceable historic sites and thousands of livelihoods in danger.
FLOODING AND RISING TEMPERATURES
The climate crisis doesn't just cause flooding around Japan's coasts. The mainland, as recent events have demonstrated, is also at increased risk.
In July of 2018, a devastating downpour in western Japan forced 2 million people to evacuate their homes. This deluge flooded hundreds of thousands of homes and, tragically, claimed over 200 lives. In the aftermath of the event, experts agreed that the intensity of this storm was fueled by our changing climate.
That downpour is just one example of the climate phenomenon spreading throughout Japan; as temperatures increase, water evaporates more rapidly. This, in turn, makes rain fall less frequently, but harder when it does. Given that Japan's average temperature is rising faster than the global average, this process is expected to continue escalating — that is, unless we slash global greenhouse gas emissions.
The same principle applies to heatwaves. Unless we begin drastic emission reductions, Japan will just keep getting hotter. The country experienced what this future could be like in 2018, when its temperature record was broken by a heatwave that peaked at a sweltering 41 degrees Celsius (106 degrees Fahrenheit). This event, which was later declared a natural disaster by the Japanese government, hospitalized over 30,000 and claimed at least 80 lives.
Along with those impacts, rising temperatures are facilitating the spread of disease across Japan. Insects like mosquitoes, which thrive in warmer climates, can spread serious illnesses like dengue fever — an alarming reality given that cases have already increased.
FOOD SECURITY
If you've ever been to a Japanese restaurant, you probably know how important rice is for Japanese cuisine. In fact, each member of the country's 126 million population consumes an average of over 50kg of rice per year.
The problem, then? That climate change is hindering the production of this vital grain throughout Japan. Even though the quantity grown has remained the same in many regions, the combination of hotter temperatures and higher CO2 concentrations can decrease the actual quality of the grain, making it increasingly fragile and less nutritious than before.
Fish, one of Japan's favorite proteins, is also being threatened by climate change. As a World Wildlife Fund spokesperson described, "While the waters off Japan are currently considered some of the richest fisheries in the world... research suggests that Japan may face a substantial decline in some fish catches over the 21st century."
Along with those two staples, important fruits like apples, mandarins, strawberries, and cherries, along with a variety of vegetables, are also being threatened by the climate crisis.
TAKE ACTION TO FIGHT THE CLIMATE CRISIS
By threatening historic cities, landmarks, and cultural elements like food, the climate crisis endangers Japan's rich heritage. By hurting the economy and by claiming thousands of lives, the climate crisis jeopardizes Japan's present. What's left to see is how it will impact the country's future.
The good news? We can still solve this crisis in time to avoid the worst. Yes, we really can succeed – but we must act now. Here at The Climate Reality Project, we focus on solutions, and with your help, are catalyzing the climate action the world needs.
Are you interested in joining a movement to protect our planet, and ourselves? If so, learn how you can become a Climate Reality Leader by joining one of our upcoming tranings. You'll join a global community gaining the skills and knowledge to take on the crisis – and win.