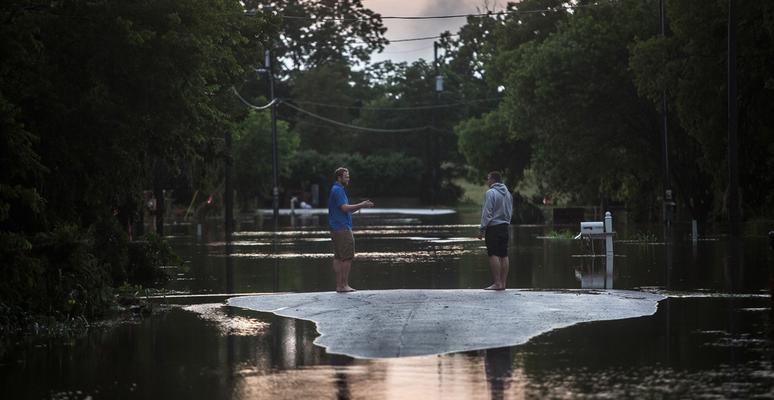 This is How Local Climate Action Gets Started
In the heart of Texas oil country, a Climate Reality chapter is about to launch a campaign to bring solar power to local public schools.
It's a question we hear all the time: "What can I do?"
That's why, a little over a year ago, as it became clear that the Trump Administration was determined to undermine climate action at every turn, Climate Reality™ launched local chapters in communities from sea to shining sea to fight back.
These chapters unite friends, neighbors, and colleagues in working to bring clean energy to their towns and showing how we can end this crisis together.
In the heart of Texas oil country, one chapter in particular is set to launch a major campaign to let the sunshine in.
Our Dallas-Fort Worth chapter, chaired by Climate Reality Leader Roger Knudson, is in the early stages of planning a promising campaign that could help bring solar energy to public schools throughout the Dallas Independent School District. We recently talked with Roger about his chapter, why they're focusing on solar on schools, and their plans going forward. Read on for more.
Getting Started
"We jumped right on the chapter idea a year ago, when Climate Reality finally proposed it," Roger told Climate Reality™. "In our first chapter meeting, we talked about moving beyond individual presentations to some kind of campaign because it was clear that was what Climate Reality was aiming for with the chapters."
Deciding exactly what type of work to undertake proved more challenging. Even as Texas continues to recover from climate change-exacerbated Hurricane Harvey, many Texans remain skeptical of climate action. It's simply "not an easy sell" in the greater Dallas-Fort Worth area, Roger says.
But things began to change late this summer, following our largest-ever Climate Reality Leadership Corps training in Los Angeles.
As the Dallas-Fort Worth chapter's ranks swelled with new, motived members fresh from the training, Roger noticed a renewed enthusiasm for a solutions-centered campaign. Still, deciding exactly what action to undertake remained a challenge.
"We had an online presentation by [Climate Reality President and CEO] Ken Berlin, some months ago at the beginning of this year, in which he said, very clearly, 'This is a year in which activism is going to be crucial," Roger recalled.
And as the chapter began to brainstorm ideas for ways to take action, one in particular came up again and again: "What about solar on schools?"
A Big Idea
Roger knew of only a tiny handful of schools – all very small, parochial, and/or located in wealthy suburbs – in the greater Dallas region that utilized solar and other climate-smart efficiency measures. He also knew that his state was "far behind states like California or Nevada in terms of solar on schools."
Soon after, Roger was speaking with a local representative and was surprised to find enthusiasm for the idea. "He was all over it – very excited. He said, 'I want to hear more about this. I want details.'"
So Roger returned to his chapter to get them.
"One of our members owns a solar energy company that develops plans for solar installations at medium-size businesses, as I understand it," he said. "So he has great expertise in terms of the technology, the financing, the nuts and bolts of installation.
"He said, 'We're talking about a campaign. Why don't we talk about a specific school in the Dallas public schools? Could we turn that into a campaign?'" Roger continued. "Then, I'm back in my chapter chair hat thinking, 'We've got people coming back from LA. This seems, I don't know if its plausible, but if we can get people on board let's find out.'"
Together, Roger and his chapter did just that – and quickly found even more valuable allies within their ranks.
One Dallas-Fort Worth chapter member had worked in the city for Teach for America, and her experience in the school system provided unique and valuable insight into how the campaign would need to be run as well as the individuals they would need buy-in from for it to succeed. Yet another member is an attorney with a specialty in energy law who now works for a solar energy company. Roger hopes that together they will be able to help the chapter navigate the often-extensive red tape around dealing with public school systems.
But even with the incredible advantage offered by the expertise of his fellow chapter members, Roger is quick to note that the chapter anticipates an uphill battle… up a particularly steep hill at that.
"Saying that this is a good idea is very easy. We now have to face the reality that this is a very heavy lift," he added. "Schools in Texas are in terrible financial shape, so external sources of funding will be crucial. These may exist and we plan to find out. But right now, no one knows for sure. And what sort of political pushback we might face from the fossil fuel giants is anyone's guess."


Building a Strong Foundation
While researching how to get the campaign off the ground, Roger made two important discoveries.
First, he learned that while no action was ultimately ever taken, several other environmental groups had considered undertaking a similar solar campaign in Dallas, opening the door to possible future collaborative coalition work.
"This idea has been in the wind in Dallas for some time," he learned. "As far as I know, no one has actually even tried to mount a campaign. At some point, I am sure we can find collaborators from those groups."
He also discovered that a Climate Reality chapter in another state was hard at work on something similar, allowing him to easily connect, compare notes, and share contacts and resources with fellow activists working on this same issue.
"I spoke already with John Haycock, chair of the southern Virginia chapter, and he gave me a lot of good ideas based on the work they've done," Roger said. "[He] put me in touch with Gen 180, an organization he called indispensable to his effort in Virginia."
It's very early days, for sure, but the chapter is ready to hit the ground running on its solar-on-schools campaign. Indeed, Roger hopes to have the campaign ready to go in time for the major Earth X Expo and Conference in Dallas early next spring.
"My sort of fantasy is that over the next three to four months, if we can make some concrete steps toward an actual proposal for solar on schools, we will introduce it to the broader community at that summit," he said. "We need to get this thing off the ground. We need to get it out of the realm of just pie in the sky, oh wouldn't it be nice, which is where I think the other groups seem to have left it.
"It's a heavy lift; it looks to me like a very tough thing to manage. But if we can get the plan far enough along, where we have something substantial, then we can go to the other groups and say, we need help in the following areas, if you have members with expertise or time, sign on here, and we'll get you engaged."
Your Chance to Take Action, Too
The Dallas-Fort Worth chapter is just one of 82 (and counting) working to bring climate solutions to communities just like yours.
Across the country, committed people like you are joining Climate Reality™ chapters to work together for practical climate solutions and make a real difference for our climate when it matters – and you can too.
Join a Climate Reality chapter today and get active in the fight for a sustainable tomorrow.