October 01, 2020 | 8:30 AM
How Our Oceans Can Help Tackle Climate Change
More than two-thirds of the world is covered in oceans, so it's no surprise they are often at the forefront of discussions of the climate crisis. From melting Arctic ice and sea-level rise to bleaching coral reefs and more and more powerful tropical storms, the world's oceans are experiencing some of the most intense and visible impacts of the climate crisis today.
But because images of glaciers calving or the Atlantic Ocean lapping down the streets of Miami are so powerful, and visually tell the story of the crisis so well, we often forget something else: our oceans have an incredible role to play in solving the climate crisis too.  
Through the development and use of renewable energy, more-sustainable transportation, and habitat restoration, our world's ocean can be a valuable ally in battling the climate crisis.
The Problem

Excess greenhouse gas emissions in the atmosphere are making our ocean waters warmer, more acidic, less able to hold oxygen, and less productive. This leads to any number of impacts on the lives and livelihoods of people everywhere, from more powerful storms slamming coastlines and challenges for global trade to less productive fisheries and even threats to national security. 
The ocean is thus often thought of exclusively as a victim of climate change rather than a key player in the movement for solutions.
We've been writing its obituary for decades when we should have been hosting a pep rally instead. Because there is overwhelming scientific evidence that the ocean can be a potent force in stabilizing the climate and helping build a secure future for everyone.
The Solutions

Our oceans have played a largely minor role in national climate plans and strategies. Yet, ocean-based climate solutions could deliver as much as 21 percent of the emissions reductions needed to limit global warming to no more than 1.5 degrees Celsius by 2050.
And as Peter Thomson, the UN secretary-general's special envoy for the ocean, says, "The world already has the technologies it needs to put ocean-based climate solutions into motion."
Here are three doable solutions, we could get to work on right now:
Renewable Energy

Sustainable Transportation

Restoring Habitats

"For far too long the ocean has not seriously been on the radar screen of the climate change policy community," said Jane Lubchenco, former administrator of the National Oceanic and Atmospheric Administration (NOAA). "It needs to be squarely on the radar screen. These options are going to give us some powerful new tools in the toolbox."
To win the fight against climate change, we need all hands on deck — on land and sea.
What You Can Do

Are you ready to make a difference for the future of our planet?
Join the fight to protect the air we breathe and the forests we treasure by signing up for our email list today.
Stay up to date on the latest from the movement for solutions to end the climate crisis and ways for you to get involved. Even as we're unable to gather together to organize in-person, the fight for climate solutions continues. Learn how.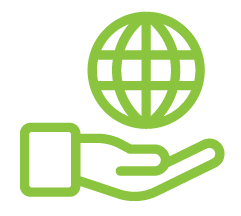 Before You Go
At Climate Reality, we work hard to create high-quality educational content like blogs, e-books, videos, and more to empower people all over the world to fight for climate solutions and stand together to drive the change we need. We are a nonprofit organization that believes there is hope in unity, and that together, we can build a safe, sustainable future.
But we can't do it without your help.
If you enjoyed what you've just read and would like to see more, please consider making a generous gift to support our ongoing work to fight climate denial and support solutions.