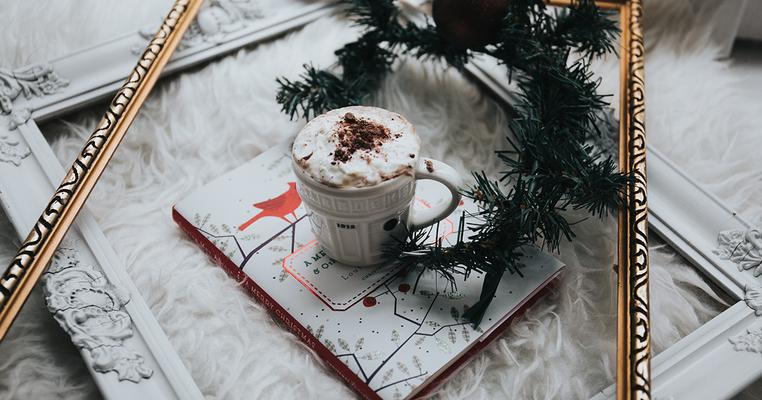 Here's How You Can Green Up Your Holiday Season
From rethinking your giftwrap to doing your part to support a better tomorrow, there's so much you can do this holiday season to fight the climate crisis.
The month of December is a time when many celebrate the holidays and show their loved ones how much they care.
At the same time, it's important to know that between Thanksgiving and New Year's, more than 25 million tons of additional waste is thrown away in the United States alone. So at a time that so many of us are doing our part to give back in other ways, we're failing one of our most important family members – our fragile planet.
But it doesn't have to be this way. There's so much we can do to make the winter holidays more sustainable.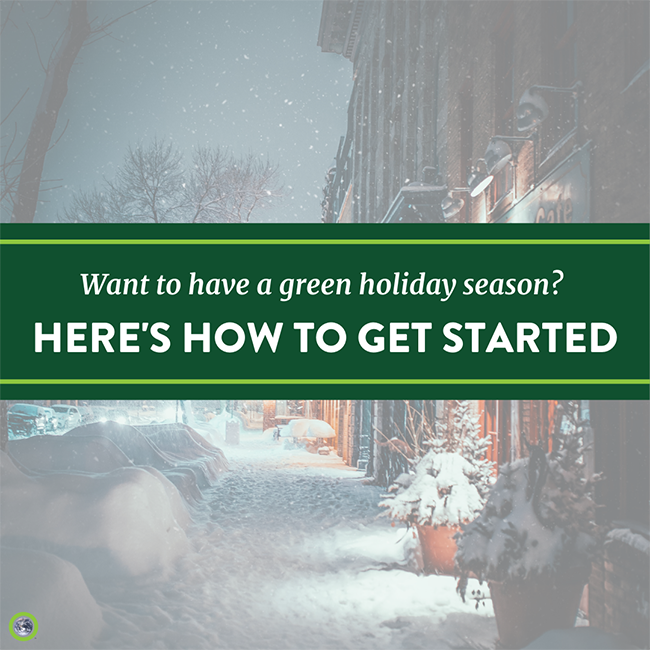 This holiday season, you can make a difference in your community by taking climate action at home. Here are a few ways you can have a green holiday season in 2020.
1) Be a Conscientious Consumer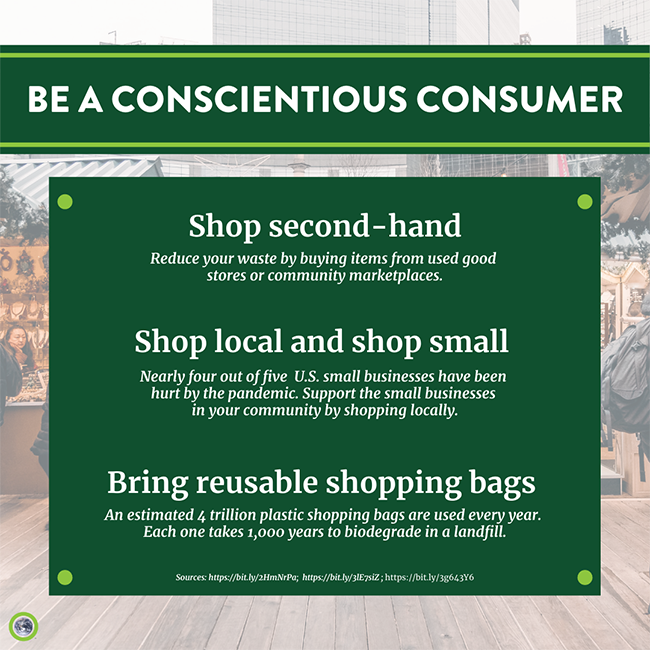 During the holidays, we often feel pressure to buy an abundance of new gifts for friends and family. Giving gifts is a thoughtful and meaningful way to show your loved ones that you care, but you don't always need to buy new items to gift.
Shopping second-hand is a great way to reduce waste in your community, as well as the emissions that come with it. Did you know that purchasing a used item instead of a new one can reduce the item's carbon footprint by as much as 82 percent?
And buying used goods has never been easier. Online marketplaces for toys, clothing, housewares, and other items make second-hand shopping accessible from any device.
If you can't buy used, it's a great idea to shop local and shop small, especially this year. Nearly four out of five US small businesses have been significantly hurt by the COVID-19 pandemic.
One of the best ways to be a conscientious consumer is to do your research before you buy. Often, local small businesses have a more transparent supply chain, and a smaller carbon footprint, than larger corporations.
You can also reduce your waste by carrying your own shopping bag. An estimated 4 trillion plastic shopping bags are used every year, and each bag takes at least 1,000 years to biodegrade in a landfill. Using a reusable shopping bag will keep more plastic out of landfills – and more of the fossil fuel emissions from the plastics-making process out of our atmosphere. It's a small-but-important way to make a difference and protect the planet in your everyday life.
2) Decorate the Green Way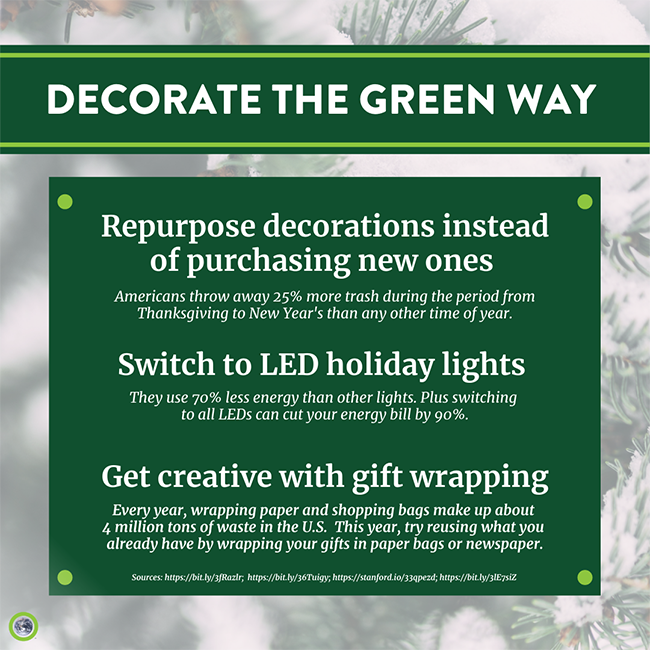 One of the best ways to celebrate holidays is to decorate your home. However, so many decorations sold in stores are made from plastic. This year, try repurposing old decorations, or open up your crafting drawer to make some new ones at home. You can make homemade baked clay ornaments and dried fruit garland, or even forage outside to make a wreath for your front door.
While you're out, you can gather some pinecones to make a table centerpiece or some hanging decorations. Get creative and have some fun!
LED holiday lights are also a worthwhile investment for your home. LED lights use around 75 percent less energy than incandescent lights, and you'll also find that LED lights last longer. In addition, LED lights stay cool to the touch, making them a safer option to hang around your home.
Every year, 4 million tons of wrapping paper and gift bags are thrown away in the US. This year, try wrapping gifts in material you already have around your house, like newspaper or fabric, which can be recycled or reused. You can also opt for string instead of disposable ribbons and bows.
3) Give Back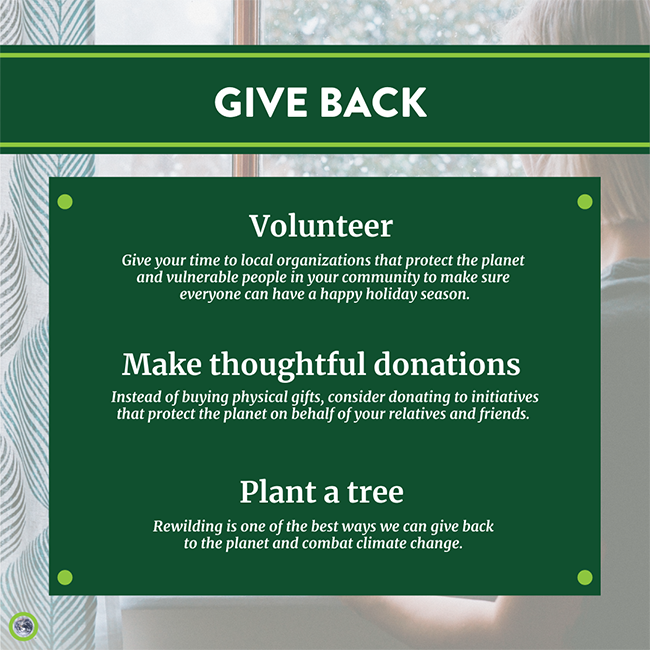 If you want to make a difference outside of your own home, consider giving your time and volunteering. This past year has been a difficult one, and community organizations everywhere could use an extra set of hands (using an abundance of caution, of course) during the holiday season.
Think about the causes or issues that are important to you, and find an organization that matches your values and is acting on that effort. There's perhaps never been a better time to join a Climate Reality chapter.
You could also plant a tree in someone's honor. In the past 100 years, we have lost more than half of the world's trees.
Climate scientists have found that planting trees is a very effective way of helping to combat climate change. Forests are carbon sequestration sites, meaning that the trees and other foliage capture carbon from the atmosphere and are able to transfer that carbon back into the soil. So sponsoring a tree or rewilding effort as a special gift this holiday season is an incredibly significant and impressive surprise for a loved one.
And of course, if you have the financial means, you can also make donations to organizations or causes that you care about. Your contribution could also serve as a gift for a loved one. Donations on behalf of someone you care about can do some good in the world, save a great deal of packaging, and be a very thoughtful and meaningful gift to surprise someone with this year.
Indeed, doing your part to ensure a healthy planet is still here for generations to come might be the best gift you can give – this year and any year. Consider a donation to The Climate Reality Project today.