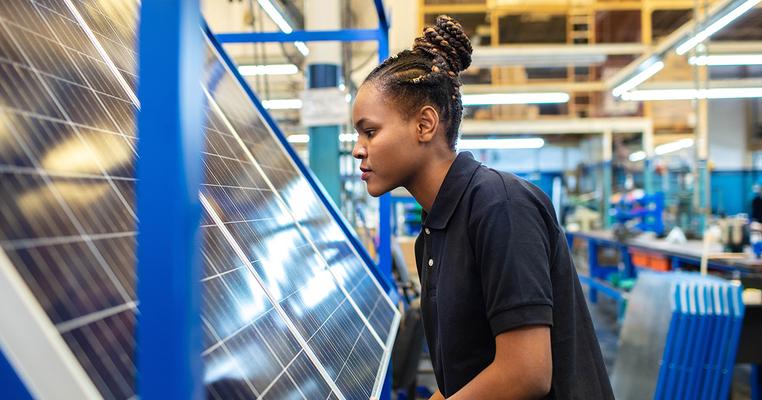 Inside DOE's plan to halve solar costs by 2030
Solar energy is already cheaper than fossil fuels in most of the world. Now, the US Department of Energy wants to push the envelope even further.
Back in March, the US Department of Energy (DOE) made a quietly momentous set of announcements about the future of clean energy in the US.
First, that DOE aims to cut the cost of solar energy by 60% within the next 10 years. And second, that it'll spend nearly $128 million over that time to lower costs, improve performance, and accelerate the deployment of solar energy technologies.
In between those figures and the 10-year time frame, it might be easy to lose one core fact: this is actually a really, really big deal. Not just for the US solar industry, but for the global transition to clean energy and – by extension – the global climate fight.
WHY SOLAR?
First things first, why is DOE betting so heavily on solar?
US Secretary of Energy Jennifer M. Granholm explained it best: "In many parts of the country, solar is already cheaper than coal and other fossil fuels, and with more innovation we can cut the cost again by more than half within the decade."
She's right. The cost of solar has fallen drastically year after year, and as it has, its scalability has steadily grown. That's both in the form of solar photovoltaic (PV) – i.e. solar panels – and concentrated solar power (CSP), which uses mirrors to concentrate the sun's heat to power steam turbines that then create electricity.
This investment, Secretary of Energy Granholm elaborated, "will help us add even more affordable clean energy to the grid, jobs to communities across the country, and will put us on the fast track toward President Biden's goal of 100% clean electricity by 2035."
In short, DOE is throwing the agency's very significant weight behind solar because it can help us massively reduce our greenhouse gas emissions as the climate crisis demands and significantly cut electricity costs around the country.
THE GOAL IN CONTEXT
Looking to cut the price of solar in half is an ambitious goal, but it's not a first. In fact, we've seen it happen repeatedly just over the past decade.
Inspired by President Kennedy's 1962 "Moon Shot" speech, back in 2011, DOE launched the first Sunshot Initiative: a challenge to "reduce the total costs of solar energy by 75 percent, making large scale solar competitive with other forms of energy by the end of the decade."
And like the Moon Shot itself, the Sunshot Initiative ended up being a remarkable success. The per-kWh cost of utility-scale solar photovoltaic power fell from $0.28 in 2010 to $0.06 by 2017!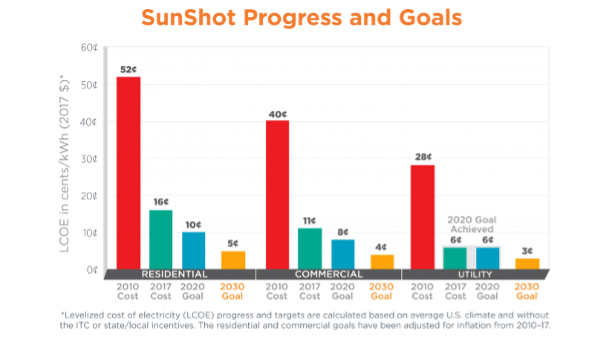 Source: US Department of Energy
Ultimately, this decrease in cost has helped solar to compete against other energy sources. In the US, for example, solar's share of total US electrical generation grew from just 0.1% in 2010 to over 3% today. What's more, solar is the fastest-growing generation source in the country, making up 43% of all new electric capacity added to the grid in 2020.
Looking ahead, as the Sunshot Initiative continues, DOE aims to cut the per-kWh cost of utility-scale solar photovoltaic power from $0.06 as it stands today, to $0.03 by 2030.
SO, WHAT'S THE $128 MILLION IN FUNDING FOR?
As DOE described in a statement, the funds are being allocated to the following endeavors:
$40 million for perovskite R&D: Perovskites are a family of emerging solar materials with potential to make highly efficient thin-film solar cells with very low production costs. DOE is awarding $40 million to 22 projects that will advance perovskite PV device and manufacturing research and development—as well as performance through the formation of a new $14 million testing center to provide neutral, independent validation of the performance of new perovskite devices.
$3 million Perovskite Startup Prize: This new prize competition will speed entrepreneurs' path to commercializing perovskite technologies by providing seed capital for their newly formed companies.
$20 million for CdTe thin films: The National Renewable Energy Laboratory will set up a consortium to advance cheaper CdTe thin-film solar technologies, which were developed in the United States and make up 20% of the modules installed in this country. This consortium will advance low-cost manufacturing techniques and domestic research capabilities to increase opportunities for U.S. workers and entrepreneurs to capture a larger portion of the $60 billion global solar manufacturing sector.
Together, these investments present fantastic promise for the future of solar!
JOIN THE MOVEMENT FOR SOLUTIONS
This summer, historic floods, heatwaves, and wildfires have made two things clear: that the climate crisis is here and now, and that as long as we keep burning fossil fuels, these impacts are only going to get worse.
But as developments like this DOE goal remind us, the power to change course and build a clean energy future is within reach.
If you're ready to help, join the Our Climate Moment campaign and activists in Climate Reality chapters across the US working to pressure Congress to seize this historic opportunity. Chances are, there's a chapter in your community.
Alternatively, join our activist email list today. We'll keep you posted on the latest developments in climate policy and what you can do to help solve the climate crisis!
By Diego Rojas