June 11, 2020 | 8:04 AM
Petrochemicals in the Age of COVID-19
Since our Climate Reality Leadership Corps training in Pittsburgh, Pennsylvania in 2017, Climate Reality has been working with regional partners to resist petrochemical expansion in the Ohio River Valley. Due in large part to the region's position atop ethane-rich Marcellus Shale, the stretch of the Ohio River from southwestern Pennsylvania to northeastern Kentucky is slated to become the nation's next plastics manufacturing hub, complete with well pads, pipelines, ethane cracker plants, underground storage facilities, and much more. 
With the arrival of the COVID-19 crisis, plans to organize against this buildout in the region have been upended, and community members and organizers were sent back to the drawing board.
If anything, though, in this uncertain time of social distancing, organizing to oppose petrochemical construction and manufacturing has become more important than ever. Even as stay-at-home orders and social distancing guidelines keep residents on the front lines of gas extraction and plastic production from leaving their homes, the gas and petrochemical industry continues to move forward, disregarding concerns about public health and trying to outrun their industry's pending economic collapse. 
COVID-19 and Air Pollution

In a city like Pittsburgh, with some of the worst industrial air pollution in the country, lung diseases are nothing new. The metro region continually receives failing grades from the American Lung Association's annual State of the Air Report and has some of the highest cancer risk from particle pollution in the country.
Now, with COVID-19, recent findings suggest that communities with elevated air pollution are at greater risk for complications with the disease – largely because people living in areas with poor air quality are more likely to have pre-existing lung conditions. We're seeing this play out in frontline communities in Louisiana, where rates of COVID-19 are some of the highest in the nation, and many believe that has a link to the petrochemical plants and refineries lining the lower Mississippi River from Baton Rouge to New Orleans in an area known as "Cancer Alley."
Crises like the COVID-19 pandemic not only highlight the inequities already present in our society, but they also show us the importance of addressing those inequities. 
Disheartened by Distancing 

All too familiar with the negative health impacts of air pollution, activists in Pittsburgh prepared to flood the streets for the 50th anniversary of Earth Day to demand that their elected officials denounce the petrochemical buildout and declare a climate emergency.
The arrival of COVID-19 disrupted those plans.
The model of organizing where people were able to physically gather outside of government buildings quickly evaporated, and the focus of many activists rightly turned to ensuring that unemployed neighbors could eat and that friends didn't get evicted from their homes.
But as the dust began to settle, climate activists began to see a road forward, despite the global shutdown. The fight against petrochemical expansion could march forward – albeit in new and different ways.
Trying to Exploit This Crisis

At the Shell Cracker construction site in Beaver County, PA, the nearly 8,000 workers were riding in cramped buses, sharing restroom facilities, and eating at crowded tables in a communal cafeteria as COVID-19 began to spread. Only after a worker posted photographs of the conditions at the site on social media and elected officials in the county began calling for a shutdown did Shell finally pause construction operations.
The fine print of Pennsylvania's shutdown order, though, allowed Shell to resume construction on a part of the facility that would generate power. As residents expressed concerns about the county's lack of hospital beds and respirators and the number of transient workers employed on the construction site, Shell appeared to prioritize profits over community health. 
Similarly, despite the broad economic shutdowns, several industry groups (4k Industrial Park LLC, Deeprock Disposal Solutions, Fountain Quail Energy Services LLC) made a series of proposals to build barge docking facilities up and down the Ohio River from Meigs County, OH to Martin's Ferry, OH. These barge offloading facilities are proposed to help transport oil and gas waste up and down the Ohio River, making way for more fracking, cracking, and plastic pollution.
As vigilant residents caught wind of the proposals, they amassed online public comments and circulated a digital petition to be presented to the Army Corps of Engineers, asking them to hold public hearings on the proposed barge docks prior to deciding on the permits. Without community vigilance, however, the barge dock proposal would have been pushed through without public input when no one was looking. 
Beyond local projects, at the national level, COVID-19 relief efforts have also aided the continued expansion of the petrochemical buildout. The Environmental Protection Agency (EPA) has announced an Enforcement Discretion Policy, which suspends EPA inspection of permit compliance during the crisis, and there have been several efforts to bail out fossil fuel corporations during the economic fallout. 
We know, however, that industry's financial problems didn't begin with COVID-19, and they certainly won't end after it is gone. 
In Dark Financial Waters 

In late 2019, the decreasing price of natural gas left organizers and activists in the region hopeful that the growing ethane bubble was about to burst.
The Institute for Energy Economics and Financial Analysis (IEEFA) released findings in March 2020 that indicated dire economic circumstances for investment in the proposed PPT Global Chemicals (PPTGC) ethane cracker facility in Dilles Bottom, OH. Although this facility received all of the necessary permits nearly two years prior, PPTG, the Thai-based company backing the project, has continually postponed its financial investment decision, despite substantial taxpayer investment in site preparation through JobsOhio.
In addition to the less than optimistic outlook for the PPTGC cracker, several oil and gas giants have begun to sell off their assets in the Marcellus Shale region and lay off portions of their workforce. Chevron sold all of its assets in the Marcellus Shale, and EQT recently laid off nearly a quarter of its workforce. Most recently, Shell announced that they plan to sell some of its assets in the region.
COVID-19 or no COVID-19, things are looking grim for companies invested in fracked gas extraction in the Ohio River Valley. Now is not the time to give up. 
Organizers Persist

COVID-19 has brought a series of challenges to the traditional model of organizing. It has upended events and campaigns and left people feeling ineffective and powerless. However, more than that, it has provided organizers and community members an opportunity to conduct meaningful engagement and make positive changes in new and innovative ways.
As part of our petrochemical opposition campaign, we helped to successfully organize a 50th anniversary of Earth Day Live teach-in event and a webinar series, "Tackling the A-Z Impacts of Plastics,"  with several other large events in the works. We have also used this time to build solidarity with workers on the front lines of the crisis at the Shell construction site and used Earth Day as an opportunity to raise money for the Greater Pittsburgh Community Food Bank, which is helping neighbors in need during this time. The way of life may look different in this new normal, but some things remain the same. Community members still deserve clean air, clean water, and a healthy environment, and organizers will continue to fight for the future they know is possible in the Ohio River Valley. 
Are you ready to join the fight?
Climate Reality chapters across the country are continuing to support the movement for climate solutions, despite the COVID-19 crisis. 
Sign up here to learn more about a chapter near you and how you can take action at this critical moment.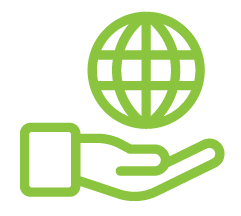 Before You Go
At Climate Reality, we work hard to create high-quality educational content like blogs, e-books, videos, and more to empower people all over the world to fight for climate solutions and stand together to drive the change we need. We are a nonprofit organization that believes there is hope in unity, and that together, we can build a safe, sustainable future.
But we can't do it without your help.
If you enjoyed what you've just read and would like to see more, please consider making a generous gift to support our ongoing work to fight climate denial and support solutions.