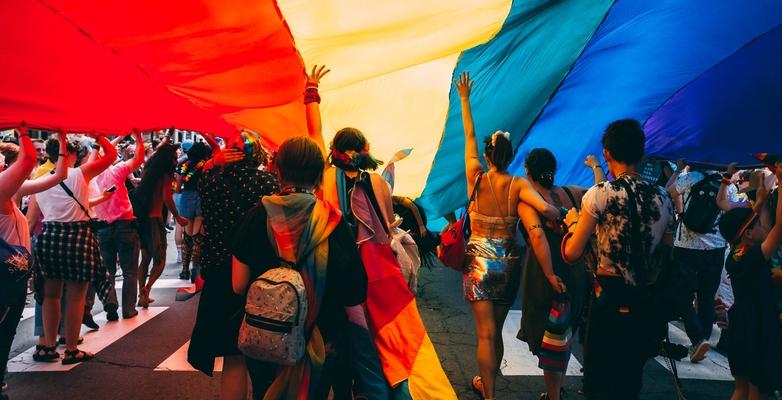 This Pride Month, Environmental Justice Needs To Be A Part Of The Conversation
From disease to extreme heat, the LGBTQIA+ community is uniquely vulnerable to the impacts of the climate crisis.
There's no denying it: We're all feeling the effects of rising global temperatures. But the climate crisis impacts some communities – many of which already suffer the effects of inequitable societal systems – more than others.
In the US, LGBTQIA+ people have historically been the victims of state and federal policies that have led to widespread discrimination in the housing, employment, and health sectors. Social factors like higher unemployment, gender-based violence, and a lack of safe housing can make some communities more vulnerable to environmental catastrophe.
"The LGBTQ+ population is at more risk to environmental challenges because, just like many other marginalized populations, they face social, economic, and health inequities and disparities," said Leo Goldsmith, senior climate and health specialist at the U.S. Global Change Research Program. "The resilience of LGBTQ+ populations can also be affected as they are less likely to be able to access necessary resources, aid, and health care due to structural policies."
Goldsmith is a co-author of the 2022 study "Queering Environmental Justice: Unequal Environmental Health Burden on the LGBTQ+ Community," where he notes the importance of including intersectionality in our conversations about the LGBTQIA+ community and the climate crisis, especially when research has historically focused on "the cisheteronormative white experience, particularly the male experience."
In fact, decades of research have shown that more than any other factor, race determines which people and which communities are subjected to environmental hazards.
In order to create a truly diverse and inclusive climate movement, we must center intersectionality and recognize the unique ways that the LGBTQIA+ community, especially LGBTQIA+ people of color, are impacted by the climate crisis – and create safe spaces for LGBTQIA+ people as a critical part of the climate fight.
Environmental pollution, exposure, and health
Just like any other group, where LGBTQIA+ people live affects their environmental exposures and overall health. Historically, a combination of "heteronormative NIMBYism," discrimination in housing loans, and exclusive urban planning policies have greatly affected the neighborhoods the LGBTQIA+ community live in and their ability to secure safe housing.
For example, "gayborhoods" often have fewer LGBTQIA+ residents than we might think because "high property values create the illusion that the LGBTQ+ population is primarily White, cisgender, affluent, gay men."
The LGBTQIA+ population also suffers from chronic diseases such as respiratory conditions, cardiovascular disease, and cancer – which are often associated with environmental exposures – at  the cisgender, heterosexual population. More research is needed to determine the link between these health disparities and environmental burden.
One 2017 study published in "Social Science and Medicine" found that in the US, same-sex couples have a 12.3% greater cancer risk and a 23.8% greater respiratory risk than heterosexual couples due to inequities in exposure to hazardous air pollutants (HAPs).
Even when accounting for other factors such as race, sexual orientation seemed to be a strong indicator of whether individuals lived in areas with high levels of HAPs.
 Health disparities within the LGBTQIA+ community are also present in mental health According to the American Psychiatric Association, "LGBTQ individuals are more than twice as likely as heterosexual men and women to have a mental health disorder in their lifetime" and are "2.5 times more likely to experience depression, anxiety, and substance misuse."       
Studies have also shown that from depression and anxiety to PTSD, the climate crisis can exacerbate mental health disorders and cause climate anxiety.
Extreme weather and disaster response
From heatwaves to hurricanes, extreme weather is impacting our most vulnerable communities. Extreme weather can be especially dangerous for unhoused populations, among which LGBTQIA+ people are disproportionately represented.
Studies have found that approximately 20% to 45% of homeless youth are LGBTQIA+, and among young adults between the ages of 18 and 25, LGBTQIA+ youth have a 2.2 times greater risk of homelessness. Transgender people are disproportionately impacted, and one in five transgender individuals has experienced homelessness at some point in their lives, according to the National Center for Transgender Equality. The trans community also experiences discrimination and violence when accessing shelter spaces.
In the case of a climate disaster, emergency centers are rarely equipped to adequately provide a safe and comfortable space for LGBTQIA+ people, and LGBTQIA+ survivors often face difficulties accessing aid and other resources due to discrimination and a lack of government recognition. For example, following Hurricane Katrina, two Black trans women were arrested for using the women's bathroom at an emergency temporary shelter.
"Many of the women who were affected by the storm do not fit the traditional heterosexual image of 'woman,' and these women not only faced the obstacle of sexism but also homophobia and transphobia as they sought out assistance in the direct aftermath of the disaster," writes Charlotte D'Ooge, major gifts officer at Covenant House New Orleans.
But this isn't just a US issue.
More recently, during the devastating flooding in Pakistan last year, trans survivors reported that they were unable to access relief distributed by the government. Many transgender individuals in Pakistan do not have government identity cards, which makes it harder to access government services. Discriminatory practices around government identity cards also impact census figures and the representation of the trans community across the country.
Pride and Environmental Justice
As we gear up to celebrate Pride next month, keep in mind that marginalized communities are disproportionately impacted by the climate crisis. Educating yourself and your friends, family, and communities on this issue – and its many intersections – is a critical part of the fight for a just, sustainable future.
If you attend a Pride celebration this summer, don't forget your climate sign.
Want to learn more about the incredible LGBTQIA+ activists and organizations fighting for a better, more sustainable tomorrow? Check out our blog here.
You can also help us fight for the just, clean energy future that we desperately need and learn what you can do by joining our digital community of advocates around the world today.