April 21, 2020 | 8:30 AM
Test Your Knowledge: Climate-smart Farming and the Future of Food (QUIZ)
More and more scientists are ringing the alarm about the important connection between the climate crisis and its impact on soil health and agriculture. Luckily, Climate Reality's been on this beat for quite a long time.
We've long understood that declining soil health may be a little less immediately dramatic than, say, the Atlantic Ocean lapping down the streets of Miami or major glaciers calving and collapsing into the sea. But it can be equally impactful and perhaps even more far-reaching.
So while it's not the sort of thing that inspires a telethon, over time, the toll of erosion, pollution, rising temperatures, losses in organic matter, changing precipitation patterns, and other impacts of the climate crisis imperil a very basic human need – to eat.
>> Free Download: Soil Health and the Climate Crisis <<
While we're all staying in to do our part to fight the spread of the coronavirus, we're hoping that this time spent hunkered down can be put to good use learning more about our changing climate. We're all in this together, and it's important to stay connected as human beings even as we practice responsible social distancing. So after this challenging moment passes, we can stand together, informed and united, to fight for the future we deserve. 
We invite you to check out some of our best and most popular blog content focusing on agriculture, land use, farming, gardening, and more, and then test your knowledge of what you've just read by taking the quiz below.
All studied up? Take the quiz now:
 

Thank you for taking the time to learn more about the climate crisis and how together we can fight it and win.
Even with the threat of the coronavirus outside our doors, we are still working to give our children a better world to live in. After all, our future depends on it.
If you're ready for an even deeper diver into the ways climate change threatens the productivity of farms and livelihoods of those growing the food the nourishes us – as well as, very importantly, what we can do to support a world where we can provide our booming population with fresh, healthy food grown in a sustainable soil ecosystem – download our free e-book, Right Under Your Feet: Soil Health and the Climate Crisis.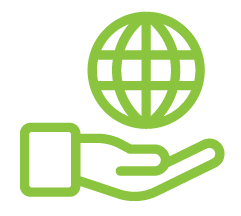 Before You Go
At Climate Reality, we work hard to create high-quality educational content like blogs, e-books, videos, and more to empower people all over the world to fight for climate solutions and stand together to drive the change we need. We are a nonprofit organization that believes there is hope in unity, and that together, we can build a safe, sustainable future.
But we can't do it without your help.
If you enjoyed what you've just read and would like to see more, please consider making a generous gift to support our ongoing work to fight climate denial and support solutions.