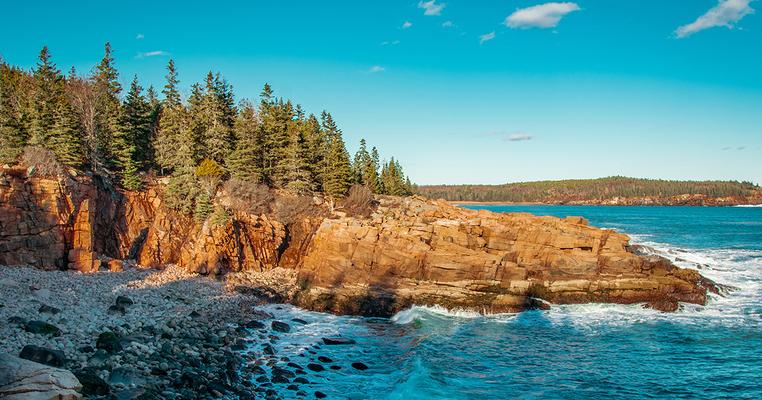 Time for a Road Trip! National Parks and the Climate Crisis
School's out for summer – and for many families across the US, that means it's time to pack up and head out for vacations at stunning national parks like Acadia, Glacier, Yellowstone, just to name a few.
But more and more, climate change means many of these popular parks don't look quite like they do in the brochures – or in parents' memories from when they were kids.
That's because impacts from fires to drought to rising sea levels to floods are transforming many national parks across the US, giving us a stark choice: Act now or face losing what makes these treasured vacation spots so special.
So, what's happening and what parks are in danger? Check it out:
Fire and Drought
Ready for a road trip? There are 40 national parks across the American West to visit with the family and make some incredible memories. So grab your cameras and watch out for Smokey the Bear, because many of them are facing a dangerous fire season ahead.
Fire has become a very real danger to the incredible trees from historic redwoods and sequoias to the famous Joshua trees that make many of our parks what they are. In scientific terms, climate change has increased the size, frequency, and severity of wildfires. And the data has made it clear these changes are directly linked to global warming, with research showing that more than half of the acres burned since 1984 in the western US can be attributed to climate change.
So what does this mean for our parks?
As just one example, in 2020, a single California wildfire that devastated the southern areas of Sierra Nevada National Park resulted in the loss of a tenth of the world's mature giant sequoia trees, many of which have been around for centuries.
Unfortunately, many climate impacts feed off each other. Drought is a prime example. In summer 2021, record-breaking droughts are drying out many parks across the West, not only threatening the wildlife that calls them home, but also visitors and even increasing the risk of fire.
How bad is it? For parks like Canyonlands in Utah, drought has threatened the wildlife since 1999.
Now, with the West facing a historic drought, these dry conditions can fan the flames and make wildfire season worse.
Rising Temperatures
Research shows that temperatures in national parks increased twice as much compared with other parts of the country, while precipitation fell dramatically. Worse, many of these parks are in locations sensitive to shifts in climate. To get a sense of what this means, you only have to look at Glacier National Park in Montana.
Glacier National Park has become the poster child for climate impacts on national parks, warming at nearly two times the global average, dramatically shrinking its iconic glaciers that many of us know and love. How much are they shrinking? Some of the glaciers have lost as much as 80% of their size in the last 50 years.
Not only is this a major loss as a beautiful feature for one of the most well-known national parks, but these glaciers serve an important purpose, providing fresh water for people who live in the state and farmers in the region. These same glaciers also provide a critical ecosystem for the wildlife that calls the national park home.
Rising Seas and Floods
Climate impacts change significantly based on location. For national parks along coastlines and in areas with high precipitation, there are the twin dangers of rising seas and flooding. Case in point: one of the most unique national parks in the nation, the Everglades in Florida.
The National Park Service identifies the Everglades as "nearly flat and surrounded on three sides by rising seas," which is a dangerous combination. This unique ecosystem is home to many rare plants and endangered species that once thrived in the freshwater environment. Now, many are in danger as rising seas are dumping salt water and causing salinization of the groundwater and soil where they live.
It's not just the Everglades struggling to keep up with climate impacts – approximately one-fourth of all National Park Service sites situated on or near the coast, including areas around the Golden Gate Bridge and in downtown Washington DC. While sea-level rise will impact geographic areas differently, it's our responsibility to work to protect these vital ecosystems for our planet and for people of all ages wanting to experience their wonder.
What Can You Do?
Visiting these historic parks and beautiful ecosystems shouldn't come down to rushing to see the sites before they're in danger – so let's act now to protect our national parks.
How can you help? You can join our grassroots climate movement by joining a Climate Reality Chapter in your community and work together with other local organizers and activists to make a real difference for our planet where it matters!
Learn more and join a chapter today!
Key Takeaways
Climate change threatens many of our natural parks.
Parks across the western US are facing a historic drought that increases the risk of wildfires.
Rising temperatures are melting the glaciers that not only give Glacier National Park its name, but provide water for local communities, farmers, and wildlife.
National parks on or near the coasts face the twin threats of rising seas and increased flooding that can threaten precious freshwater environments and the species that call them home.