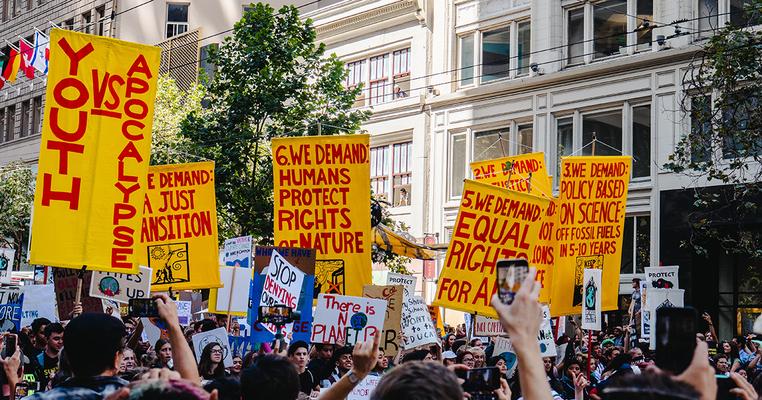 Why Are Young People Energized about Climate?
Because their future is at stake.
(Ed. Note: This post was lightly updated on March 17, 2022 to provide additional information on Climate Reality's upcoming, free, in-person climate advocacy training in Las Vegas, Nevada from June 11-13, 2022. For further information or to apply for the training today, click here.)
Over the past couple of years, young people have led an extraordinary groundswell of grassroots climate activism, making their voices heard everywhere from local rallies to congressional hearings to the most important international conferences of our day. They've attained a hard-earned seat at the table and, rightfully so, are there to stay.
This explosion in youth activism begs the question: why are today's young people so energized about climate?
The answer largely lies in two factors. First, a growing call for intergenerational justice. Second, young people recognizing that, in so many ways, climate action goes hand in hand with building the future they want.
THE CALL FOR INTERGENERATIONAL JUSTICE
First things first, what is intergenerational justice?
Simply put, it's the commonsense idea that future generations have the right to inherit a habitable planet. That is, one that hasn't been stripped of all of its resources and seen its atmosphere polluted, and warmed past the point of no return.
Furthermore, it's the idea that young people should have the same chance to discover the world and realize their dreams the way their parents and grandparents did – without seeing those dreams threatened by more frequent storms, rising seas, and fast-spreading disease.
But commonsense as this idea maybe be — to leave a planet as habitable as the one we entered — it's hardly one we are honoring today, far from it. At our current emissions trajectory, we're driving directly toward the edge of a cliff at a speed that makes the injustice palpable. And nobody sees that injustice as clearly as young people.
Take prominent youth climate activists Vanessa Nakate and Greta Thunberg, for example. Their messages are inspiring millions to act, in part, by speaking about intergenerational justice.

"The eyes of all future generations are upon you. And if you choose to fail us, I say we will never forgive you."

-- @GretaThunberg at UN #ClimateAction Summit. https://t.co/g4uXzT9aRM pic.twitter.com/2nBzFxsnxP

— United Nations (@UN) September 23, 2019

Greta, Vanessa, and millions of others are taking action because they know we must preserve a world for future generations.
THE CHANCE TO BUILD
Intergenerational justice is a key source of inspiration for the youth climate movement, but it's not the only one. Increasingly, young people are recognizing that many climate solutions would — preventing climate catastrophe aside — simply make the world a better place.
In taking climate action, young people recognize we have the opportunity to:
Create tens of millions of green jobs.
Launch a clean energy revolution to secure a prosperous and energy-abundant future.
Preserve the ecosystems and species of the world.
Reduce pollution of our air, land, and water — improving health outcomes for millions around the world in the process.
Create more livable cities and communities.
End the fossil fuel pollution so many communities of color are disproportionally affected by.
In short, the opportunity to build a better world than one powered by dirty, greenhouse gas-emitting fossil fuels.
Take Alexandria Villasenor, for example. A prominent voice among youth climate activists, she recognizes not just that fossil fuels will lead to catastrophic climate impacts, but that they pollute and threaten the health of people all around the world. Disproportionately, that of low-income and minority communities.

It's time to stop another pipeline!
The face of Environmental Racism and Injustice in Memphis Tennessee is the #ByhaliaPipeline - Stop the "slow-violence" against the people! @MEasterThomas @WorthMorgan901 @JESwearengen @jbsmileyjr @I_am_Martavius @ChaseTheCEO @MayorMemphis pic.twitter.com/yIJfKHAfRQ

— Alexandria Villaseñor (@AlexandriaV2005) March 15, 2021

Similarly, youth climate activist (and Climate Reality Leader) Jerome Foster knows that climate action goes hand in hand with progressing toward a more just society.


Young people are increasingly recognizing that the road of climate action and the road toward a healthier, more prosperous, and more equitable future are one and the same.
JOIN THE MOVEMENT FOR SOLUTIONS
No matter our age, we all have the power to stand up and make a difference on climate — for people today and tomorrow.
If you're in college, consider joining your school's Climate Reality Campus Corps chapter. If not, look for a local Climate Reality chapter near you.
And if you're ready to take the next step, our upcoming Climate Reality Leadership Corps training in Las Vegas, Nevada from June 11-13 is a good place to start.
At Climate Reality Leadership Corps trainings, individuals ready to make a difference for our planet's future spend three days working with former Vice President Al Gore and world-renowned scientists and communicators learning about the climate crisis and how together we can solve it.
Give us three days. We'll give you the tools to change the world.
By Diego Rojas