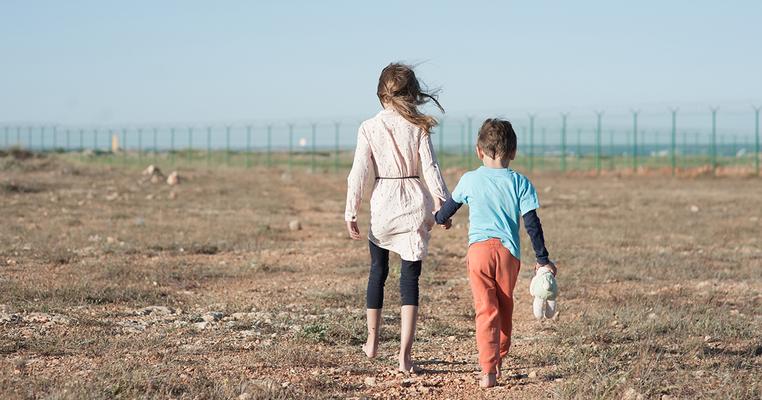 Climate Change and Migration – What Should the US Do?
The international community must work to protect the millions of people who are expected to be displaced in the next 30 years.
Recent news reports have been filled with stories about the increasing number of unaccompanied children arriving at the southwest border of the US. Coming mainly from Central America to seek asylum in the US, these children have left their home countries for a variety of reasons. Among them: two hurricanes of historic strength that devastated the region in 2020.
In both sudden-onset disasters, such as hurricanes, and slow-onset disasters, such as drought, we see the clear footprint of climate change. We've observed increases in the severity and in some cases the frequency of destructive events like these. That said, it is rarely possible to attribute a person's decision to migrate solely to climate impacts like these, in no small part because natural disasters tend to compound other issues, including violence, corruption, poverty exacerbated by the coronavirus pandemic, and food insecurity.
But studies have found that climate is almost always an exacerbating factor in migration. And it's a relationship that will only grow stronger with time. In an analysis from last year, The New York Times Magazine projected a rise in levels of migration every year regardless of climate change – but a much steeper rise in a continually warming climate, with over 30 million migrants moving toward the US border between now and 2050 in the most severe climate scenarios.
Governments can address the root of the climate problem by lowering the emissions driving the crisis, thus mitigating this driver of migration. But just as important, governments must begin to prepare for waves of climate-related migration. Indeed, The New York Times Magazine warns of "the staggering human suffering that will be inflicted if countries shut their doors."
So, what can the US, which is responsible for a large portion of the greenhouse gas emissions driving the climate crisis around the world, do to ensure a humane response to climate-exacerbated migration that will minimize suffering and disruption?
Refugee Status
The international community has debated expanding the definition of the term "refugee" to encompass the growing number of people displaced by climate-related events or circumstances. According to the 1951 Refugee Convention, refugee status is currently afforded to those who are unable or unwilling to return to their home country because of a well-founded fear of persecution based on one or more of five elements: race, religion, nationality, membership of a particular social group, or political opinion.
There are two reasons why this definition, understood narrowly, does not account for those affected by the impacts of climate change. First, most climate displacement globally is internal. Second, the definition does not explicitly recognize consequences of climate change, such as natural disasters or years of agricultural failure due to drought, as forms of persecution.
Understood more broadly, the existing refugee definition can serve as an important way to help those who have factored climate change into their decision to migrate.
Internal displacement is sometimes just the first step of an incremental process that leads to cross-border migration. In addition, the United Nations High Commissioner for Refugees (UNHCR) points out that, over time, slow-onset climate disasters such as desertification that are confined to only one area of a country may eventually become more widespread, making internal relocation impossible.
Climate change also often intersects with the grounds for protection recognized under the Refugee Convention. In its Watchlist 2021, which outlines the most pressing humanitarian crises occurring today, the International Rescue Committee identifies conflict as the "common factor driving persistent crisis in nearly all Watchlist countries" and highlights climate change as a consistent "threat multiplier."
The UNHCR recognizes this intersection. In October 2020, it produced legal guidance for interpreting refugee claims in the context of "adverse effects of climate change and disasters."
Though this guidance does not change the legal definition of refugee, it does provide detailed discussion of the ways in which the climate crisis relates to the types of persecution that qualify an individual for refugee protection. For example, marginalized groups may have a well-founded fear of persecution under the Refugee Convention in the event of food or water scarcity, where the state is unwilling or unable to provide access to those resources in a non-discriminatory manner.
Refugees International is urging the Biden Administration to include this guidance in training for officers of the Refugees, Asylum, and International Affairs Operations Directorate (RAIO) of US Citizenship and Immigration Services (USCIS), the US government unit that determines eligibility for refugee status on a case-by-case basis.

Asylee Status
Refugees represent only a small piece of the puzzle in an appropriate US response to growing climate-related displacement, particularly when you consider the level of migration expected in a warming world.
Those arriving at the southern border of the United States will not become refugees. If permitted to stay in the US, they will be considered "asylees." The key distinction here is that refugee status is sought and granted abroad and refugees who are resettled through the US Refugee Admissions Program receive assistance in traveling to the US. Asylum, in contrast, is sought and granted from within the United States or at a US port of entry.
There are links between refugee and asylee status, however. Under US law a person is eligible for asylum if they meet the definition of a refugee, meaning that their eligibility stems from persecution on the basis of the same five categories. These claims are also adjudicated by USCIS RAIO. Thus, Refugees International's proposal to train USCIS RAIO officers in considering the links between explicitly recognized forms of persecution and climate change could benefit those seeking international protection both abroad and from within the US.
Other Solutions
The US has other mechanisms available to it for addressing climate-related migration.
One is Temporary Protected Status (TPS), which is granted to individuals from designated countries in the aftermath of environmental disaster and other temporary conditions. TPS status does not include a pathway to permanent residence or citizenship, which means that TPS-holders may be stuck with temporary status indefinitely as slow-onset climate disasters continue to evolve and prevent them from returning home. Refugees International suggests creating a pathway to permanent status for those who have held TPS for a certain number of years.
In addition, new legislation might directly address the plight of those migrating in response to climate change. On April 22, 2021, US Senator Ed Markey (MA) and US Representative Nydia Velázquez (NY) reintroduced a bill that calls for allowing at least 50,000 "climate-displaced persons" to be admitted to the US each year, with the possibility of admitting more depending on a presidentially determined cap similar to that established for the admission of refugees. Importantly, the bill allows a person to apply for this status in the US or abroad, and allows a successful applicant to receive the same benefits as a refugee, which includes access to public benefits such as food stamps.
Sen. Markey and Rep. Velázquez's proposed legislation is supported by a number of refugee resettlement agencies and non-governmental refugee advocacy organizations.
These approaches and others like them could help to fill in the gaps of the existing refugee and asylee programs. It may take a combination of solutions to adequately address the migration challenges we will face because of the climate crisis. We may not all agree on what these solutions should be, but we know that preparation is essential to mitigating the worst consequences of climate change and climate-related migration.
So, let's start putting some plans into action.
Climate Reality is always working on new, informative, and accessible content that lays out the science and stakes of the crisis, as well as the solutions available right now that can turn the tide. Download our latest e-book, Where We're Going and How We Get There Together, to discover more about this unique moment of possibility for our movement and how we can achieve a better, more sustainable future for our planet.
Just fill out the form below to get started.