June 09, 2021 | 8:00 AM
Connecting the Dots: The Relationship Between Health, Climate, and Race
There's been a lot of talk in the past year about how COVID-19 hit places and people differently. Communities of color have suffered greater rates of sickness, job loss, food and housing insecurity, as well as all of the complications cascading from these things.
And while it's true that the pandemic exposed inequities in the United States, the fact is that BIPOC communities have long suffered from worse health outcomes than White Americans, as well as the inordinate health impacts of environmental pollution. Today, these are the people and places that also find themselves on the front lines of the climate crisis.
Understanding the relationship between health, climate, and race is essential in order to develop local solutions to address inequities and an overall just transition to clean and healthy energy sources.
Let's look at three groups shining a light on the systemic connections between health, climate, and race so that their communities can break an unjust and vicious cycle. The Climate Reality Project is proud to play a role in supporting these important efforts.
Louisiana League of Conscious Voters 

The Louisiana League of Conscious Voters is a grassroots environmental justice and civil rights organization working with formerly incarcerated Black women and families throughout Louisiana's River Parishes, the counties that line the Mississippi River as it passes through Southeast Louisiana. The group's Building a Fresh Start in New Orleans East project seeks to address the intersectional issues of environmental racism, mass incarceration, and climate disaster recovery in a neighborhood known as The Goose.
"Named after a bar from the neighborhood's heyday in the 1950s and 60s, The Goose today is a shell of its former self," the organization states, "its mid-century identity as a middle class, Black, suburban community destroyed by decades of economic disinvestment coupled with the devastation from Hurricane Katrina. Located right near the Mississippi River industrial canal, The Goose lost over 90% of its housing stock to the storm and/or subsequent city-sanctioned demolition; equal numbers of its residents were displaced, relocated, or lost their lives."
While much work has been done post-Katrina, health issues remain widespread, as does toxicity in the soil. The LLCV aims to help residents better understand the toxicity of their environment by educating and including resident participation in sample collection and monitoring. The project also promises to build a fresh start for transitional residents, who will connect with long-time neighbors through the building of urban gardens and growing healthy food.
Along the way, residents will make short films with local gardeners to collect gardening tips and oral histories around the rich connection of this community to growing their own food.
Operation Better Block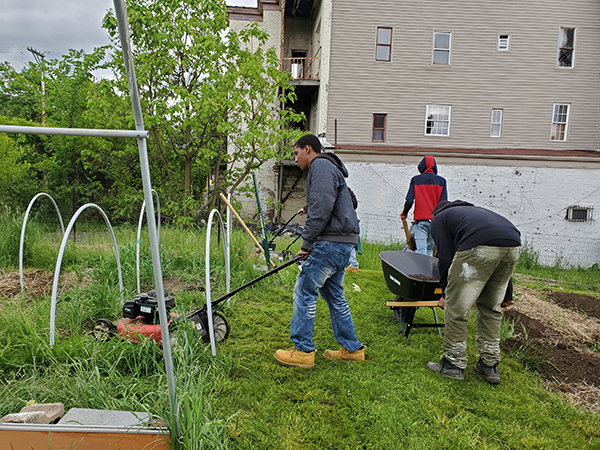 Before the coronavirus pandemic, more than half of Pittsburgh's largely Black Homewood community was living under the federal poverty level. The pandemic exacerbated food insecurity in Homewood, where residents already had to travel more than half a mile or more for groceries. Job loss and sickness, coupled with restricted public transportation and lack of access to assistance programs has led to challenges finding healthy, fresh foods. 
Operation Better Block, which has worked in the community for some 50 years, cites COVID-19 as both exposing and worsening the already entangled relationship between race, health, and environment. The lack of a balanced diet, "when combined with inordinate exposure to environmental hazards such as soil lead contaminates and air pollution, feedback into a cycle of chronic health disparities such as heart disease, diabetes, obesity, and asthma, resulting in a heightened health risk unique to the Homewood community during this pandemic crisis," the organization states.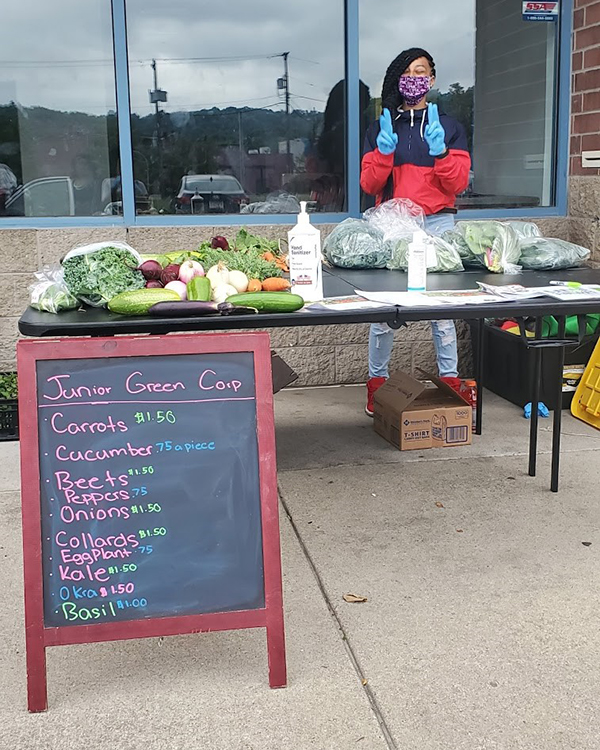 In response, the group has put its Junior Green Corps (JGC) program to work building and planting gardens in order to produce and distribute healthy food in the community. The JGC is a job readiness program that engages youth ages 14 to 18 in an effort to prevent blight and deterioration while cultivating a sense of responsibility and civic pride within the neighborhood. The JGC also leads outreach efforts to educate Homewood community members on environmental justice and sustainability topics.
Through the program, participants will learn about environmental justice, and will engage in clean-ups and the production of healthy food for the community.
The Junction Coalition of Toledo

For more than 10 years, the Junction Coalition of Toledo, Ohio, has worked in its predominantly Black community as a force for economic, social, and environmental justice.
The Junction community is an example of how feedback loops of inequity and suffering stem from injustice: An economically stressed and aging population has struggled to maintain or update residences, leaving many houses in the neighborhood insufficient to shelter people, particularly with increased storm intensity and higher temperatures. In addition to increased flooding and heat waves, challenges of food insecurity, urban heat island effects, and algal blooms in the water source plague the neighborhood.
Now, homelessness and home insecurity have been exacerbated by COVID-19. The group calls the lack of investment and support "the latest permutation of 'redlining,' in housing and property ownership, provision of city services, employment, food and retail availability, among others."
The Coalition points to statistics that show Black home ownership lags behind that of White Americans, while Black people have been more likely to become sick, lose their jobs and/or be evicted during the coronavirus pandemic. "Data like this increase the likelihood of lack of preparation for climate events, with increased storm damage and increased heat being factors in our portion of the Midwest," according to the organization.
 
In response, the Junction Coalition has created a holistic neighborhood program to address the confluence of issues. With the assistance of partners like Habitat for Humanity, it will be rehabilitating and weatherproofing homes, and working with the City of Toledo to install green infrastructure to alleviate flooding. A local youth cohort will be educated about the impacts of severe climate events and provide outreach to the elderly.
Taken together, the efforts support the coalition's aim to serve as a guiding force for systemic change.
Want to learn more about the exciting campaigns, training programs, educational content, and climate advocacy happening at The Climate Reality Project? Sign up for our email list and be the first to know the latest climate science as well as when powerful opportunities to stand up for a better, more sustainable tomorrow arise!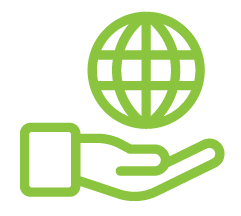 Before You Go
At Climate Reality, we work hard to create high-quality educational content like blogs, e-books, videos, and more to empower people all over the world to fight for climate solutions and stand together to drive the change we need. We are a nonprofit organization that believes there is hope in unity, and that together, we can build a safe, sustainable future.
But we can't do it without your help.
If you enjoyed what you've just read and would like to see more, please consider making a generous gift to support our ongoing work to fight climate denial and support solutions.