April 05, 2021 | 7:30 AM
How Does the Climate Crisis Impact Alabama and Mississippi?
From gorgeous beaches along the Gulf Coast to the winding Mississippi River, it's clear that Alabama and Mississippi are beautiful states with endless natural habitats.
Both states call the Gulf Coast of the United States home, with energy, fishing, agriculture, and tourism industries relying heavily on the coastline.
But unfortunately, it's not all gorgeous white sand beaches, national forests, and beautiful river views. Climate change is taking a toll – both states are already living with these threats – and their impacts.
Hurricanes

Extreme weather events like hurricanes are becoming more common in states along the Gulf Coast. New research shows that from 1991 to 2020, there has been an uptick in the number of named storms and an increase in the frequency of major hurricanes of category 3 intensity or greater in the Atlantic.
How does this relate to climate change? As temperatures increase, the atmosphere can hold more water and ocean water continues to warm up, creating conditions that can lead to more intense hurricanes.
In 2020 alone, the Atlantic hurricane season reached a record number of named storms, producing 30 named storms, of which 13 became hurricanes – including six major hurricanes.
One of those record-breaking 2020 storms included Hurricane Zeta, a category 2 hurricane that took its toll on Gulf Coast states including Mississippi and Alabama. Both states issued states of emergencies as the hurricane knocked down trees, took out power, and caused major damage.
As more intense hurricanes become a climate reality, Alabama, Mississippi, and states across the Southern United States will have to prepare for the impacts.
Rising Temperatures

We're all feeling the heat from climate change. And unfortunately, Alabama and Mississippi are no exception.
Based on current climate projections, parts of Alabama and Mississippi could have over 100 days above 100°F per year by the end of the century, compared to around 15 to 25 days today. This heat can be uncomfortable and dangerous for everyone, but especially for vulnerable populations like the elderly, children, homeless populations, sick people, and low-income communities. In Mississippi alone, more than 120,000 people are especially vulnerable to extreme heat.
Additionally, heat takes a toll on an important industry: agriculture. Warmer summers and temperatures lead to smaller yields of important crops like corn that support families and industries. Higher temperatures are also likely to take a toll on livestock productivity because heat stress disrupts animals' metabolism.
It's not just animals feeling the heat either. Alabama and Mississippi are both home to famous national forests, which would be impacted by rising heat temperatures. Increasing temperatures would draw moisture out of trees, not only drying them out and affecting growth patterns, but also giving pests more time to do their damage.
Flooding and Erosion

From the iconic Mississippi River to the Gulf of Mexico coastline, both Alabama and Mississippi are defined by water. This makes both states vulnerable to coastal and inland flooding, coastal erosion, and rising seas.
Today Mississippi has 75,000 people living in regions at risk of coastal flooding. By 2050, an additional 13,000 more could be at risk, due to rising seas. In Alabama, 27,000 people are also at risk.
Coastal flooding already has taken its toll on Alabama, Dauphin Island in particular. This island is threatened by sea-level rise, hurricanes, and now? Erosion. The small, 14-mile island is slowly sinking into the Gulf of Mexico.
Communities close to the Mississippi River are also vulnerable to inland flooding – as increasing precipitation and heavy rain events increase the overall flood risk, causing disruption to transportation, drinking water contamination, evacuations, damage to buildings, injuries, and death.
In 2019 alone, states along the Mississippi River experienced devastating flooding, which experts generally agree are the most damaging in 25 years. The flood lasted from spring through July, becoming the longest flood on record, breaking the 1927 Great Flood record. Not only is this dangerous to the communities near the river, but the Mississippi River is an essential river for transportation, shipping, and commercial activity – all of which could be at risk as flooding and extreme rainfall become more common.
Join the fight for climate action

Across the US and world, we're seeing the climate crisis happening now. But there are solutions and action we can take to protect our communities and planet – and we need people like you to help.
That's why we're so excited about our new Our Climate Moment™ campaign, which brings advocates like you across the United States together to make Congress and the Biden Administration act quickly on targeted policy solutions.
To get involved, join a Climate Reality chapter near you!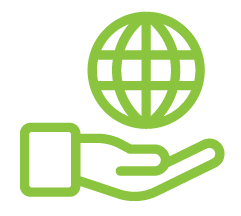 Before You Go
At Climate Reality, we work hard to create high-quality educational content like blogs, e-books, videos, and more to empower people all over the world to fight for climate solutions and stand together to drive the change we need. We are a nonprofit organization that believes there is hope in unity, and that together, we can build a safe, sustainable future.
But we can't do it without your help.
If you enjoyed what you've just read and would like to see more, please consider making a generous gift to support our ongoing work to fight climate denial and support solutions.