October 31, 2017 | 11:35 AM
How to Lead on Climate: Tips from Accomplished Climate Reality Leaders
At our recent Climate Reality Leadership Corps Training in Pittsburgh, Pennsylvania, former Vice President Al Gore sat down with four accomplished Climate Reality Leaders to talk about how they stay motivated and continue to fight for common sense solutions to the climate crisis.
With more than 80 presentations and logged Acts of Leadership between them, these Leaders – Dean Barone, Donna Hope, Divya Niwale, and Victoria Serda – have a wealth of experience as activists in the field. As part of the panel, they shared their experiences as well as some great tips on how to lead on climate and help spread the truth about the crisis.
We collected some of their top tips for you, and you can watch the full recording for even more!
Tip 1: Learn about your audience

By getting to know who you're talking to, you can better understand how to talk to them about the climate crisis. Ask them what impacts they see in their everyday lives, if they have a personal story about climate change, and what they may already be doing in the fight for climate action. This will help you get the conversation started and connect on a personal level.
Read more >> How to Talk to Your Friends About the Climate Crisis – According to Science
Tip 2: Share why you care

When we talk about the climate crisis, it's easy to list facts. But facts are only half of the story, it's important to remember that the impacts of climate change touch people every day. So, start with your personal story. By sharing the reasons why you care about the climate crisis, you make yourself human and relatable, opening the door to connecting with audience members who may share your concerns or experience in a way that facts alone can't.
Tip 3: Use messages of hope

Being a climate activist can be overwhelming – there's a lot of work to do and seemingly little time to do it. It's important to remind yourself, and others, that it is a problem that we can solve together. Use stories of success – like the hundreds of thousands of Americans standing up for the Paris Agreement through I Am Still In or France's ban on new oil and gas exploration – to inspire people to take action themselves.
As our Founder and Chairman Al Gore always says:
"We must, we can, and we will solve the climate crisis."
Tip 4: Tell them what to do next

There are hundreds of ways to get involved in the fight for climate solutions and it's sometimes hard to decide where to start. As a climate activist, you have the tools to help them find something to do next. From adding their voice to support America's Clean Power Plan to requesting a presentation from a trained Climate Reality Leader, there's always something to be done in our movement for climate action.
Read more >> Four Ways Anyone Can Take Climate Action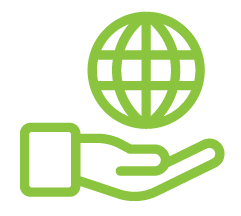 Before You Go
At Climate Reality, we work hard to create high-quality educational content like blogs, e-books, videos, and more to empower people all over the world to fight for climate solutions and stand together to drive the change we need. We are a nonprofit organization that believes there is hope in unity, and that together, we can build a safe, sustainable future.
But we can't do it without your help.
If you enjoyed what you've just read and would like to see more, please consider making a generous gift to support our ongoing work to fight climate denial and support solutions.