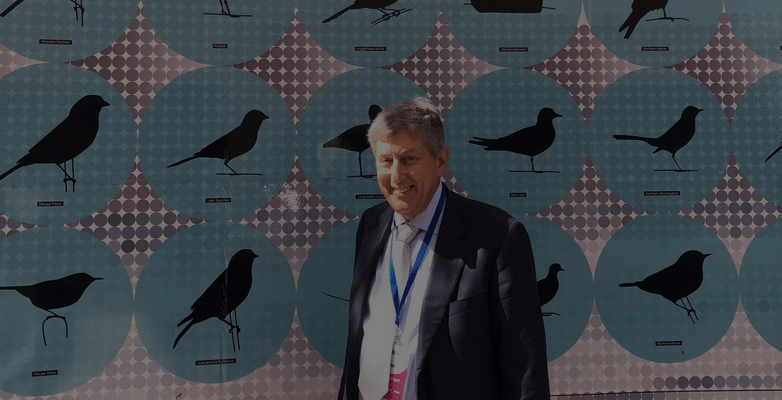 I Know that We Are Going to Transition to a Clean Energy Economy
Outgoing Climate Reality President and CEO Ken Berlin looks back on a singular career and leading the organization through a time of transformative change.
Outgoing Climate Reality President and CEO Ken Berlin has pretty much seen and done it all (or almost) during his decades in the environmental movement. From leading the environmental practice of one of the nation's leading law firms to advising the Obama transition team on energy to helping build Climate Reality's global footprint, he's seen the movement grow from a narrow political concern to an increasingly inclusive and diverse force as focused on the social as the scientific realities of climate change.
Before he left, we sat down with Ken to get his perspectives on where we've been, the highs and lows, and where we're going as a movement.
You had long and varied career working on conservation, environmental, and climate issues before coming to Climate Reality. What first drew you into the movement?
I have been a serious birder since I was 10 years old and have been fortunate enough to take dozens of birding trips outside the US. This interest first led to a deep interest in biodiversity and conservation, then other environmental issues, and finally in climate change. It has informed my entire career.
What brought you to Climate Reality?
I was an environmental lawyer for most of my career, but while I was practicing law, I became involved in many environmental groups and worked on many political campaigns. I always loved grassroots work and organizing. When Al Gore contacted me about The Climate Reality Project in 2014, I thought it was perfectly situated to become part of a major grassroots organization led by the best-trained activists in the environmental movement, while working on the most important issue of our time, the climate crisis.
During your time as CEO, we've seen the US presidency change from Obama to Trump to Biden. And we've seen the creation of the Paris Agreement. What do you see as the movement's biggest accomplishments during this time?
Climate was an important issue to many people in 2014, but the movement's political power was too weak to pass the needed climate laws. In the 2016 presidential campaign, for example, climate was rarely mentioned by Hilary Clinton and there were no questions in the debates about climate.
I think that the greatest achievement of the environmental movement has been to rapidly ramp up and deepen the grassroots networks that create the support needed for the climate crisis to become a major issue at all levels of government. Something similar is happening in most countries of the world.
How has the movement itself changed over your career and more recently in your time leading Climate Reality?
It has embraced the climate crisis as an existential issue that influences all of the other work of the environment community. It has recognized that we need a diverse coalition of supporters and that people of color and all poor Americans must be involved in the movement and that their concerns must be addressed as a core component of addressing the climate crisis. The Climate Reality Project and many other organizations have also built themselves as international organizations because climate is an international issue.
Larger green organizations have gotten a lot of criticism in the past for being largely white led and serving largely white constituencies. I know at Climate Reality – like at a lot of organizations - facing up to that history and working to build a more truly inclusive and diverse organization and activist community has been both a priority and work in progress. How has this changed the nature of our organization and our work and what have you personally learned through the process?
I think that the environmental community initially concentrated on the long-term steps, like reducing pollution over a many years compliance period, that were necessary to reduce pollution and other environmental harms. But it did not pay enough attention to the immediate and continued impacts of pollution that were concentrated in communities of color and other poor communities. Once it started to pay attention to these issues, it began to realize that environmental injustice must be addressed and that those who were most affected had to become equally important players in addressing these issue both within their organizations and in developing and implementing policy. Making the needed changes has not been easy, but at The Climate Reality Project we are dedicated to doing so.
As the IPCC reminded us yet again, our window to stop warming and prevent the worst of climate change is closing quickly. And with the war in Ukraine adding to already challenging energy prices that are hurting working families, we're seeing real pressure to simply drill, drill, drill. How, in your perspective, do we help working families with the real economic pain they're feeling and help other nations working to shift their dependence on Russian oil and gas without compromising our planet's future in the long term?
It is critically important to recognize that the economics are on our side because renewable energy can now be generated more cheaply than fossil fuel-based energy. Similarly, electric cars will soon be cheaper than gasoline and diesel cars. We still face many barriers to delivering this energy more cheaply, including massive fossil fuel subsides, but all working families will see lower energy costs and reduced energy cost burdens when we switch to a clean energy economy.
After decades in the movement, what gives you hope and the energy to keep going in the fight?
I know that we are going to transition to a clean energy economy. The only question is whether we will be able to do so quickly enough. I know that we have it in us, as individuals and organizations to do the work necessary to change the politics so that we can succeed. I see that dedication in our Climate Reality Leaders around the world, in chapter and branch members and other volunteers, and in the environmental and climate communities writ large. I also see a growing determination to make environmental justice and people of color a core component of our work, a step we need to take to succeed
What are your proudest accomplishments during your time with Climate Reality?
Building an increasingly powerful grassroots network, making our trained Climate Reality Leaders and The Climate Reality staff and board more diverse, training tens of thousands of new Climate Reality Leaders, starting and establishing our chapter program and making The Climate Reality Project a true international organization by setting up branch offices with paid staff around the world.
For young activists just starting their careers or work with the climate movement, what advice would you offer?
Always be optimistic and never give up. Despite the very difficult issues we face today, you are the future, and you can play the key role in ensuring that we succeed. Combine your passion with analysis and strategic thought. Work as hard as you must in order to succeed.
What are you most looking forward to in retirement?
I plan to work about half time, concentrating on analyzing and helping implement policy choices. I look forward to spending far more time with my wife and family and enjoying birding, traveling, and eating around the world.
To stay in touch and get more perspectives on the fight for just climate solutions, subscribe to our email activist list today