December 29, 2020 | 8:00 AM
Our 12 Most Popular Blogs of 2020
There's no denying that 2020 has been a complicated year for the climate movement – and the world, in general.
Early in the year, the COVID-19 pandemic brought in-person organizing to a standstill. Soon after, decades of systemic racism and social injustice boiled over into the streets. And of course, in the middle of it all was an election many believed to be the most consequential in generations. 
In 2020, the climate movement grew and changed in ways both necessary and unexpected. We looked around at the wider world and embraced the people, groups, and causes that aligned with or, just as often, overlapped with our own.
And many of the blogs that attracted the most readers to Climate Reality's website this year reflected that growth and change.
Our readers came to us seeking the facts on how the climate crisis was making the COVID-19 pandemic worse for many. They arrived looking for ways to stay active and engaged during state- and nation-mandated lockdowns. And as ever, they sought out information about the crisis itself and the solutions that will power us to a better tomorrow.
Check out our 12 most-popular blog posts of 2020 below.
1. HOW FEEDBACK LOOPS ARE MAKING THE CLIMATE CRISIS WORSE

Content that breaks down the science of the climate crisis into terms non-climatologists can understand has long been our bread and butter, so it's no surprise that our explainer on climate feedback loops was by far our most popular blog of 2020.
In plain English, feedback loops make the impacts of key climate factors stronger or weaker, starting a cyclical chain reaction that repeats again and again. Think of it like dominos lined up in an infinite spiral – once one domino falls, it creates a reaction that pushes over another and then another right on down the line.
Learn why understanding feedback loops is vital to understanding how our climate will change in the coming decades here.
2. AIR POLLUTION AND THE CORONAVIRUS: THE CONNECTION EXPLAINED

The coronavirus pandemic has changed the world. So it's no surprise that readers wanted to learn as much about the virus as they could, including about its connection to the climate crisis.
Many of the same greenhouse gas emissions driving climate change contribute to respiratory illness, which is one of the main underlying conditions correlating to the worst outcomes in patients with COVID-19.
As the pandemic took hold, it also became clear that many of the same communities that routinely experience the impacts of air pollution and the climate crisis first and worst were also seeing (and continue to see) disproportionate levels of severe coronavirus infections and higher rates of death at its hands.
Discover the ways air pollution is both driving worsening health outcomes for patients with COVID-19 right now and creating an escalating climate crisis here. 
3. 9 REASONS TO HAVE CLIMATE HOPE IN 2020

Hope is the reason for the season – it's what keeps us all going. But as dedicated climate activists, you know well enough that our fight can at times find itself in desperate need of some good news. This proved even truer this year, as rising COVID-19 numbers and the subtle chipping away at democratic norms in the US had many more worried than ever about what the future might hold.
That's why, this summer, we decided to engage in a little self-care by trying to look at the glass as half full.
For those wondering if there was anything left to be hopeful about in 2020, we had some good news – there were (and are!) still many, many reasons to be optimistic about a just, sustainable, clean energy future. You can find nine great ones here.
4. CLIMATE REALITY AND THE CORONAVIRUS

When the coronavirus pandemic overtook the world this spring, Climate Reality faced the same question as everyone else: How can you continue with business as usual with a pandemic sweeping the world?
The truth is, we couldn't – and we didn't.
We had to postpone or cancel several planned in-person Climate Reality Leadership Corps trainings. We closed our offices and our staff began working – and continue to work – remotely. Our chapters and branches canceled in-person meetings and organizing events too, and our annual signature event, 24 Hours of Reality, was held almost entirely online.
Learn more about how we worked to carry the gravity of the pandemic with us while continuing our quest to solve the climate crisis and create a truly just and healthy future for all.
5. QUIZ: HOW MUCH DO YOU KNOW ABOUT WEATHER AND CLIMATE?

The difference between climate and weather is one some folks struggle to wrap their head around. (Hint: it mostly has to do with time.) But it's an incredibly important distinction when it comes to understanding this crisis and how to solve it.
Are you feeling a little cloudy about the difference? Don't worry, we make it a breeze. In addition to a blog on the topic, we created a great (free!) fact sheet breaking down the differences that you can download here.
Once you've studied up, join thousands of our readers in taking our quiz on the difference between climate and weather.
6. TOP 4 STATES FOR WIND ENERGY

We all know wind energy is a big win-win, but here's a fact you might not know: Just four states account for more than half of all wind electricity generation in the United States.
Learn which four they are here.
7. RACE AND THE CLIMATE MOVEMENT: WHAT OUR BLACK COLLEAGUES WANT THE REST OF US TO KNOW

When people of color speak with hard truths, we have to listen. It's true for the climate movement as a whole and it's true for so many of us at Climate Reality.
So we wanted to share some perspectives from activists of color here who were generous enough to talk about what many white activists still don't get – but need to.
If we're going to confront injustice in the world, we've got to start by confronting it in ourselves. Read the message black men and women who work at Climate Reality had for their white coworkers and the broader climate movement here.
8. WHAT'S THE DIFFERENCE BETWEEN CLIMATE AND WEATHER?

We were just talking about this great blog! So if you didn't click it above, now's your chance.
9. WHAT TO PLANT IN A WARMING WORLD

Blogs about gardening, sustainable farming, and every day, around-the-yard solutions to the climate crisis have always been popular with our readers. What can we say, you seem to love plants as much as we do!
But they proved even more so this past spring and summer when plenty of people were looking for solitary and calming pursuits to fill the sudden burst of hours spent at home.
But what to plant when temperatures across the globe are climbing and precipitation patterns are getting more and more extreme and erratic?
10. FIVE WAYS TO TAKE CLIMATE ACTION WHILE STUCK AT HOME

Speaking of all those extra hours at home, we were thrilled this spring to see a surge in interest in taking online action for our climate even as we were all staying in to do our part to fight the spread of COVID-19.
Our readers were excited to put this time of necessary isolation to good use. And we were happy to offer up suggests on exactly how.
11. HOW IS THE CLIMATE CRISIS AFFECTING ALASKA?

Over the years, we've developed numerous state- and nation-level explainers on the ways the climate crisis is affecting real people around the world right now. And few places are feeling the impacts of rising global temperatures more than the Arctic region, including the great state of Alaska.
More than once, Alaska has been called ground zero for climate change. Here are three big reasons why.
12. HOW FOSSIL FUEL COMPANIES TURNED A PANDEMIC INTO A BAILOUT

Things went from terrible to outright nightmare for the fossil fuel sector in 2020 when demand for oil plummeted as people stayed home and traveled little under coronavirus quarantine restrictions.
Never one to waste an opportunity to profit at the expense of others, the industry saw a once-in-a-lifetime opportunity.
DON'T MISS A MINUTE

We want to thank our loyal readers for sticking with us through what has been one of the most challenging years in, well, a very, very long time.
At Climate Reality, we are inspired every day by activists all over the world like you who chime in when we share the latest climate news on Facebook, Twitter, and Instagram, and who return again and again to read the latest from the movement for solutions on our blog.
If you haven't already, be sure to join our email list today and we'll keep you posted on the latest developments in climate policy and how you can help solve the climate crisis.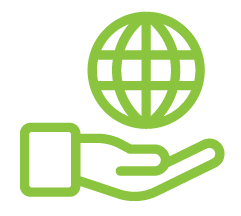 Before You Go
At Climate Reality, we work hard to create high-quality educational content like blogs, e-books, videos, and more to empower people all over the world to fight for climate solutions and stand together to drive the change we need. We are a nonprofit organization that believes there is hope in unity, and that together, we can build a safe, sustainable future.
But we can't do it without your help.
If you enjoyed what you've just read and would like to see more, please consider making a generous gift to support our ongoing work to fight climate denial and support solutions.