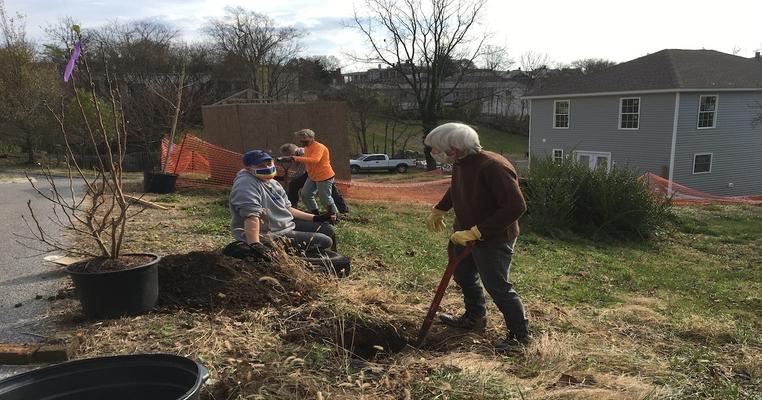 Shenandoah Green: Finding Community, One Tree at a Time
"We should care what happens to all of us and we should care what happens to the earth we share."
Trees have the tremendous ability to absorb carbon dioxide from the atmosphere and help mitigate human-caused climate change. They help regulate ecosystems, protect biodiversity, and provide numerous community benefits.
That's why tree planting and forest restoration have grown in popularity in recent years as ways to offset carbon emissions and fight the climate crisis.
Research has shown that, globally, forests alone have the potential to remove the emissions of about 155 million cars from the atmosphere – and reforesting previously forested lands has the potential to eliminate the emissions of nearly 65 million passenger cars alone.
In Staunton, Virginia, the non-partisan, grass-roots environmental organization Shenandoah Green has made greening the city its mission.
The group became involved with tree planting in the city when it was asked in January 2020 by the former mayor of Staunton, Carolyn Dull, to spearhead the Staunton Legacy Tree Project (SLTP). Her initial idea was to plant 2,746 trees in the City of Staunton – one for every child in the school district – by Earth Day 2020.
If that goal seemed untenable from the outset, it was made all the more difficult when the COVID-19 pandemic brought life everywhere to a standstill in March 2020.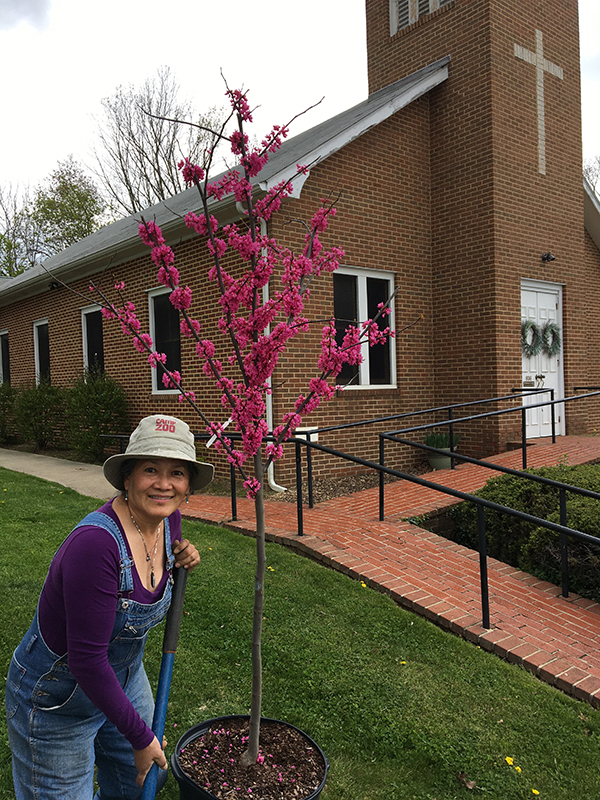 "Like so many other organizations, Shenandoah Green's activities screeched to a stop before we began to find creative ways to move forward," said Georgi Tomisato (left) of Shenandoah Green. "By April, the tree project seemed doomed to a COVID death, as the mayor found herself dealing with the fallout of a global pandemic. Shenandoah Green then stepped in and presented a timetable of necessary steps to begin planting in the fall of 2020."
It was at this same time that the group applied for and received one of Climate Reality's Climate Justice for All grants, to help fund its tree planting work.
Shenandoah Green sought to plant 125 young trees at a wholesale price of $80 each for a total of $10,000 (the grant amount). In the end, they were able to acquire 141 trees because a few chosen tree varieties, such as Magnolia Ann, dogwood, and serviceberry, were smaller and cost less than the planned-for six-to-10-foot saplings.
Bartlett Tree Experts also donated 1,000 seedlings to the project.
The group held its kick-off celebration at Staunton High School on November 06, 2020, and heard from the youth of Staunton on how important climate action is to them and their hope that the trees being planted will make a difference. They planted 10 trees at high school and seven at Bessie Weller Elementary School.
Indeed, the partnership with the school district was so successful that the Staunton City School's director of strategic planning and partnerships is now on Shenandoah Green's leadership team.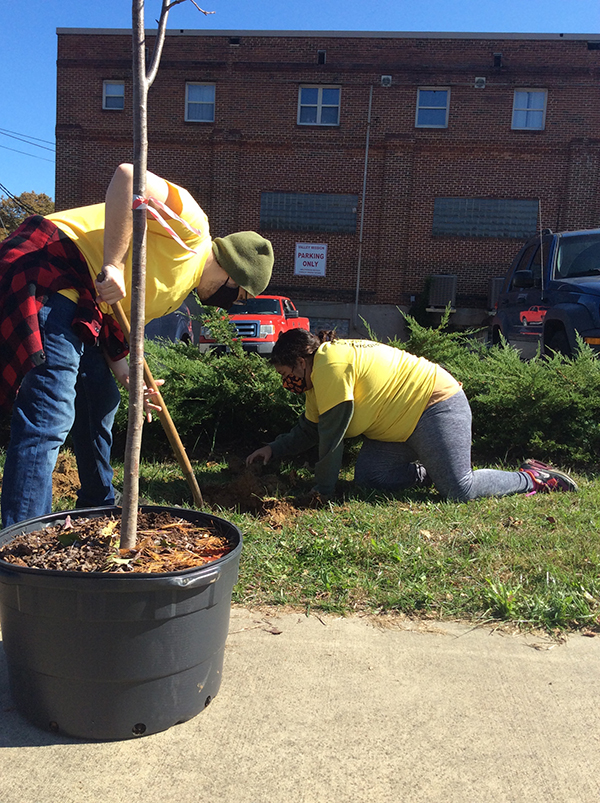 The organization then trained its focus on parts of the community that have been disproportionately impacted by the climate crisis – like lower-income households and families of color.
"Of the 141 trees, Shenandoah Green planted 33 saplings at Habitat for Humanity Homes in the West End. We have now partnered with Habitat and will continue to plant trees on their properties even after we have reached our goal of 2,746 trees," Tomisato continued. "We also planted 13 trees at Renewing Homes, three trees at Valley Supportive Housing, and 13 trees at the Valley Mission Homeless Shelter, which services single men, women, and families. The residents at the shelter help water and care for the trees. Every time I drive by the shelter, I am impressed at how well the trees are doing even in the drought that Virginia is experiencing this summer."
Eight trees were planted at Allen Chapel African Methodist Episcopal Church and six at Mt. Zion Baptist Church, including one at Fairview Cemetery, a historic Black cemetery. Two trees were also planted at the historic Pannell Inn Site, which is listed in the Green Book, and two more at Booker T. Washington Community Center, located in Staunton's West End.
Another 10 trees were planted at Montgomery Hall Park. The park was originally built as an African American city park because Black people were not allowed in the original Gypsy Hill city park. Today, Montgomery Hall Park is on the Virginia Landmarks Register of Historic Places because of its significant ties to the African American community in Staunton and statewide.
The last 35 trees were planted in the west end of Staunton – an area where "the tree canopy shrinks because asphalt dominates, and houses rub elbows," according to Tomisato.
"There are no words to explain the gratitude we saw in people who barely get by paycheck-to-paycheck and then received a beautiful sapling six-to-10 feet tall," Tomisato explained. "While one tree enriches one household, the collective planting of many trees in the West End will help fight climate change, flooding, and [improve] air quality."
The organization overcame numerous obstacles – from skeptical citizens and finding enough volunteers to COVID itself – in working toward its goal, planting its 2,000th tree on Arbor Day 2021. Many in Shenandoah Green also walked away with a renewed sense of urgency for the planet and empathy for their neighbors.
"Being poor should not be a reason for not counting. The people for whom we planted trees had so many wonderful stories to tell. One couple was legally blind and were so happy we planted a dogwood for them. They kept exclaiming how they now have the Virginia state tree growing in their yard," Tomisato said.
"Others were happy that someone cared about them. Some older people who can't get around much anymore were happy to have the opportunity to talk with someone. Many of us on the task force saw poverty we did not know existed in our neighborhoods. How could we have missed it? These are the people that are most impacted by natural disasters, pandemics, opioids, or any number of things that people with money can avoid or from which they can recover more readily. People are people, and we are all connected. We should care what happens to all of us and we should care what happens to the earth we share."
The application for our 2022 Climate Justice for All grants program is now open. If you're part of an environmental justice organization working with frontline communities in the US, maybe we can help. Our Climate Justice for All program offers up to $20,000 in support, together with professional input and assistance from our team at Climate Reality. The grant period runs from May to December of this year.
Learn more and apply by March 7, 2022, at http://www.climaterealityproject.org/apply/grant.