February 10, 2020 | 9:00 AM
Four Things You Might Not Know about Our Trainings
Last year was the second-warmest on record, and after months of major student protests, devastating extreme weather events, and increasing media coverage, 2019 has already come to be known by many as "the year the world began to wake up" to the climate crisis.
Indeed, "climate emergency" was even named Oxford Dictionary's word of the year.
But if people woke up to this crisis in 2019, how do we welcome them into the movement for solutions in 2020? The answer is simpler than you think.
We need to engage these exciting new activists. We need to educate them on the science of what's happening to our planet so that when they are out in their communities, they can speak truth to power. We need to provide them with the tools and network to help shape public opinion, inspire action in their communities, and become leaders in the global fight for a better, more sustainable tomorrow.
Luckily, Climate Reality's Leadership Corps trainings provide all of these things and much, much more. 
Our Climate Reality Leaders come from all walks of life. Some are seasoned community leaders and lifelong activists; many, however, are new to taking a stand. But they all share the same desire to make a difference and help create a sustainable future for the Earth.
Given how important 2020 will be to the future of climate action, we're hosting three Climate Reality's Leadership Corps trainings to help everyday leaders find the courage and commitment to act. This year we will travel to Raleigh, North Carolina from June 29 to July 1; Detroit, Michigan from August 11-13; and Orlando, Florida in early September. Sign up to learn more about our events in Raleigh, Detroit, and/or Orlando.
If you follow us on Facebook, Twitter, or Instagram, or read our blog regularly (and you should do all of those things!), you probably know an awful lot about our exciting training events. But below are four important details about Climate Reality trainings that we think you should know, but which we suspect you might not be familiar with.
1. We Tailor Our Events to the Places They Are Held

Wherever we go, we work hard to make sure our trainings reflect the local community. We tailor our programs to focus on regional issues, feature speakers from the area, and hold our trainings in venues that are easily accessible to local activists looking to make a difference for the future of the planet.
That's why, as just one example, for our upcoming training in Las Vegas, Nevada, we will focus on how the climate crisis is impacting the American Southwest – from the rising temperatures driving health concerns to the precipitation pattern changes creating water stress – as well as the ways the region can fight back, including its uniquely strong solar energy potential.
The same will be true for our trainings in Detroit, Raleigh, and Orlando.
It's three days of inspiring sessions on localized climate science and solutions. Three days of conversations with other world-changers just like you. Three days that point the way forward to a sustainable future. Three days that will change your life.

2. We Provide Scholarships to Help Communities Not Normally Represented in the Climate Conversation Attend

Historically, one of the biggest barriers to attending a Climate Reality Leadership Corps training has been the cost of travel. While there is no fee to attend the training, and all food and training materials are provided, attendees are responsible for getting themselves to the training location and for their stay there.
That's why Climate Reality provides a limited number of scholarships to help people overcome this barrier and build a more inclusive and powerful movement.
The program aims to help increase representation and participation from historically marginalized groups with vital perspectives on the climate crisis. These include people of color, leaders and members of frontline communities, students, and young people.
The experience of one scholarship attendee, Nina Barrett, from our 2019 training event in Atlanta was even highlighted in The Washington Post.
3. All Meals Are Vegetarian and Local

They say that the way to a person's heart is through their stomach – and at The Climate Reality Project, we love nothing more than serving delicious, local, and climate-friendly food at our Leadership Corps training events. We're committed to offering environmentally conscious menus whenever we bring our community together.
It's no secret that animal agriculture is a significant source of the greenhouse gas (GHG) emissions driving the climate crisis, accounting for about 14.5 percent of all emissions. That's why, at our trainings, attendees are fueled by hearty meals that are entirely vegetarian, with vegan options available.
For each training, we also work with catering companies to develop dishes made with ingredients sourced from local farmers and purveyors. This not only brings the flavor of our host communities right into the training venue (see No. 1 above), it also helps drastically decrease the transportation footprint of the meals we serve.
And because we don't like to see any of the great meals we serve go to waste, we also undertake a number of strategies to reduce both food waste and any refuse that might find its way to a landfill. You can read all about those tactics here.
4. We Account for Event-Related Emissions

As an international organization committed to fighting the climate crisis on a global scale, Climate Reality holds trainings in many different locations around the world so people everywhere can join us in working to solve the greatest problem facing humanity today. We're aware that the trainings may be distant from some attendees' homes – though we make every effort to recruit heavily for our events from the host region – and that event-related air travel is a contributor to carbon pollution.
In addition to implementing an event sustainability strategy to reduce the emissions from the event itself, we measure related emissions, including air travel, and neutralize those emissions via verifiable carbon offsets.
In planning our events, Climate Reality employs sustainable event practices in accordance with the event industry's leading standards: ISO 20121 and APEX/ASTM Environmentally Sustainable Meeting Standards.
Once onsite energy conservation and emission reduction strategies are exhausted, Climate Reality selects verifiable carbon offset projects to cover any remaining emissions impacts. By supporting these projects, we are able to offset and neutralize all event-related emissions. Also of note: we select offset projects from around the world and with a mindfulness of delivering co-benefits to local communities.
Join US for a 2020 Training

Across the country and around the world, everyday activists supporting sustainable solutions in their communities are making the difference in the fight against the climate crisis. With federal-level climate action stalled in the US, our movement is working hard to effect change at the local level. That's why we invite you to learn more about our Climate Reality Leadership Corps.
This year, we will host trainings in Raleigh, North Carolina (June 29-July 1); Detroit, Michigan (August 11-13); and Orlando, Florida (early September).
Join us and gain the skills you need to fight for urgent climate action in your community.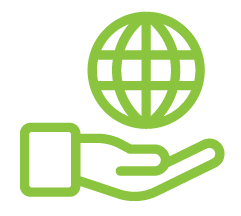 Before You Go
At Climate Reality, we work hard to create high-quality educational content like blogs, e-books, videos, and more to empower people all over the world to fight for climate solutions and stand together to drive the change we need. We are a nonprofit organization that believes there is hope in unity, and that together, we can build a safe, sustainable future.
But we can't do it without your help.
If you enjoyed what you've just read and would like to see more, please consider making a generous gift to support our ongoing work to fight climate denial and support solutions.