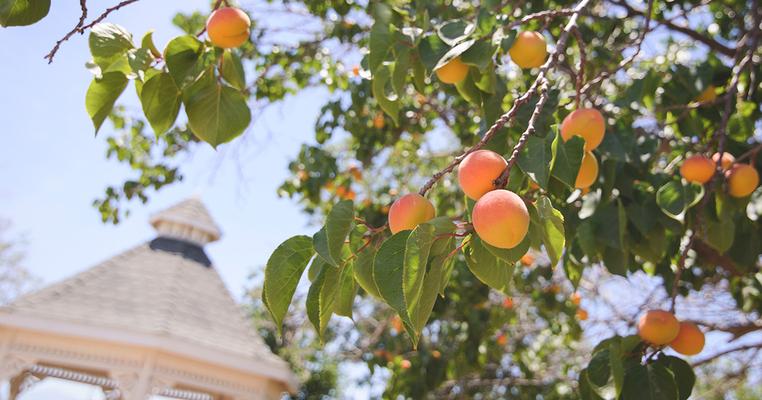 How Does Climate Change Affect Georgia?
"Georgia. Georgia on my mind." A state known for its sprawling peach fields, its southern hospitality, and as a gateway to the Appalachian Trail. It was the birthplace of Martin Luther King, Jr. and the US civil rights movement. More than 10 million people live in Georgia – and the climate crisis is transforming the state they call home.
Manmade climate change may have the same main cause everywhere you go –burning of fossil fuels – but that doesn't mean its impacts looks the same everywhere.
Here are five ways climate change is impacting the state of Georgia:
Heat and Health
Fact: "Georgia currently averages about 20 dangerous heat days a year. By 2050, it is projected to see more than 90 such days a year." (States at Risk: Georgia)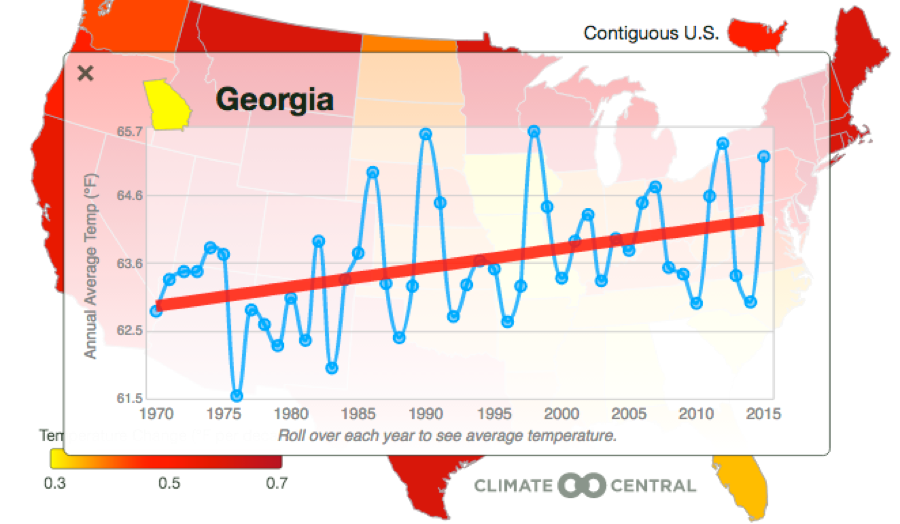 (Image: Climate Central)
One of the most well-known impacts of climate change is rising temperatures. As humans burn more and more fossil fuels, carbon dioxide (and other greenhouse gases) trap more and more heat in our atmosphere.
Between 1980 and 2015, the average temperature in Atlanta has risen nearly 2 degrees Fahrenheit (1.11 degrees Celsius). And while a few degrees might not seem like a big deal, it absolutely is. If you're wondering why, consider this from the UK's independent scientific body, the Royal Society: "Global average temperature during the last ice age was only about 7 to 9 degrees Fahrenheit (4 to 5 degrees Celsius) colder than now."
The bottom line? Small temperature shifts can have profound changes.
Georgia is one of the slowest-warming states in the US, but that doesn't mean its residents aren't feeling the burn –"more than 310,000 people living in Georgia are especially vulnerable to extreme heat."
There's no two ways about it: Extreme heat is extremely dangerous. In fact, it's "more deadly than any other weather-related hazard — on average causing more deaths annually than tornadoes, floods, or hurricanes in the United States."
Heatwaves are so dangerous because they can overwhelm the human body – especially if it's both extremely hot and extremely humid. When you combine measurements of relative humidity with heat, you get what's called the heat index. This index shows how hot it feels to the human body in shade – and note how temperatures don't have to be sky high to become dangerous or extremely dangerous.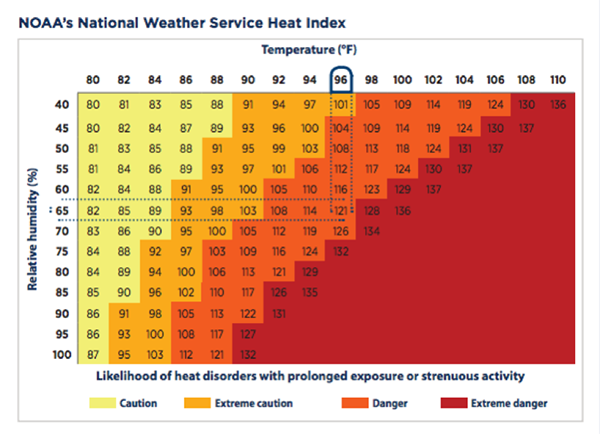 Source: Center for Disease Control and Prevention, Climate Change and Extreme Heat: What You Can Do to Prepare
Extreme heat should concern everyone but it impacts some much harder than others – including the young children, the elderly, and people with preexisting health conditions and who work outside.
We don't even have to look far to see the terrible proof. Heartbreakingly, in June 2018, a 24-year-old man named Miguel Angel Guzman Chavez died while picking tomatoes in Georgia. The heat index that day was about 104 degrees Fahrenheit.
>>In depth: Climate Change and Health: Heatwaves <<
Drought
Fact: "Drought will have a big impact on the production of peanuts, pecans, peaches, and the sweet Vidalia onion, all of which grow in Georgia… The historic 2007 drought cost the Georgia agriculture industry $339 million in crop losses." (States at Risk: Georgia)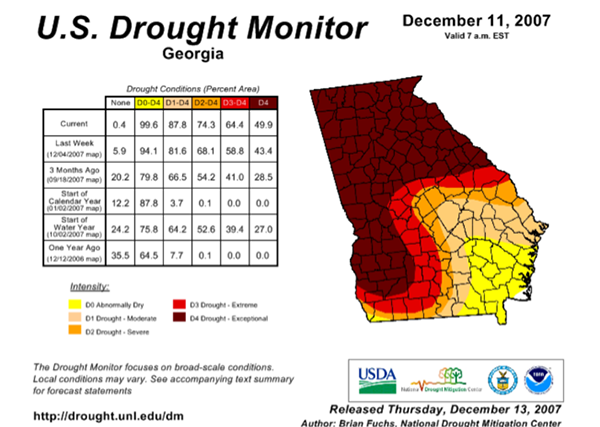 Everybody's gotta eat – and that's why drought is serious business. While not every drought can be linked to climate change (they happen due to natural factors, as well), most scientists agree that, on a global scale, climate change means more droughts (and more intense ones at that).
It all has to do with the water cycle – because the crops we grow depend on "normal, long-established climatic patterns." As weather patterns shifts, warmer temperatures mean more evaporation from bodies of water and the ground, and less water for our crops, let alone the changes in precipitation.
In addition to 2007's historic drought, much of Georgia was affected by severe drought in 2016. Several monitoring stations went at least 72 days without measurable rainfall and, in late November 2016, "extreme-to-exceptional drought covered approximately… 62 percent of Georgia." Water for livestock had to be hauled in by trailer, and farmers struggled to harvest their peanut crops.
In many cases, there's also a strong link between droughts and an increased risk of wildfire. And that's what's up next.
>> Get the facts: Climate Change and Drought <<
Wildfire
Fact: "More than 4.6 million people living in Georgia, or 48 percent of the state's population, are living in areas at elevated risk of wildfire." (States at Risk: Georgia)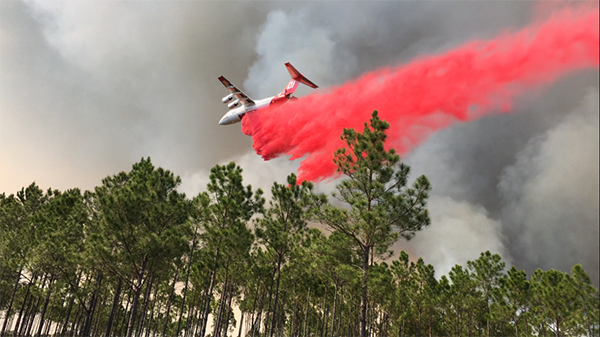 A plane dropping aerial retardant to cool the heat of rapidly moving fire during Georgia's 2017 West Mims Fire. (Image: National Wildfire Coordinating Group)
At its simplest, the recipe for fire is straightforward: fuel, oxygen, and heat. Drier conditions mean more fuel for the fire and warmer temperatures of course mean more heat for it. And we've already established that Georgia is getting warmer and has experienced several major droughts this century.
Plus, not only does climate change mean more wildfires – it means bigger and badder fires, and a longer fire season.
Remember Georgia's historic 2007 drought? By no coincidence, the state also "experienced an unprecedented series of wildfires in 2007." More than 6,000 people were forced to evacuate, nine homes were destroyed, and nearly $100 million in damages was reported.

You might be thinking that 2007 was an outlier. It was unprecedented – but in 2017, Georgia was ranked fourth in the nation for number of wildfires and by acres burned, with nearly 4,000 different wildfires that year. While it's hard to determine the role of climate change in each fire, scientists agree that the overall trend is clear: More climate change is fueling wildfires.
In fact, a 2016 study "estimated that human-caused climate change contributed to the burning of an additional 10.4 million acres of forest from 1984—2015 [in the US], nearly double what would have been expected without it."
Sea-Level Rise and Coastal Flooding
Fact: "Georgia currently has 650 square miles that fall within the 100-year coastal floodplain. By 2050, this area is projected to increase to more than 900 square miles due to sea level rise." (States at Risk: Georgia)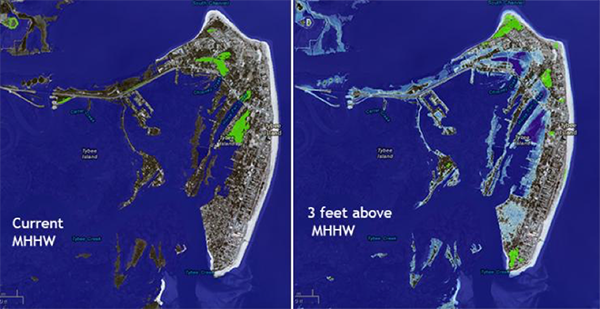 "Tybee Island at current mean higher high water (left) and with three feet of sea level rise (right)." (Image: NOAA's US Climate Resilience Toolkit)
We know this: As humans burn more and more fossil fuels, Earth's climate is changing and the world is getting warmer. The result: glaciers and icebergs are melting. Oceans are expanding – and our seas are rising.
>> Want to know more? Get the details in our free sea-level rise fact sheet. <<
Tybee Island is one of the most illustrative examples of how life is already changing for the people of Georgia as sea levels rise. The town isn't exactly an island – it's connected to the rest of the state by a thin strip of land and highway (US 80). As reported by the Atlanta Journal-Constitution in 2015: "US 80 is the only road on and off Tybee Island and it floods, in spots, about a half-dozen times a year… By 2060, according to Georgia scientists, the road is expected to flood 50 times a year due to climate change and its impact on sea levels."
The local government is already adapting to climate change today. In fact, Tybee Island was "first Georgia community to officially acknowledge the threat posed by a rising sea and a warmer climate."
And it's not just whether or not residents and tourists can get in and out of town. In the next century, the area could see between three and six feet of sea-level rise – the difference between some of Tybee being underwater and most of it. The town has spent hundreds of thousands of dollars on tide gates and flood-proofing water wells. And, still, homes are already flooding today.
As Mayor Jason Buelterman said, "I'm a Republican, but I also realize, by any objective analysis, the sea level is rising." Climate change doesn't have to be a partisan issue. In fact, seven out of 10 Americans know it's happening and want action today – the Climate Majority.
Hurricanes
Fact: "Atlantic hurricane season is seeing more major storms." (States at Risk: Georgia)

When River Street becomes more river than street #Savannah #irma pic.twitter.com/0QB2BGete8

— Jennifer Brett (@Jennifer__Brett) September 11, 2017

When we burn dirty fossil fuels, we end up with dirty weather. Hurricanes happen naturally, but climate change makes them more powerful. Think of a hurricane like an engine, and warmer water as fuel. As average global sea surface temperatures rise thanks to climate change, hurricanes can draw on more heat and water, making them stronger and more destructive.
As renowned climate scientist Dr. Michael Mann said in an interview with Climate Reality, "For a long time, we've understood, based on pretty simple physics, that as you warm the ocean's surface, you're going to get more intense hurricanes. Whether you get more hurricanes or fewer hurricanes, the strongest storms will tend to become stronger."
Atlantic hurricane season runs from the beginning of June to the end of November. Georgia has been hit by several hurricanes in the last few years – including Matthew, Irma, and Maria.
Just one of these storms alone – Hurricane Matthew in 2016 – led to 600 reported fatalities across the US and Haiti. Then there were the financial costs. As of January 2017, Georgia Insurance Commissioner Ralph Hudgens estimated the loss from Matthew to be around $500 million in Georgia.
And the hurricane itself isn't the only danger to our lives and economy. Hurricanes cause flooding – which can ruin crops, contaminate drinking water, and help spread water and vector-borne disease.
Ultimately, this is why climate change is a human story – because it affects real people, today.
>> Learn more: Climate Change and Health: Hurricanes <<
Help Protect Where You Call Home
Whether you live in Georgia or somewhere else, you can take action to fight climate change and build support for clean energy solutions where you live. Here's how: