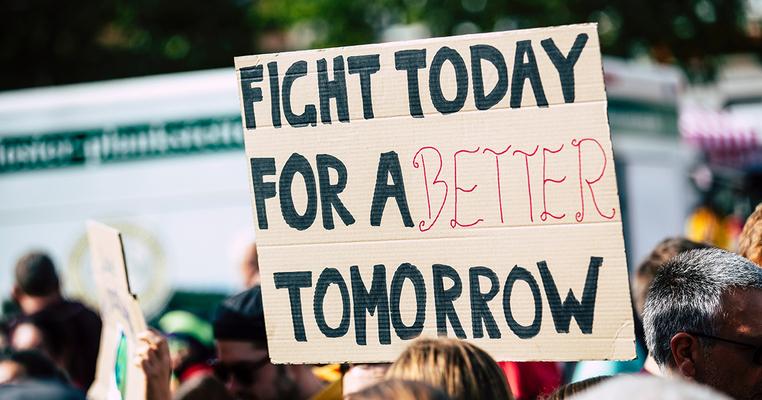 What is climate anxiety and what can we do about it?
Devastating fires. Flooding. Rising temperatures. It's simple – the climate crisis can be downright scary.
We've all been there – you read a headline about the climate crisis and you feel worried or concerned about what this means for the future of our planet, for our kids and grandkids.
You're not alone. Climate anxiety is real.
If you're not familiar, climate or eco-anxiety is described by American Psychological Association as "a chronic fear of environmental doom" and as "a fairly recent psychological disorder afflicting an increasing number of individuals who worry about the environmental crisis" by Psychology Today.
So, what can we do about climate anxiety and for our planet? Here are a few tips:
Acknowledge and Talk about It
It can be hard to admit to yourself that your home and community are not what they once were.
A great start to fighting climate anxiety and learning how to handle a changing climate starts with acknowledging what's happening – then talking about it with those you trust. By acknowledging how you feel, it allows you to determine how you can act to take care of yourself.
It can be hard to talk about something existential like climate anxiety, especially with those who don't understand it, but in many cities, support groups to talk about this exact topic are forming.
If there's not a group in your area, don't be afraid to start one of your own or approach loved ones. By finding a group of like-minded people or talking about the climate crisis with friends, you can make a difference within yourself and your community.
The climate crisis isn't something that can be solved by one person – so let's team up, help each other and help our environment!
Be the Change You Wish to See – Take Action!
Another approach towards managing climate anxiety is by taking action! Whether that's joining a local group of activists like our Climate Reality chapters or by learning how to live more sustainably, every action makes a difference.
Small changes can lead to bigger ones, or they can even inspire others! If you want to fight off tough feelings that may come with reading news stories about the climate crisis, these changes can make a world of a difference for your mental health and for the environment.
Changes like recycling, composting or reducing food waste when possible are an easy step to take. Even looking into clean energy or taking public transportation when it's possible can help reduce your footprint and be an easy way to practice sustainable self-care.
Rent and can't make any large changes to your home? Here you can find a list of easy methods for living a more sustainable life as a renter.
Want to speak out and call for action? Many other activists just like you have been inspired by climate to take action through climate strikes, community clean-ups, joining local action groups, and even calling their local leaders.
Climate anxiety can be difficult, but becoming the change you wish to see in the world can truly help.
Educating Yourself and Others
The first step towards taking action? Education.
By educating yourself, not only can you understand what's happening to our planet and what you can do to make a difference, but you'll also be able to understand what all those scary headlines really mean.
There is still hope for our planet and solutions do exist, so by learning more about the climate crisis, we can empower ourselves to understand how we can act and advocate for the future of our planet.
So how exactly can you learn more about climate – and know that you're getting scientifically correct information? A few great resources include NASA's climate change webpage, the IPCC (or the Intergovernmental Panel on Climate Change), the United Nations, and even the Climate Reality blog!
Feeling inspired?
You can learn more about taking action and join the grassroots climate movement by going to one of our upcoming Climate Reality Leadership Corps trainings!
Join former US Vice President Al Gore, leading climate scientists, advocates, and activists at a three-day training where you'll develop the media, organizing, and communications skills to move public opinion and make a difference for the planet. Plus, and you'll meet people just like you, who wanted to do everything they can to help create a healthy and sustainable future (or even who have climate anxiety, too!)