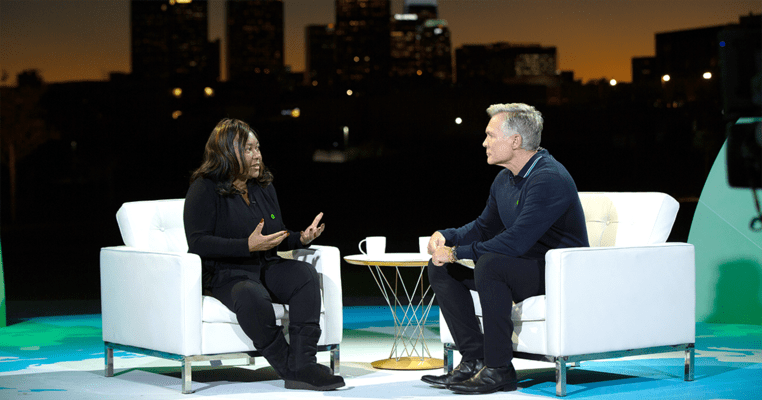 12 Women Leading the Way on Climate
These incredible, inspiring leaders are taking a stand when it matters most.
From organizing rallies and communicating the science behind climate change to making the clear connection between environmental factors and justice, women are leading the way on climate around the world.
And these 12 women are on the front lines, making a difference for our planet when it matters the most:
1. Catherine Coleman Flowers
Catherine is the founder and executive director of Alabama Center for Rural Enterprise, Inc. (ACRE), which "promotes sustainable initiatives to strengthen the infrastructure of families in rural and impoverished communities through participatory involvement."
But her work doesn't stop there. From negotiating with the Alabama state government to serving as the rural development manager for Equal Justice Initiative to being an active Climate Reality Leader and Climate Speaker, Catherine has become a powerful force for change, both in her home state and beyond.
You can learn more about her here.
2. Elsie Gabriel
Trained as a Climate Reality Leader in 2014 in Rio de Janeiro, Elsie has drawn on her skills as an activist and expert in mass communications to champion a number of environmental causes close to her heart, from green travel and tourism to the conservation of Powai Lake in Mumbai, India, to many other local policy issues.
In her everyday life, Elsie is the founder and president of her own non-governmental organization, Young Environmentalists Programme (YEP) Trust, which is dedicated to equipping young people, women, and underprivileged communities with the tools they need to make a difference for the environment and in their communities.
You can learn more about her here.
3. Dr. Katharine Hayhoe
Dr. Hayhoe is a renowned atmospheric scientist at Texas Tech University who studies climate change and why it matters to real people. She has over 120 peer-reviewed publications to her name and has been the lead author of the second and third editions of the US National Climate Assessment. She also serves as a scientific advisor to a slew of organizations and programs. But the role she might be best known for is that of respected climate communicator.
As both a Christian and a scientist, Dr. Hayhoe is particularly well-positioned to talk to faith communities about the reality of the climate crisis. She has said, "I may not sound like the traditional type of person who cares about climate change, but I do. And what's more, I care about it precisely because of who I am."
You can learn more about her here.
4. Dr. Dorceta Taylor
Dr. Dorceta Taylor is the director of diversity, equity and inclusion at the School for Environment and Sustainability at the University of Michigan. Considered one of the mothers of the environmental justice movement, she helped to develop the "Principles of Environmental Justice" at the inaugural National People of Color Environmental Leadership Summit in Washington, DC.
5. Sylvia Earle
Dr. Sylvia Earle was the first woman to be named chief scientist at the National Oceanic and Atmospheric Administration (NOAA) and was Time magazine's first-ever Hero for the Planet. The Library of Congress calls her a "living legend," and she's founded three different organizations for protecting and exploring the Earth's ocean. She's a big deal.
You can learn more about her here.
6. Christiana Figueres
Lauded as "the world's top climate policymaker," "climate revolutionary," "bridge-builder," and "UN's climate chief," Figueres has been speaking for and uniting people on the front lines of climate change around the world.
You can learn more about her here.
7. Mari Copeny
When Mari Copeny was 8, she wrote a letter to President Barack Obama, asking him to come to her hometown of Flint, Michigan to witness the many problems caused by the town's water. Their meeting went viral, and seven months later, President Obama authorized $100 million to repair Flint's water system. The city still needs lots of help, and Mari continues to organize and raise up her community. She and the education nonprofit Pack Your Back have handed out more than 700,000 water bottles to local families and distributed fully stocked backpacks to kids in the area.
8. Heidi Cullen, PhD
Heidi Cullen spent nearly five years on television as the Weather Channel's climate expert. Now, she holds two directorships at California's Monterey Bay Aquarium Research Institute. She previously served as chief scientist of Climate Central, a nonprofit science journalism organization focused on the science and impacts of climate change.
9. Greta Thunberg
When Greta Thunberg – then just 15 years old – walked out of class last August and sat in front of the Swedish Parliament on a self-described "school strike for the climate," she sparked a movement. As her story began to spread and the world watched her speak truth to power at COP 24 and Davos, young people far beyond Stockholm began to organize and follow her example. The resulting movement, Fridays for Future, has brought a much-needed sense of urgency to the conversations around climate change.
10. Dr. Ayana E. Johnson
Dr. Johnson fell in love with the ocean when she was just five years old during a family vacation in Key West. Her passion led her to earn a PhD in marine biology and become a self-identified "ocean policy nerd." She's now a lecturer on ocean conservation at New York University and the CEO of the consultancy Ocean Collectiv, which creates and amplifies solutions for healthy oceans.
11. Haven Coleman
Haven Coleman, a Climate Reality Leader from Colorado, is a young person working for a brighter world for her generation – and generations to follow. And she believes in speaking truth to power, not only confronting her climate denier congressman on his views but urging her local utility board to embrace renewables.

12. Nicole Horseherder
Nicole is the executive director of Tó Nizhóní Ání, "Sacred Water Speaks" in Navajo. She fights on behalf of the environment
 and her people in the Black Mesa region of Arizona. She and her group recently helped draft a bill that would move the Navajo Nation from reliance on coal to 100 percent renewable energy sources.
WE CAN WIN THIS
If there's one big thing that these women have taught us, it's that together we are stronger.
If you want to make a difference, join us and the millions using their voices and everyday choices to tackle the climate crisis. Sign up for our email list below and we'll keep you posted on the latest developments in climate policy and how you can help.