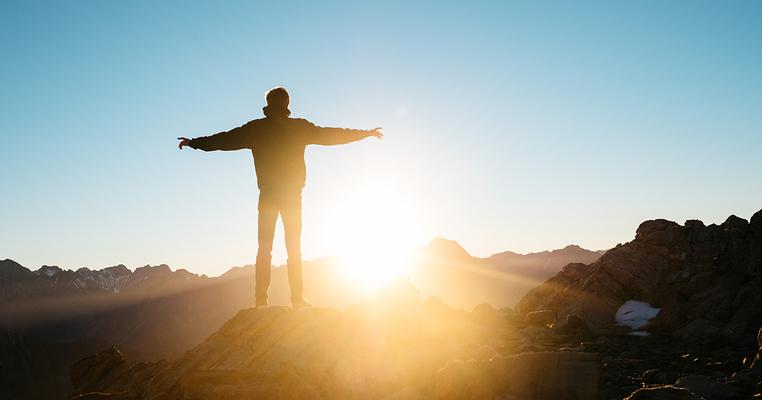 The Five Stages of Climate Optimism
We keep our #ClimateHope tanks filled in many different ways.
During a recent visit to The Daily Show to discuss the global broadcast of 24 Hours of Reality: Protect Our Planet, Protect Ourselves, former Vice President Al Gore, had this to say about the recent flurry of scientific reports about climate change:
"It is hard at times to hear all that and feel the tragedy of it and maintain your hope and optimism that we're gonna solve this problem. I continue to believe that we will, because we have faced almost insurmountable obstacles in the past… and we have rallied, as human beings, to do what's right."
Even as scientists uncover distressing new information about climate change impacts and tell us that we have only a few years to make enormous global changes if we're to avoid the worst, here at Climate Reality we remain optimistic.
We keep our #ClimateHope tanks filled in many different ways, but here are five things we've found to be particularly helpful in staying optimistic that we will solve this crisis and enjoy a safe, sustainable future.
1. Acceptance
As a climate advocate, you're likely tuned in to the latest research and policy progress regarding climate change. So it's not news to you that the headlines aren't always sunny.
Many people who contemplate climate issues find that they wrestle with a whole spectrum of emotions – including, for some, grief. And it's no wonder.
But the five stages of grief end with acceptance, and there is great power in acknowledging and talking about the feelings we have about the climate crisis. And of course, accepting our own feelings is important if we're to turn acceptance into powerful action.
2. Community
The best antidote to feelings of despair is community – the friends, family, coworkers, and more you can talk with, learn from, and work alongside to make a difference.
We're lucky to be surrounded by a community that at every turn finds new reasons to be optimistic. They even have a name: Climate Reality Leaders.
Climate Reality Leaders are seasoned community organizers, first-time activists, and business executives. Concerned parents and curious high-schoolers. Retired college professors, writers and actors, scientists, stay-at-home parents, faith leaders, and so much more.
Our trained Leaders come from all walks of life. But they all share the same desire to make a difference and help create a sustainable future for the Earth.
>> Learn more about joining former Vice President Al Gore at a Climate Reality Leadership Corps training to learn how you can lead the global fight for climate solutions. <<
Many of our dedicated Climate Reality Leaders have started public Climate Reality chapters in their communities to support climate action at the local level.
And that gives us hope.
>> Find a Climate Reality chapter near you. <<
3. Inspiration
"In the struggle between hope and despair, I always come out on the side of hope." - Vice President Al Gore
It's not too hard to find inspiration in the work of Climate Reality Leaders, but where else can you go for a quick dose of hope?
The bad news often grabs the big headlines, but it continues to be true that in spite of attention-getting policy setbacks at the national and international levels, the economy continues to turn in favor of clean, renewable energy. For instance, in some parts of the US, wind and solar are already cheaper than coal and natural gas, and the We Mean Business Coalition now boasts 835 companies committed to climate action.
Companies, as well as local governments, continue to prove they can make big changes. Cities, which are responsible for approximately 70 percent of global carbon dioxide emissions and where policies like building codes and renewable energy standards can make a real difference, are stepping up in a big way. In fact, 27 major cities (including London, New York City, and Melbourne) have already succeeded in reducing their emissions by 10 percent over a five-year period.
The point is, the news isn't all bad, even if it may seem that way sometimes – and we're consistently inspired by the real-world progress that we see beyond the doom-and-gloom headlines.
4. Action
Knowing the reality of the climate crisis is important – because we must see it for what it is before we can fight it. But without hope and inspiration, it's hard to maintain the will to act. That's a big reason why Climate Reality continually looks to highlight and support the work for solutions underway to fight the climate crisis.
>> Americans Will Win On Climate (Yes, Really!) <<
We've said it before and we'll say it again: The fight for a clean energy future is a fight for a fair future.
But sadly, climate impacts often fall disproportionally and unfairly on society's most vulnerable.
"While climate change affects us all, it hits families living paycheck to paycheck the hardest," according to the Center for American Progress (CAP).
"In a world of growing inequities, it is not mere coincidence that the poorest among us not only live and work in areas most prone to flooding, heat waves, and other climate change effects but are also least resourced to prepare adequately for and withstand those impacts."
But there is a way forward. By putting environmental justice front-and-center in local climate policy, activists, towns, and cities around the world can do the right thing by those most in need while working for a sustainable future for everyone.
When we take action to help those with the least among us, we take action that benefits us all.
5. Self-Care
When confronting the existential crisis presented by climate change, we can't always jump to our feet – sometimes the sheer scope and size of it all, and the weight of our emotions, means we must take time to sit with our feelings and take care of ourselves.
One way we like to recharge ourselves is to get out in a natural place – get close to the very environment we're all working so hard to protect. Whether you head to the beach, forest, mountains, or a local park, the simple act of being outside has numerous physical and mental health benefits.
Consider, as well, taking a break from the news and the science for a time. Often, simply taking a break to pause and appreciate the life we have on this planet is just the thing needed to allow us to come back refreshed and ready to make change.
Whatever it is you do to care for yourself, make sure you make time for it. And of course, if you're suffering from anxiety, depression, or other forms of mental health distress, be sure to reach out to a qualified professional.
This fight won't be over soon, and it won't be easy – but if we look out for ourselves and each other, if we focus on sources of inspiration and opportunities to act, we can make a positive difference in the future we see – and we pass on to the next generation.
>> Free download: Beginning the Climate Conversation: A Family's Guide <<
Take the Next Step
We hope you get a chance this holiday season to disconnect, enjoy time with friends and family, and re-charge your batteries. Because in the new year, we'll be ready to help you turn your revitalized climate optimism into urgent action.
You'll walk away hopeful, connected, and with more knowledge and determination than ever before. Join over 17,000 people who've already attended a Climate Reality Leadership Corps training and become part of an incredible community of activists fighting for our planet's future. Apply for our next training today.